This post may contain affiliate links. Read my disclosure policy here.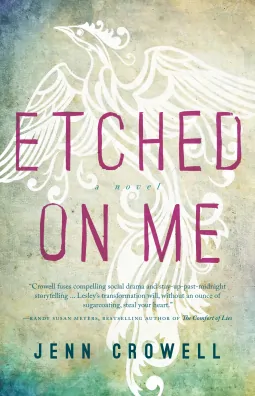 Have you ever wondered where authors get the ideas for their novels? Or how they create characters that are so real? I recently read Jenn Crowell's novel Etched on Me, which featured characters so real that I was captivated. Click through to read my full review at 5 Minutes for Books, but keep reading to have a chance to win your own copy here.
The publicity materials for the book explain: The story is partially based on Jenn's own experience overcoming mental illness as a new mother, and is also loosely based on the story of a young British woman who fled her home country in 2007 when she was eight months pregnant. UK Social Services had ordered that she would be forced to surrender custody of her child within minutes of giving birth, due to her mental health history (raped at 14, she had suffered depression and instances of self-harm during her adolescence). Despite receiving treatment and being granted a clean bill of health, she was still considered a risk to her unborn child. Jenn learned of the case as a new mother, and having overcome her own mental health struggles, was deeply moved by the story.
Jennifer, 5M4M: Lesley was such an inspiring heroine. Her story pulled me right in, and I felt that it taught me so much about girls like her. Since you've had similar experiences, did you ever consider a nonfiction memoir?
Jenn Crowell, author: A memoir is something I've thought long and hard about, debating whether or not to attempt one, but I've come to the conclusion that fiction is the right medium in which I can comfortably discuss the situations and issues I've personally experienced.
I will say, though, that it has been extremely important for me to publicly identify as a recovered self-harmer, trauma survivor, and person living with mental illness: not only for my own healing, but also so that I can combat the stigma and shame our culture associates with those identities.
JD, 5M4M: Here in America, it seems that the rights are with the mother unless abuse is proven, and so it was hard to believe that Lesley would lose her child when she was so upfront and honest about her past struggles and was so compliant in working with social workers. Is this really the case there now?
JC, author: Unfortunately, yes, those sorts of scenarios are quite common in the UK (which tends to have a much higher level of medical monitoring and intervention built into the lives of pregnant women).
Here in the US, you often have the opposite problem: having to fight to get help (it took me until I was 7 months pregnant to find a doctor who was willing to take me as a patient and prescribe me the psychiatric medications I needed, due to my "high risk" history). But discrimination against mothers with mental illness happens here, too; the University of Pennsylvania did a study that found that parents with mental illness were three times more likely to face investigation by child protective services.

JD, 5M4M: Any mother of a tween or teen girl is all-too-familiar with the problem of self-harm that is plaguing girls today. Do you have any advice to moms who are dealing with this or as a way to prevent it or be on the lookout for symptoms?
Finding out that your child is harming herself can be so incredibly scary and bewildering; it's so hard to try to wrap your brain around the fact that she is doing something so disturbing and inexplicable. It's important to take the self-harm seriously while avoiding the understandable temptation to respond with anger or shock or panic. Ask her what's going on with her and what she's feeling. Reassure her that you're always there to listen. And remember that, while it's easy for others (including, sadly, medical practitioners) to dismiss self-harm as "manipulative" behavior, self-harm is actually a coping mechanism and a way of expressing emotions that feel otherwise inexpressible. People who self-harm aren't manipulative; they're deeply hurting, and deserve to be treated with the utmost compassion.
Enter to Win
I know that this is a heavy topic, but reading about it via fiction really increased my awareness and understanding of it. If you'd like to win a signed copy of Etched on Me: A Novel, follow the instructions in the giveaway widget below. Click over to 5 Minutes for Books to read my full review and earn an extra entry by commenting over there.