This post may contain affiliate links. Read my disclosure policy here.
We love our families.
We would do anything for them.
Yet, somehow, we often forget to tell them.  We assume they know.  We get busy with life.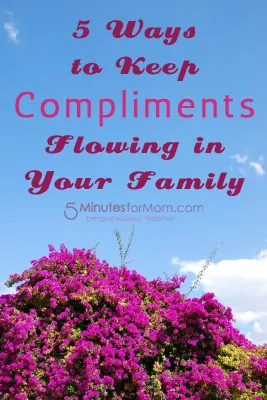 Tomorrow is National Compliment Day, a great reminder for us to speak words of love and affirmation to those closest to us.
Here are five ways to keep the compliments flowing in your family!
1. Write it.
One great way to express your feelings for your family members is to write it down.  Leaving written compliments is the perfect way to boost the morale of your family. There are many fun and unique ways to write compliments for our families.  You could write your positive thoughts on a mirror using lipstick or a dry-erase marker.  Stick post-it notes around the house in places you know the person will look.  Stick a piece of scrap paper on the windshield of a car.  Sneak a note of encouragement inside of a lunch box.  You could even write a card, poem, or song about your family member and share it with them.  Writing down your thoughts is a purposeful and tangible way to keep compliments flowing.
2. Say it.
Reading compliments can be nice, but hearing them spoken also makes us feel good.  We need to take the time to pause and comment when we notice our family members doing something special.  Create a tally (mental or written) and purpose to give each member of your family a compliment three times a day.  Since we eat three meals a day, that is a great time to give out compliments.  Or, maybe you can give compliments at other times such as getting dressed, being picked up from school, after completing an assignment, craft, or game. Whenever it is, make sure good words escape your lips to lift up the other person!
3. Shout it.
Compliments in our family keep us appreciative of one another.  Another way to keep the compliments coming is to express them when in large groups beyond our family circle.  Your family will feel loved and appreciated when you sing their praises in front of their friends or coworkers.  Comments like, "She is such a hard worker," or "He is a fantastic listener," or "She shares so well," will encourage and honor your family members and inspire them.
4. Practice it.
As with any habit, practice and repetition are necessary to build it.  Schedule a time with your family for the sharing of compliments.  Maybe dinner time is the perfect place for you to go around the table and have each person compliment the family member to their right.  Maybe bedtime provides an easy opportunity to ask your children to share something nice about a family member. Perhaps right after an argument, you could require family members to offer a compliment to the other person.  Practice makes perfect.  The more you practice, the more naturally those compliments will begin to flow.
5. Look for it.
We can't offer compliments if we don't see the positive qualities in others.  Keep your eyes and mind open!  Look for moments worthy of a compliment.  Cultivate a mindset of encouragement.  Seek out instances for offering praise.  Not only will you be able to offer more compliments to your family, but you will begin to focus on the positive, even on those hard days and even in spite of their faults!
So, go out there tomorrow and give it your best!  Make your family feel loved and show them you care with a compliment.