This post may contain affiliate links. Read my disclosure policy here.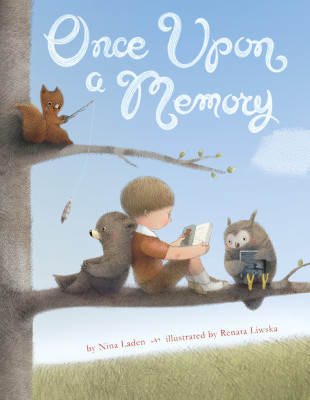 Does a feather remember it once was a bird?

Does a book remember it once was a word?
I'm fascinated about how short a child's memory can be. My son is 9 1/2. While he remembers some things from when he was young, there are others that he doesn't. For example, he was recently telling me that we should see a particular movie. I know for certain he saw it more than once in the last several years, but that memory is gone.
Because of the peculiar nature of children's memories, a book like Once Upon a Memory by Nina Laden is a perfect way to explore memories with your child. Whether he or she remembers or not, talking about their past is such a fun way to connect.
When a feather drifts through a child's window, a magical journey begins. As the boy follows the feather, he is swept away to a world filled with adorable animals, where fantasy and reality come together in surprising and playful ways. From the cake that once was grain to the ocean that once was rain, whimsical "before" and "after" scenes offer readers a peek at the world as seen through the eyes of a curious child, ultimately asking the question, "What will you remember?"
This is a simply beautiful book as well. The illustrations by Renata Liwska are lovely.
Win it!
One of you (U.S. addresses only) can enter to win this book. Just follow the instructions in the widget below.