This post may contain affiliate links. Read my disclosure policy here.
Experiencing mommy bliss is about learning to laugh at things you might not find funny at first (because parenting is full of those things), letting yourself cry when you need to (because you are worth it), and loving the best that you can, every day.
In spite of crazy schedules and hectic days, being a mom can give way to moments more beautiful than we could've imagined. Read on for ways to find those moments (even when they're hiding under mountains of laundry!).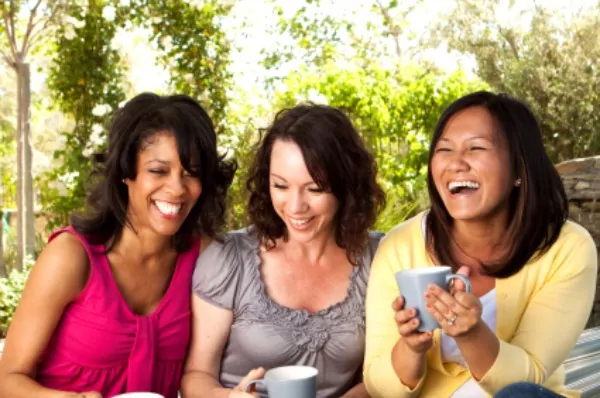 [Tweet "Moms are experts at just dealing. But have you cried for you? You're worth it, mom. @GennyHeikka #mommybliss"]
LAUGH
Create fun and playful moments with your kids. Instead of saying, "Not now," when they ask you to play with them, try saying, "Yes." Do things you wouldn't normally do: Let your kids build a fort in the living room and leave it up for a few days. Take a walk to the park when it's past their bedtime. Make a surprise stop at Starbucks for a treat. Once you start intentionally creating fun moments with your kids, it starts to become a happy habit.
Laugh at those otherwise not-so-funny moments. A few years ago, I was having one of those nights (I was at that delirious mommy breaking point where you could either burst into laughter or tears at any second) when my daughter called from her bedroom on our phone intercom system and asked me to cook her bacon as a bedtime snack. (It was 9 p.m. and she was serious!) I couldn't believe it. Luckily, I chose the lighter perspective, and started cracking up. I laughed, then she laughed, and we both ended up laughing so hard we couldn't stop. I could have gotten angry; instead, it ended up being a funny memory we still talk about today.
CRY
Moms are experts at just dealing. We're pros at delaying stress relief. But in the same way it's impossible to keep a teapot from eventually whistling to let off steam, moms need to find ways to turn down the heat and get relief from all that pressure. Crying can help; it not only releases toxins, it also releases stress hormones. But crying isn't just about tears; it can also be very much about strength, healing, and acknowledging your feelings.
Cry for you. Being a mom can remind you of when you were a child. When your daughter turns eight, you remember when you were eight. When your son gets his first pet, you remember. Some childhood memories are good. Others are not so good. It's these hurts (if unresolved) that can affect your parenting today. "Struggling with the past can prevent you from experiencing joy as a mom in the present," says Laura Faudree, MFT.
So what's a mom to do? "Give yourself permission to acknowledge and accept your feelings because they're real and legitimate," says Faudree. "When you do that, you're able to accept your children's ranges of emotions as legitimate too, and you're able to accept them for who they are, and not who you want them to be." When we acknowledge and work through our own feelings as moms, we become healthier and happier, and so do our kids.
Cry for help. "Do you need anything?" my friend asked me one day when my kids were younger. My husband had been traveling all week and our daughter was about a month old at the time. I was adjusting to life with a newborn and navigating the week as a single mom. My friend called to check on me. I looked around the room—at my daughter squirming in her bouncy seat ready for another feeding, at the pile of laundry on the floor needing to be folded, at the kitchen that I still hadn't cleaned—and I said… "No, I'm fine."
Since then, I've gotten better at accepting help when I need it. And it's a good thing. When we're reluctant to ask for help or accept it, nobody benefits. We get stressed, and so do our kids. Asking for help, or accepting it when it's offered, especially during times we might need it the most (when a new baby is born, a child is sick, we are sick, or a spouse is traveling), can make all the difference.
LOVE
Kids spell love T-I-M-E. It's a cliché because it's true! When you don't spend enough time with them, they notice. Often, that means they act out. So how do you make sure they feel loved? Set aside regular one-on-one time with each of your kids. If they're older, ask them what they want to do—movie, mall, dinner—then make time to do it. Not only will it create lasting memories, your kids will know they are a priority.
Make time for yourself, too. In order to raise kids who respect and take care of themselves, moms need to do the same. And even a little "me-time" can go a long way. Go for a walk, get a massage (you're worth it!), or have dinner with friends. Take a bubble bath, go for a drive in the country, and, maybe most importantly, exercise. Find a routine that works for you. Exercise with other moms if it helps you to stay committed, and set a goal for yourself with a reward at the end.
Love being a mom. With each year that our kids grow, we grow too—as women, wives, friends, sisters, aunts. It's a beautiful bond we have, and it's a beautiful time in our lives—if only we can remember to see past the dishes, diapers, and chaos. Sometimes, that's simply a matter of remembering to be thankful for the mess we have. Thankfulness—even when we're cleaning up the third spilled glass of the day—lets us see things in a different light. When we're thankful for our kids—their tiny toes, their bright smiles, their sweet hugs—somehow all the not-so-glamorous moments that come with being a mom don't seem so bad. And that can help us—and our kids—to feel absolutely, positively blissful.
For more tips and inspiration on finding happiness as a mom, download my free gift for moms for the holidays!
[Tweet "Kids spell love T-I-M-E. So how do you make sure they feel loved? @GennyHeikka #mommybliss "]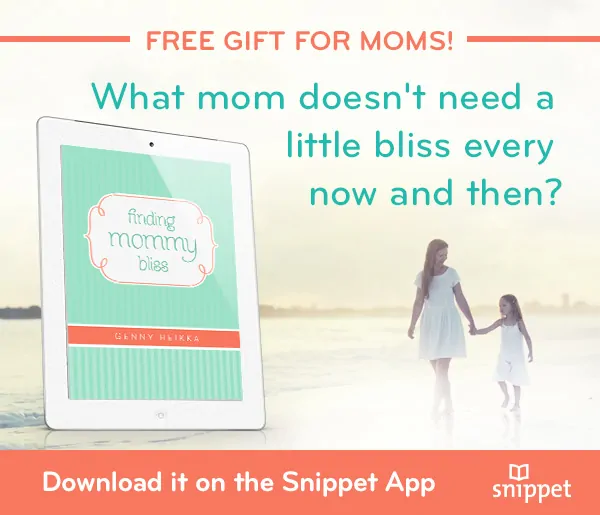 Click on the image above or here to go to the iTunes app store on your iPhone or iPad.

Download the Snippet app for free.

Tap on the Finding Mommy Bliss cover image, then Open to download it for free, and enjoy!
-Genny Heikka
Genny is a mom, author, speaker and coffee lover. Stop by her blog and share a cup!