This post may contain affiliate links. Read my disclosure policy here.
Our writer Jennifer D. received a product for review purposes, and we were compensated for this campaign.

When I first heard about ROMO, the "personal robot who uses your iPhone (or iPod touch) as his brain," I didn't really understand what it was all about. I mean, don't we all use our smartphones as our brains? Where would we be without them to keep track of our contacts, remind us of appointments and take pictures? Yes, our smartphones do all of that, and they also entertain us. So let me put it this way for those of you who might be as dense as I am.
I should have been tipped off when I read that it was created for ages 8 and up that it's a toy. Perhaps the reason that I didn't make that leap is because my 9 year old (or my 15 year old!) does not have a smartphone. But many tweens and almost every teen does. And even those like mine who are "deprived" still have an iPod Touch that acts like a smartphone when connected to the WIFI in our home.
I wish that I had watched this video, because seeing the reason the creators made ROMO and seeing it (him?) in action definitely cleared it up for me.
If I had any doubts about what (who?) ROMO was and who would like it, they were obliterated as soon as my children got their hands on it. Amanda (15) and Kyle (9) both love him! They were giggling as soon as they begun the set-up process. And unlike some gifts, this didn't require any adult assembly — they did it themselves. In fact, my daughter even gave props to the instruction booklet, saying it was funny (which means people are more likely to read it, I'd think).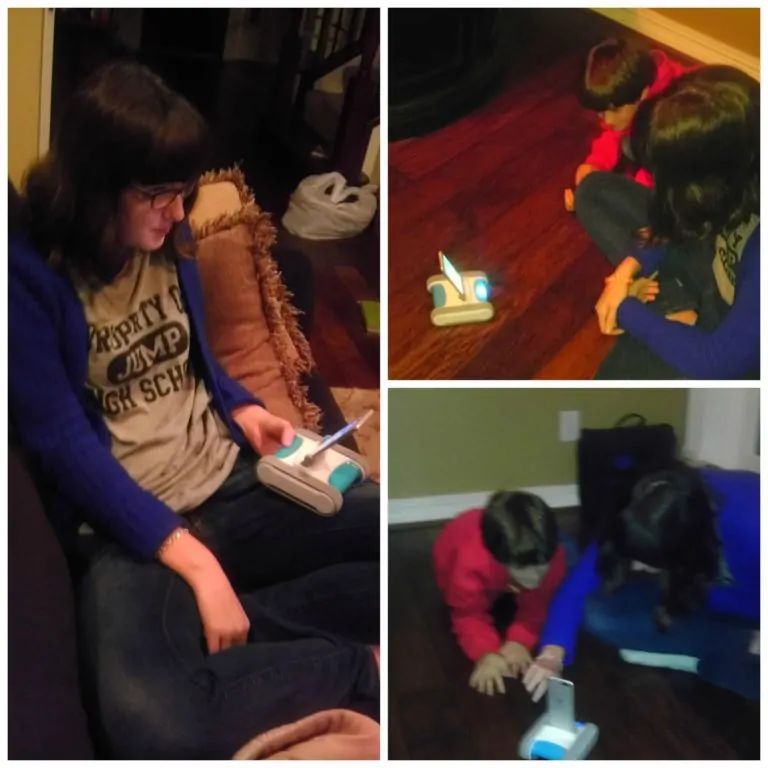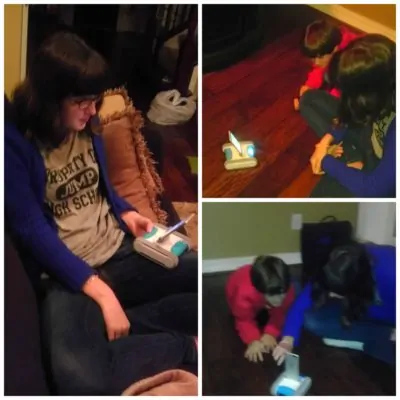 This is Amanda "meeting" ROMO right out of the box, and Amanda and Kyle training him and seeing what he can do.
I asked them if they thought it would make a great gift, and they both said "YES!" Amanda said "It seems like you are really programming a robot, but you aren't really."
Well — I think she's wrong there. As the video and the promotional materials state, one of the goals behind the product is to help kids learn the appealing side of computer programming– cause and effect — without the messier side of code. ROMO can be trained to object follow (like chasing a ball), follow tracks you create (as you teach him to drive), and even take remote pictures as he roves.
Once kids hit the age of9 or 10, it seems like big-ticket electronic items are on their wish lists. In my family, the way we handle this is by combining forces. They might get fewer gifts, but they get what they want. At $149, it's not totally out of reach. It works with a iPhone 4 or 5 or iPod touch 4 or 5 on the base, but you can also control ROMO via the computer or iPad.
We received this right before our busy holiday week, so my kids haven't had as much time with it as I'd like, but it was definitely a hit, and I know my kids can't wait to explore more of ROMO has to offer.
Find out more about ROMO at Romotive.com and purchase at Brookstone.
Get Social with ROMO