This post may contain affiliate links. Read my disclosure policy here.
We're so excited to talk holiday entertaining and share recipes in our upcoming Sweet & Savory Holiday Twitter Party sponsored by Frito-Lay, where we'll share holiday cheer and celebrate its new line of STACY'S® Bake Shop Bakery Crisps.
We hope you will join us and share some of your favorite go-to recipes in this fun and festive holiday Twitter Party on Thursday, December 5th, from 8pm-9pm Eastern.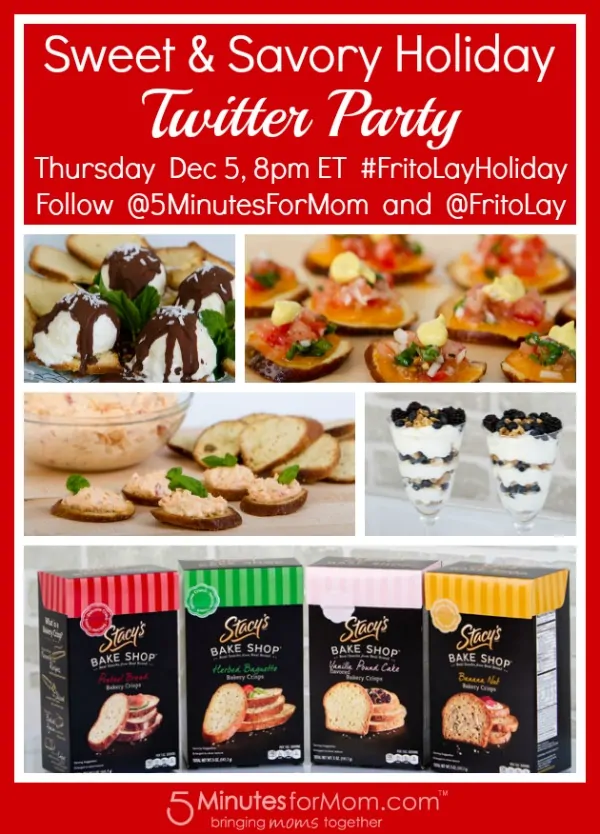 Holiday parties and family get-togethers mean great company and sweet and savory snacks that help melt away any winter blues. Tasty food is one of my favorite parts of the season – and how I kick back and treat myself during the holiday hustle and bustle.
But, I also like to keep my part of creating in the kitchen on the simpler side. So I'm loving these STACY'S® Bake Shop Bakery Crisps which have me making fabulous treats in only a few easy steps.
Janice and I played around in the kitchen and crafted these simple, tasty recipes for you…

[Tweet "I love these Sweet & Savory Holiday Recipes by @5minutesformom sponsored #FritoLayHoliday"]
Roasted Red Pepper and Artichoke Dip with Herbed Baguette Crisps
Ingredients:
STACY'S® Bake Shop Herbed Baguette Bakery Crisps
1 can of artichoke hearts – drained
1 small jar of roasted red peppers – drained
1 package of cream cheese – softened
1/2 cup mayonnaise
1/4 parmesan cheese – grated
1 small clove of garlic – minced
Basil – optional, for garnish
Instructions:
Place all ingredients in food processor and blend just until well blended, taking care to maintain thick, chunky consistency.
Refrigerate before serving. Serve in bowl with STACY'S® Bake Shop Bakery Herbed Baguette Crisps for dipping or top crisps with a spoonful of dip and garnish with basil.
Easy Bruschetta on Pretzel Bread Crisps
Ingredients:
STACY'S® Bake Shop Pretzel Bread Bakery Crisps
1 cup finely chopped tomatoes
1/2 cup finely chopped onions
1/4 tbsp olive oil
ground salt
ground pepper
1 tbsp chopped basil
Sliced cheddar cheese
Dijon mustard
Instructions:
Mix tomatoes, onions, and basil with olive oil and add salt & pepper to taste
Top pretzel crisps with cheddar cheese and broil until cheese is melted
Spoon tomato mixture onto crisps and top with small drop of Dijon mustard
Serve immediately
Vanilla Pound Cake with Coconut and Hazelnut Drizzled Ice Cream
Ingredients:
STACY'S® Bake Shop Vanilla Pound Cake Bakery Crisps
Vanilla Ice Cream
1/2 tbsp Coconut Oil
1 tbsp Hazelnut Spread
Shredded Coconut
Mint (garnish)
Instructions:
Melt coconut oil and hazelnut spread in microwave for 25-30 seconds
Stir until blended
Place small scoops of ice cream on Vanilla Pound Cake Flavored Bakery Crisps
Drizzle hazelnut spread topping, waiting for topping to cool and harden before adding additional layers of topping
Sprinkle with shredded coconut
Garnish with mint and serve immediately
Banana Nut Parfait
Ingredients:
STACY'S® Bake Shop Banana Nut Bakery Crisps
Plain Greek Yogurt
Honey
Banana
Berries
Chopped Pecans or Walnuts (optional)
Instructions:
Crumble STACY'S® Bake Shop Banana Nut Bakery Crisps
Mix 1-2 tsp honey into Greek Yogurt (more or less to taste)
Cut banana in half lengthwise and slice
Layer ingredients in a parfait dish, starting with pieces of Banana Nut Crisps, then add yogurt, bananas, and berries. Continue until dish is full
Top with berries and chopped nuts (optional)
What is Your Favorite Go-To Holiday Recipe?
We want to hear YOUR favorite recipes… Share them with us during the Sweet and Savory Twitter Party.
Twitter Party
If you plan on entertaining this holiday season, you will not want to miss this awesome party. During this fast and fun hour twitter chat, we will be talking about…
Favorite holiday traditions
Moments to savor during the holidays such as cooking with family, watching holiday movies, decorating cookies, and more
Party snacks, and how best to pair them, and recipes you will fall in love with
Fun ways to relax and enjoy the holiday season with your family and friends
Party Details
Date: Thursday, December 5th, 2013
Time: 8 pm Eastern / 7 pm Central / 5 pm Pacific
Hashtag: #FritoLayHoliday
Party hosts to follow:
Community Panelists to follow:
The following members of our community will be helping share important tweets during the party. Please follow them as well.
Prizes:
Thanks to Frito-Lay, during the party we will select 5 lucky prize winners and award them will entertaining goodies! Click here for party rules and prizing details.
Runner Up Prizes (4 winners):
1 chip & dip bowl
1 $25 Visa gift card
3 bags of Rold Gold Pretzels (Dipped Holiday Flavors)
4 boxes of STACY'S® Bake Shop Bakery Crisps
Grand Prize (1 winner):
1 iHome
1 chip & dip bowl
1 $50 Visa gift card
3 bags of Pretzels (Dipped Holiday Flavors)
4 boxes of STACY'S® Bake Shop Bakery Crisps
Tweet & We'll Follow You
If you will be joining the party, Tweet Us and I'll make sure I'm following you ahead of time. Also, you can start to follow other friends who will be at the party by following the hashtag #FritoLayHoliday.

Disclosure: This twitter party is sponsored by Frito-Lay North America. As always, our opinions are our own. Frito-Lay provided me with samples of Stacy's Bake Shop Bakery Crisps to try and is providing prizes for the Twitter party.
Written by Susan Carraretto, co-founder of 5 Minutes for Mom
Talk with me: @5minutesformom and Facebook.com/5minutesformom
Pin with me at http://pinterest.com/5minutesformom/