This post may contain affiliate links. Read my disclosure policy here.
This is a sponsored post from Samsung.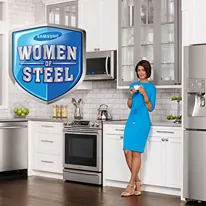 Do you like to entertain? Do you have the knack for it? Do you somehow make a simple dinner seem special? Are you able to make people feel at home and comfortable when enjoying a fancy meal?
I like to have people over. I want them to be comfortable. I'll even prepare a meal for them, and they usually enjoy it, but the time or two when I've done what I consider "entertaining" –having a dinner party or other event– I end up feeling flustered, and while my guests enjoy themselves, they certainly don't feel like they've gotten the star treatment.
Having a kitchen with appliances that work for you is key to entertaining success, or just keeping up with the needs of your family for that matter. Having appliances or a kitchen that doesn't work for you makes it harder, not easier.
Samsung knows that there are incredibly talented women out there who can wow their guests with their hospitality, menu, setting — everything. Enter to win daily prices in the Samsung Women of Steel contest going on now. By nominating Women of Steel and voting for others' nominations, entrants may win a daily prize of $50, a sparkling fridge, or the grand prize—a full new kitchen suite and a catered dinner party with guests.
Start off by liking Samsung's Facebook page. Then you can either nominate the woman who you think should win the grand prize, or vote on one of the nominees. Either option will enter you into the $50 daily prize.
Do you know a Woman of Steel in the kitchen? Are you that woman of steel?