This post may contain affiliate links. Read my disclosure policy here.
Martha Stewart's PR team must be scrambling to perform "expert" damage control after she attacks and disrespects the entire blogging community in a video interview.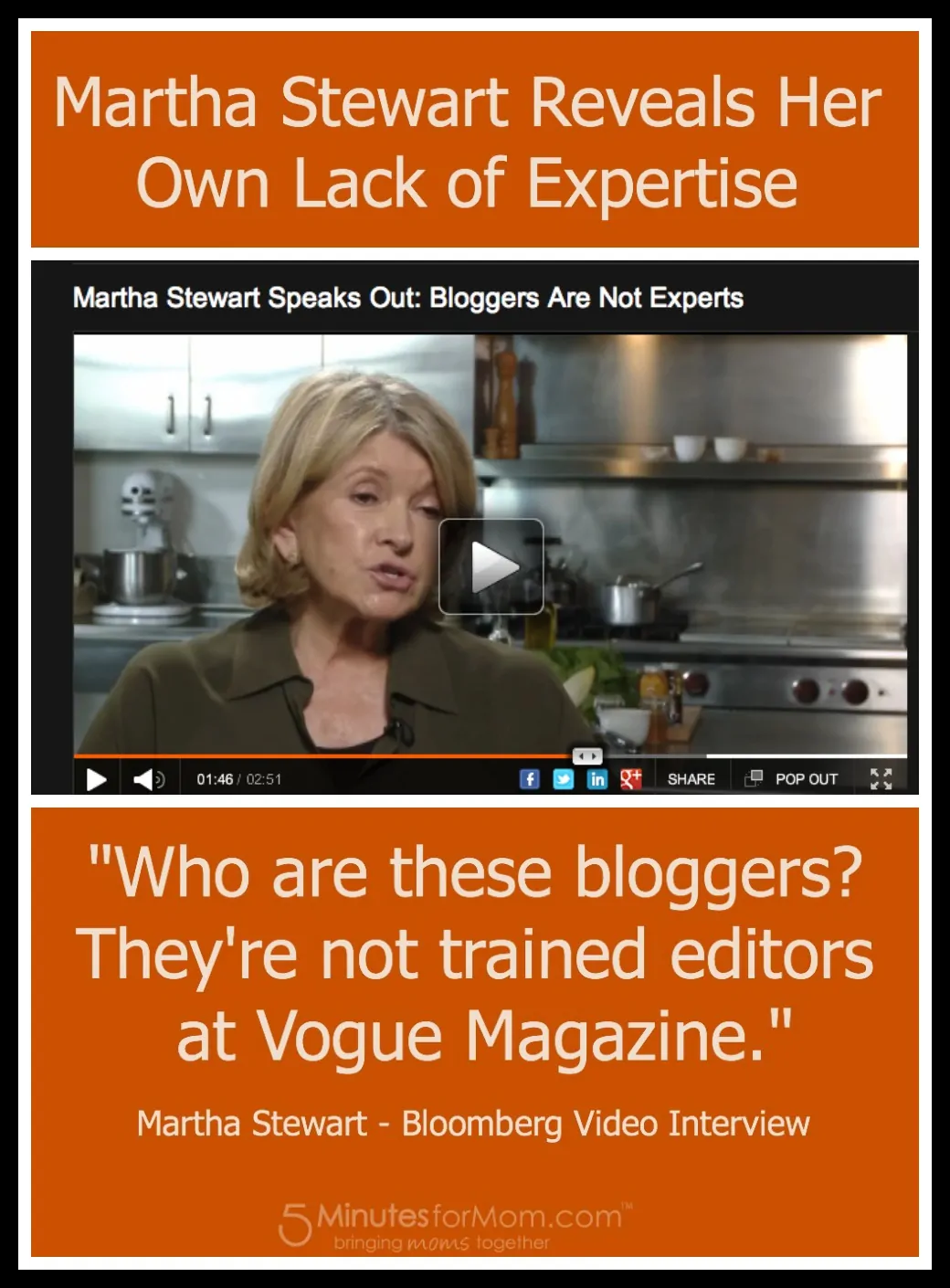 The image above includes a screenshot from the video interview on Bloomberg as Martha says,
"Who are these bloggers? They're not trained editors at Vogue Magazine.

There are bloggers writing recipes that aren't tested… that aren't necessarily very good or are copies of everything that really good editors have created and done. So bloggers create a kind of… ummm… popularity but they are not the experts and we have to understand that."
Those are very poorly chosen words from a woman who spoke at the blogger's conference BlogHer in 2012, hosts Martha's Circle and even claims "blogging" to be one of her regular tasks.
People Want Reality
Pinterest and blogs prove that people want to see real photos of real food that a real person just made and is really about to eat.
When moms are looking for a recipe to make for dinner that their families will actually eat and that they can make quickly with available ingredients, they don't care if a test kitchen of professional trained chefs have taken countless hours to review and prepare it to send to professionally trained photographers to stage for photos to send to professionally trained photo editors to photoshop it into a piece of artwork that can never be recreated by a real person in a real kitchen.
People want reality. That is being proven in media over and over.
The surge of traffic in recipes on Pinterest and blogs showing regular people cooking and baking proves people want real recipes from real people.
Test kitchens and photoshopped photos have been all that was on offer in the past. Now that people can find the "real thing" online, their choice is clear.
We want real recipes from real people with real photos.
What is an Expert and Do We Always Want to Hear from "Experts"?
Martha seems to define an expert as one who is "professional trained" and/or is an "editor at Vogue magazine."
The obvious irony there is that I don't believe she falls under either of those definitions for the range of lifestyle categories in which she has become an "expert".

Click Here to Tweet —–> I believe there are many paths to building expertise.
But ultimately I think the question is whether or not people always want to learn from an "expert".
As a mother when I face a parenting challenge, I love to hear ideas and suggestions from other mothers who have had similar experiences. Yes, hearing advice from a "professionally trained parenting expert" is useful and sometimes I will seek out such advice. But I also want to hear from other real moms who have really gone through the same experience.
When I am cooking dinner or a special treat for my family, I am inspired to follow a recipe from a blogger who I know just made it and snapped a photo before she fed it to her own family.
I have a "Recipes" Pinterest board that is filled with recipes that may not have been vetted in a professional test kitchen, but my mouth waters as I browse the photos and I'm inspired to test them out myself.

Click Here to Tweet —–> To me, a true test kitchen is a family dinner table.
Knowledge, skill, experience and expertise are a continuum and it isn't only the elite "professionally" trained at the end of the line who have value to offer or the only voice an audience craves.
People want to learn from each other. They want to learn from peers at the same skill level and they want to learn and be inspired by those from each notch along the continuum of skill.

Click Here to Tweet —–> Pinterest & blogs prove you don't need to be a "trained editor at Vogue Magazine" to inspire & teach.
Sorry, Martha. I think you have revealed your lack of expertise in understanding your audience.
What Do You Think?
Leave a comment letting us know what you think of Martha's comments and what YOU think creates expertise and a voice worth hearing.