This post may contain affiliate links. Read my disclosure policy here.
Julia Hembree, 5m4m contributor, shares her insights with these tips on how to help prevent bullying.
Unfortunately, bullying has become an all too common problem facing our children today. No one is exempt from potential bullying, and it is important as parents that we equip our children with tools and awareness of how to overcome bullying should they ever become confronted with it.
What better way to talk to your kids, especially your daughters, about bullying than with super princess heroes?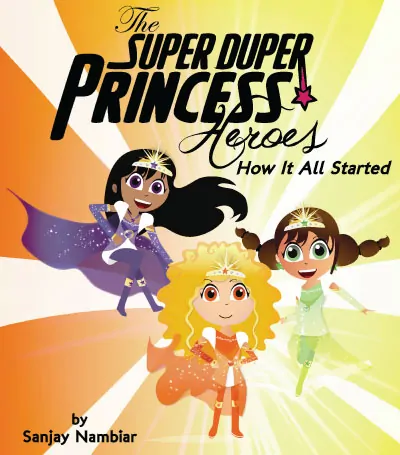 October is Bullying Prevention Awareness Month, and the perfect time to bring this conversation into the forefront. To help honor Bullying Prevention Awareness Month this October, award winning author Sanjay Nambiar has released a new book, "The Super Duper Princess Heroes: How It All Started." In this book, three regular girls transform into princesses with super powers. But what if you weren't a super hero? How could you handle a bully?
Nambiar provides these tips:
Ignore the bully. The first thing the Super Duper Princess Heroes would do in a bullying situation is ignore the bully. Bullies thrive on attention, and if you starve them of that spotlight, they don't get the one thing they want the most.
Tell an adult. If the bullying continued, the super princesses would tell an adult (like a teacher, principal, or parent) about the situation. Adults can intervene and protect the victims of bullying, especially if the behavior is a pattern or has a history.
Don't physically fight. The super princesses would never physically engage with a bully. Sure, that would be easy—Sammie is super strong, Oceana can fly, and Kinney is as fast as lightning. But getting into a physical altercation with a bully would be against everything the Super Duper Princess Heroes stand for.
 Use your words.Instead of getting into a physical altercation, the girls would use their words. They would assertively tell the bully to stop the behavior, using words like, "Stop doing that to me! I don't like that and you're hurting me." If a bully said one of the girls was "stupid" or that they didn't like the girl, the super princess would respond in kind with "Well, I know I'm smart," or "I like myself."
Don't be rude in return. The super princess would never say something rude or mean to a bully, because that's exactly the kind of fuel a bully needs to keep going.
Have compassion. Lastly, despite how hurtful a bully can be, the Super Duper Princess Heroes would have compassion toward that bully. Many bullies are going through challenging life phases and use aggression toward others to make themselves feel better. The behavior is never excusable or justified—and it must be dealt with and stopped—but having compassion toward that individual and showing kindness where possible extends our greater humanity.
"Bullying hurts everyone, from the victims to the families involved and even the bully," says Nambiar. "The more we talk about these situations and handle them with strength and kindness, however, the more we move toward a culture where this type of behavior is not tolerated and occurs less frequently."
Nambiar's new release, "The Super Duper Princess Heroes: How It All Started," is a children's picture book that turns the princess paradigm upside down, and in the process creates an exciting, empowering, and breakthrough adventure story for young girls everywhere. The book is about three friends—Kinney, Oceana, and Sammie—who stumble upon magical tiaras that transform them into Super Duper Princess Heroes with new powers that will help them save princes as well as the world.
In a marketplace flooded with princess paradigms that are all about getting married and looking pretty, "The Super Duper Princess Heroes: How It All Started" spotlights intelligence, teamwork, and responsibility while maintaining a context of charm and adventure.
How will you start the bullying conversation with your child? 
Julia is a full time mommy and part time writer who thrives on Starbucks, chocolate, and toddler kisses. When she is not chasing a toddler around, you can find her at her personal blog, http://www.elatedexhaustion.com, or playing on Twitter @juliahembree.