This post may contain affiliate links. Read my disclosure policy here.
Our writer received a sample to facilitate this review, and we were compensated for this campaign, but as always, the opinions here are solely those of our writer.

I love kid music. My secret's out, and I feel better having admitted it.
I know some of you proudly drive around in your minivans or hybrids thinking, "I haven't caved. I listen to what I want to on the radio. I'm not just a mom. I'm still cool." That's fine for you. But kid's music saved my sanity when mine were younger. They were both very very chatty preschoolers. And the car, where we all seem to spend so much time, is this box of "Mommy, mommy, here's every thought that I'm thinking." And don't get me wrong. I love that. I really do. That's one of the main reasons that we don't use DVDs in the car, because I think the time in the car is better spent talking or reading or even just having some time with your thoughts. That's where music comes in. Music allows time for reflection and can easily be interrupted to share a thought when it comes.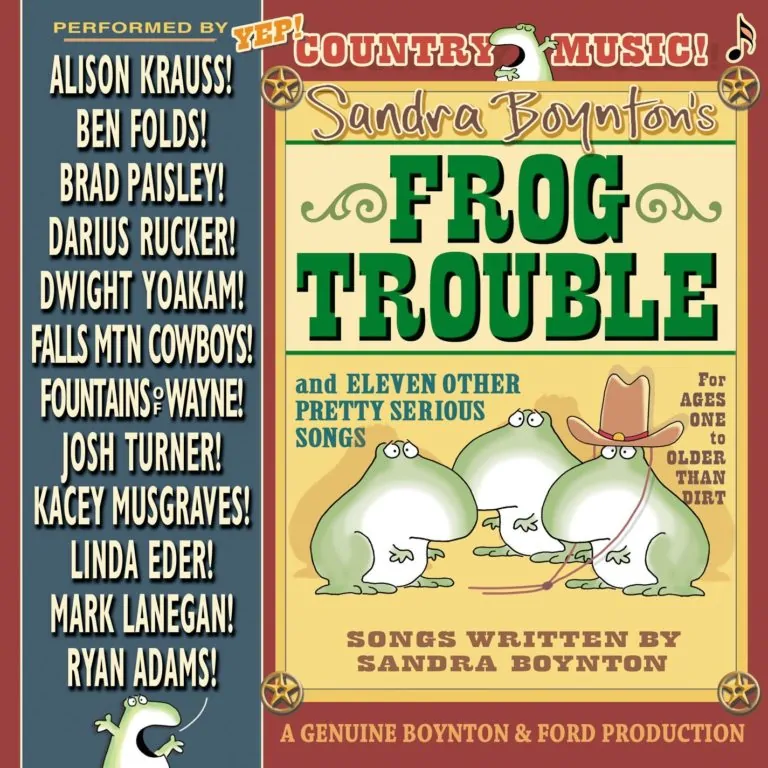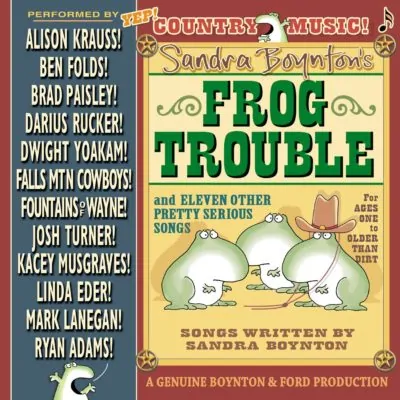 Even though my kids are now 9 and 15, I requested a review copy of Sandra Boynton's Frog Trouble: . . . And Eleven Other Pretty Serious Songs because we LOVED her earlier music releases. My oldest was older than my son is now, and we all loved listening to them, so I wondered if we could resurrect that fun.
You know how those second children grow up so much faster than our first born? I think that is part of the reason that Kyle didn't enjoy it as much, and I also think that this target audience is a little bit younger. What I like about this kind of "kid music," is that it's not accompanied with annoying vocals or music. This is real music — country music in this particular case — but with kid-friendly vocals, the perfect compromise! There are several songs that Kyle (age 9) and I both liked:
"I've Got a Dog" (sang as dawg) by Dwight Yoakam took me back to my college years, because it's exactly the kind of music that was popular then
"Heartache Song" by Kacey Musgraves has an old-fashioned Patsy Cline feel to it, and has lyrics that will make adults and children smile. Her heartache is over the fact that she has to clean her room and be quiet when company comes over.
Any fan of Alison Krauss will like "End of a Summer Storm," which is her style. There's nothing "kid" about it, but I did ask Kyle if he liked it, and he said he did. This might end up on your own playlist, whether you are carting kids or not.
Brad Paisley sings our favorite song, "Copycat," because it's typically Brad Paisley, but it has that humor that I love to share with my kids as well, and that I liked so much in her other CDs.
The other artists bringing songs such as as "Trucks," "When Pigs Fly," "Alligator Stroll," the title track and others are Fountains of Wayne, Mark Lanegan, Ryan Adams, Ben Folds, Josh Turner, Darius Rucker, Linda Eder, and Falls Mountain Cowboys.
Visit the official website
Like Sandra Boynton on Facebook                   
Watch clips & listen to the tracks on YouTube                  
Follow @SandyBoynton on Twitter
#FrogTrouble
Win it!
Sandra Boynton is beloved by all for her board books and other projects, and her music carries that same whimsical spirit. I'm happy to share the opportunity with one of you to win Sandra Boynton's Frog Trouble CD and a $50 gift card from amazon which you can use to buy other Sandra Boynton products such as her other CDs or classic board books.
To enter, put your name and email address in the widget below, then tell me which is your favorite Sandra Boynton product (or you can tell us which of these artists is your favorite).