This post may contain affiliate links. Read my disclosure policy here.
Krissy of B-Inspired Mama, 5 Minutes for Mom contributor, is here to share her insights into Evernote and Post-it Products. While we were compensated to write this post, our writer's views and opinions remain her own.
I've been using Evernote for my personal and business organization for months.  In their own words, Evernote is a collection of "apps and products [that] make modern life manageable, by letting you easily collect and find everything that matters."  So when I was invited to attend the Evernote Conference in San Francisco last week, I was all in.  And not only for the mini mama vacation… but to learn more about how Evernote could help me stay on top of my busy mama life, too.    
What I didn't realize was that Evernote's solution for staying on top of things would actually embrace more than just their cool digital products.  During the opening address, Evernote CEO, Phil Libin, unveiled a new development to bridge the ever increasing digital and analog gap in our lives; Evernote's partnership with what he proclaims as a product that everyone knows and loves, Post-it Notes!
How Evernote Will Enhance Post-it Products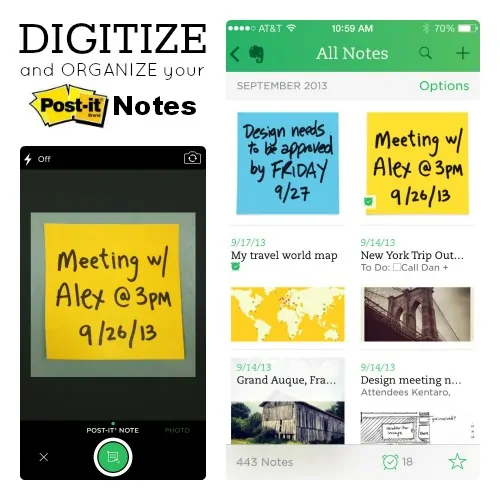 Confused?  Don't be . . . It's actually super easy and really cool.  Evernote has just added an awesome Post-it Notes camera feature that allows you to digitize, categorize, and take your Post-It Notes on-the-go.  
Wait… the camera can sense the color and categorize the Post-it Note into a certain folder?!  I know. It's going to change my life, too.  Now what I scribble on my Post-it Notes will actually get REMEMBERED.
After my day at the Evernote Conference, I was whisked off to the nearest Staples to see the new cute elephant-clad Post-it Brand and Evernote display.  So now I'm stocked up on colorful Post-it Products and have my Evernote ready.  You can get yours and learn more about Post-it Brand and Evernote by visiting your local office supply store or by visiting Postit.com/Evernote following Post-it Brand on Twitter (@postitproducts )or on Facebook.
I'll be back soon to share the ways I've discovered to use this killer combination to get it together and stay organized.
How would you use the new Evernote Post-it Products?
Krissy is a former art teacher turned full time mama of 3. She blogs at B-InspiredMama.com to connect moms with kids crafts, easy recipes, learning fun, and creative parenting tips.

You May Also Like…
How To Take Notes From A Textbook