This post may contain affiliate links. Read my disclosure policy here.
Dawn, 5M4M contributor, received a product sample to facilitate this review/giveaway. We were compensated to write this post, however all opinions remain those of the writer.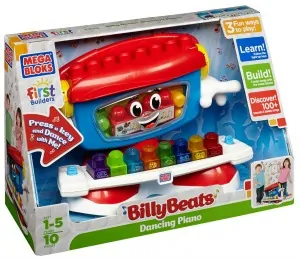 Toddlers and music go together beautifully, as anyone who has ever seen a toddler's chubby little legs bouncing up and down can attest. Dancing along to music comes naturally to kids, and toys that not only play music but allow young children to create their own are always a hit. I've had the pleasure to observe this first-hand over the last week with the Mega Bloks First Builders Billy Beats™ Dancing Piano!
Though my own children are all school-aged, I currently spend my days with members of the toddler and preschool set. I didn't have to do much at all to introduce Billy Beats™ because as soon as it was seen by my 18-month-old friends, the interest level went straight to full excitement. At first, I switched it to "Dance Along" mode, in which eight different classic children's songs can be selected. As soon as Billy Beats™ started bopping back and forth to the music, my young friends began bouncing along with him. Lots of shouts of "More! More!" could be heard in my living room. In the "Discover Music" mode, Billy Beats™ functions as a traditional toddler toy piano, with eight notes that can be played with the push of the Mega Bloks-shaped keys. The third mode, "Learn to Play," prompts children to play the songs on their own by lighting up the correct keys. In this way, Billy Beats™ can be used by children of varying developmental levels, ensuring that this toy won't get old as children grow up.
I like that there is a lower volume mode, as well, for I often find toys to be much too loud. Billy's dancing feature can also be turned off, if children choose just to play music. A particularly unique feature incorporates sheet music stickers that can be placed on the Mega Bloks that are included (and stored) inside Billy. When the blocks are placed atop Billy's hat, older children can match the color-coordinated notes with the keys as they learn to play the songs themselves. Though the age recommendation for Billy Beats™ is 1-5, this particular feature has attracted both my almost-6 year old son and my 7 year old daughter, too.
And I can't forget the more whimsical sound features in addition to the traditional piano notes. In "Animal Sounds" mode, each key will play a different animal noise,  making for a silly way to play music, and "Funky DJ" mode provides even more fun sounds to explore.
Mega Bloks First Builders Billy Beats™ Dancing Piano  has been a big attraction with my young friends since I put it into the toy rotation, and I'll even admit to using the sheet music to impress the kids with my own rendition of "Old MacDonald" once or twice. This fun toy provides a variety of play modes at various levels, ensuring a long shelf-life for children.
Enter to win
If your child is a fan of musical toys and Mega Bloks building toys, you can't miss today's giveaway. One winner will receive a huge prize pack from the Mega Bloks' First Builders line worth $140:

Mega Bloks First Builders Big Building Bag
Mega Bloks First Builders Farm
Mega Bloks Lil' Vehicles Sonny School Bus
Mega Bloks Lil' Vehicles Catie Convertible
Mega Bloks Lil' Princess Sparkling Tower
PLUS the Mega Bloks First Builders Billy Beats™ Dancing Piano
This giveaway is open to U.S. mailing addresses only, please. To enter, fill in your name and email address in the giveaway tools form below to get started.
Mega Bloks First Builders Billy Beats™ Dancing Piano ©2013, MEGA Brands Inc. All rights reserved. MEGA BLOKS and FIRST BUILDERS are trademarks owned by MEGA Brands Inc.