This post may contain affiliate links. Read my disclosure policy here.
Autumn is upon us and the leaves are already starting to fall from the trees as the weather gets cooler. Many families and pets are enjoying the outdoors lately, including ours.  So I'd like to remind you of some important autumn safety tips for your family and beloved pets. I want all families to be able to enjoy their autumn.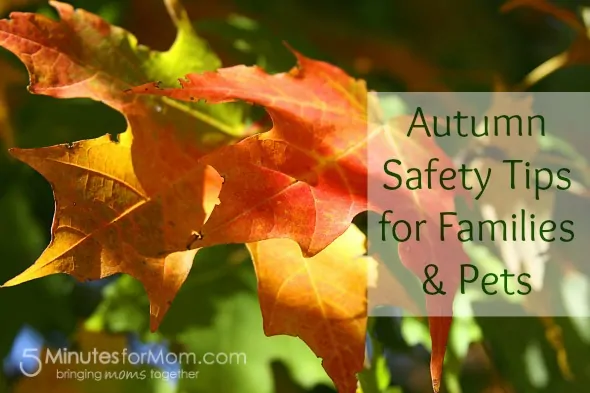 Tips for Families
Be sure to wear gloves and protective eyewear when mowing or doing yard work. Also wear good sturdy shoes to protect your feet.
Autumn is the perfect time to check and/or change the batteries in your smoke and carbon monoxide detectors. Ideally you should do this every 6 months or when you observe Daylight Savings Time in the spring and fall.
Have your furnace serviced and your chimney cleaned if you have a fireplace. You want to be able to heat your home safely as it gets cooler. Also be careful when using space heaters.
Never burn your leaves in windy conditions and be extra careful to make sure you're burning far enough away from structures and other things that could easily catch fire.
If you plan on walking in a wooded area be sure to wear bright colored clothing. Hunters are out during the autumn months and you want them to be able to see you clearly.
When cleaning gutters or high windows be sure to look for overhead wires. Also be careful while on ladders!
It's getting dark earlier so you need to make sure you can be easily seen when out walking or exercising on the roads. Wear bright colors or reflective gear to help drivers easily spot you.
If you have a fireplace, keep a barrier around it to keep your children and pets safe.
Be very cautious when allowing children (or adults) to jump in piles of leaves. There could be something sharp at the bottom that could cause an injury.
Tips for Pets
When changing the antifreeze in your car make sure to keep your dog away from it. It's highly toxic to your dog and it could even kill them if ingested.
Also be careful when putting out rodent poison as if your cat eats a rodent that has ingested it, your cat could get very sick and possibly die.
No matter what plans you have for your family this autumn, I hope you have a safe season and enjoy making memories together.
Written by Andrea from Moody Mama Says. She is a busy mom of two sons and has been blogging since 2008.