This post may contain affiliate links. Read my disclosure policy here.
Geri Chase, 5m4m contributor, shares her insights into this giveaway for Monster High 13 Wishes DVD. We were compensated to share this post with you. All opinions listed are those of the writer.
With Halloween right around the corner, the ghouls at Monster High picked a perfect time to debut their new DVD!  Monster High 13 Wishes, the third animated CG film in the Monster High DVD series, will be released on October 8th.  The feature length film brings back Mariposa in her new role as the ambassador of Flutterfield while introducing some new characters to the Monster High entourage as well.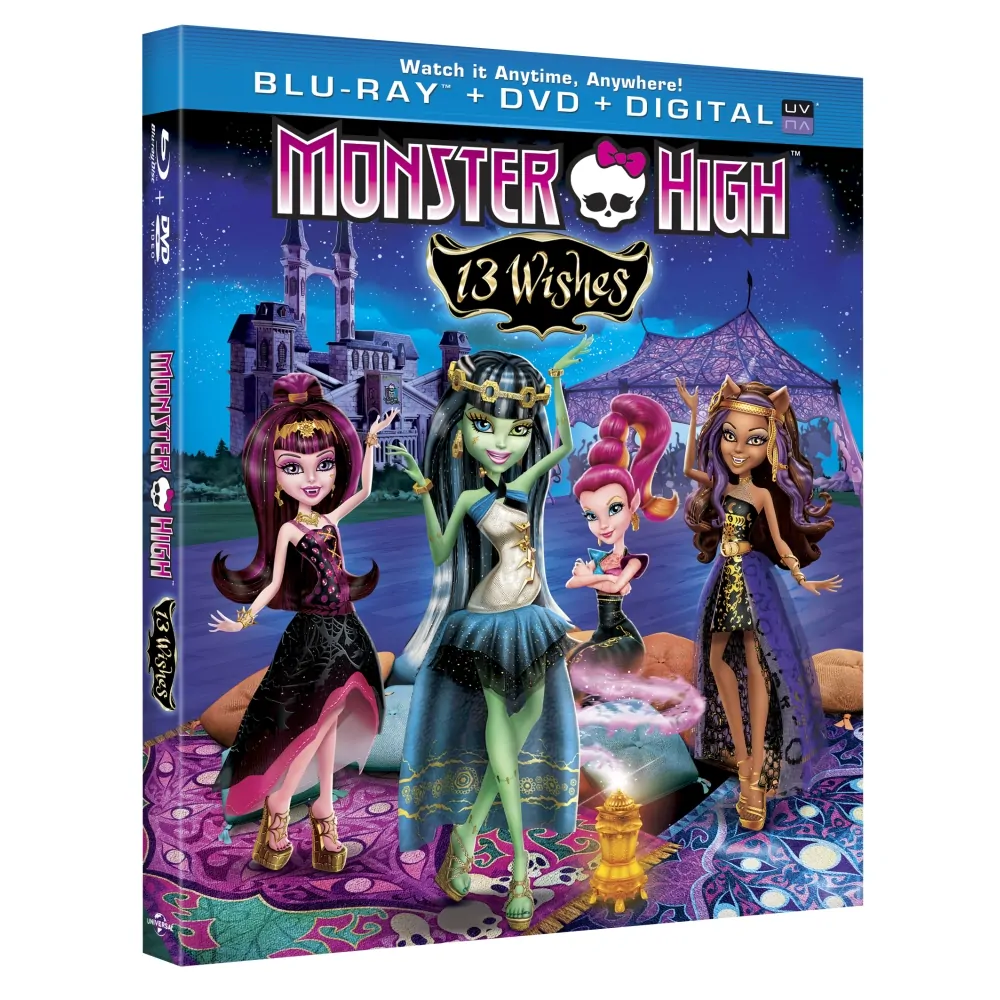 The Plot
Tired of being under her popular older sister's shadow, Howleen Wolf™ stumbles upon an ancient genie lantern hidden deep within the attic of Monster High™. The genie is freed and grants Howleen not 3, but 13 wishes! Howleen soon discovers that each wish comes with a dark side. Join the ghouls of Monster High™ on an all-new movie adventure as they learn the age-old adage of "Be scare-ful what you wish for."
To help celebrate the release of the new DVD, Mattel is also releasing a new line of Monster High dolls that will feature favorite ghouls Frankie, Clawdeen, Draculaura and Howleeen, but there will be new characters too!
MONSTER HIGH® 13 WISHES™ HAUNT THE CASBAH™ DOLL ASSORTMENT includes dolled up ghouls in to-die-for genie-inspired fashions! Clawdeen Wolf, Frankie Stein and Draculaura look monsterific in their over-the-top outfits that are spooktacularly accessorized with themed jewelry and gold detailing in their hair.
 MONSTER HIGH® 13 WISHES™ PARTY LOUNGE AND SPECTRA VONDERGEIST® is a great place for the Monster High ghouls to all fang out. The lounge is set up so girls can plug in their mp3 player and play their tunes right through the party room!  Spectra Vondergeist loves to haunt the lounge, where she can dance and hear the latest ghostly gossip while looking absolutely boo-tiful.  When the monster mashing is done, the lounge folds up, making it easy to store or to take on a play date!
MONSTER HIGH® 13 WISHES™ DOLL ASSORTMENT includes Howleen Wolf, Lagoona Blue and two new friends and possible BFFs Gigi Grant and Twyla. Gigi Grant is the Genie's daughter and looks great with her classic genie look that includes gold detailing and accessories. Twyla's dad is the Boogie Man.  Twyla is shy and misunderstood, but looks adorable in a cute outfit with a ruffled skirt. Laguna Blue shimmers in a pretty pink and black dress accessorized with a fishbowl purse. Howleen Wolf looks "clawesome" in a dress with a paw print and really fun accessories.
Live Event
If a new DVD and doll assortments aren't enough, Monster High 13 Wishes is making "Screams Come True" with a live, interactive experience at the Toronto Eaton Centre.  Through the use of a digital wall, fans can become their favorite character and enter the 13 Wishes world!
When: October 4th – 6th
Where: Toronto Eaton Centre, 220 Yonge St. Toronto, Albert's Way (level 2)
Time:   Friday October 4th – 9:30 a.m. – 9:30 p.m., Saturday October 5th – 9:00 a.m. – 7:30 p.m., Sunday October 6th – 10:30 a.m. – 7:30 p.m.
Giveaway
Is there a Monster High fan in your family?  Surprise them with a "spooktacular" Monster High 13 Wishes prize pack that includes everything mentioned in this post!
Geri Chase is mom to 2 hilarious boys and wife to an insanely funny husband, all of whom like to remind her that the fact that she is a girl does not give her immunity from their testosterone induced humor. While she pretends not to be amused, she secretly laughs herself silly over their antics and frequently blogs about life and family friendly products over at I Am Boymom.