This post may contain affiliate links. Read my disclosure policy here.
The Hub Network, a destination for kids and their families, will host the first "Hub Network's First Annual Halloween Bash," to be broadcast on Saturday, October 26, 2013, and  we get to be there to see the whole thing!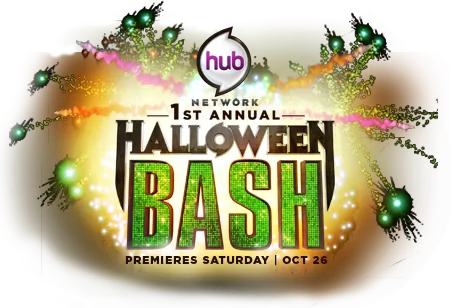 The special will be hosted by Kenan Thompson ("Saturday Night Live"), along with Halloween expert Martha Stewart panel of celebrity judges. It includes a musical performance from Cody Simpson, presenters Bailee Madison, Rico Rodriguez, Keean Johnson and Todd Newton, and a nationwide costume competition where 50 semi-finalists from each state will head to Los Angeles to be a part of the two-hour star-studded event.
One lucky winner will win $25,000 and a walk-on role on the Hub Network's Daytime Emmy® Award-winning series, "R.L. Stine's The Haunting Hour: The Series."
The "Hub Network's First Annual Halloween Bash" costume competition is open to all ages, including individuals or a maximum of five people per group submission.
Participants are encouraged to create eye-popping, hair-raising and spooky costumes within one of the following six categories:
 Howl-arious – Shows the lighter side of Halloween with a take on a fun, funny or otherwise hilarious costume.
Spook-tacular – Get ready to frighten America by showcasing the most spine-chilling costume for all the ghosts and ghouls out there.
Mad Genius – Unique, original, innovative and never seen before. A knight in armor fashioned from bottle caps, bat wings made from old umbrellas, or a cardboard-box jetpack, the possibilities are endless. Display a costume unlike any other — show your Mad Genius.
Blast from the Past – Take a stroll down memory lane with a timeless costume. Memories, nostalgia and yesteryear brought to life. Show your take on great figures from before the 20thcentury or a retro 50's sock hop get up, 60's flower child or other "period" inspired costumes.
Animal Kingdom – Transform into a living creature from the past or present. Be a roaring lion, a school of jellyfish, a firefly, or a Tyrannosaurus Rex.
Everyday Stuff – We're looking for the coolest refrigerator/freezer, remote control, mailbox, block of Swiss cheese, telephone and more.  Be creative and transform the ordinary into the extra-ordinary.
For more information on how to enter, as well as to check out the latest entries, please visit www.hubhalloweenbash.com and also watch the video below…
The deadline to enter is Sunday, September 29, 2013.
About the Hub Network
The Hub Network is a multi-platform joint venture between Discovery Communications (NASDAQ: DISCA, DISCB, DISCK) and Hasbro, Inc., (NASDAQ: HAS) with a goal of entertaining, enlightening, empowering and educating children and their families. The cable and satellite television network features original programming as well as content from Discovery's library of award-winning children's educational programming; from Hasbro's rich portfolio of entertainment and educational properties built during the past 90 years; and from leading third-party producers worldwide. The Hub Network's lineup includes animated and live-action series, as well as specials, game shows, and family-favorite movies. The network extends its content through a robust and engaging online presence at www.hubworld.com. The Hub Network rebranded from Discovery Kids on October 10, 2010, and is available in over 72 million U.S. households. The Hub Network logo and name are trademarks of Hub Television Networks, LLC. All rights reserved.
To find the channel in your area, please visit http://www.hubworld.com and check the channel locator at the top of the page.
Visit the Hub Network on Facebook at http://www.facebook.com/hubtvnetwork