This post may contain affiliate links. Read my disclosure policy here.
5 Minutes for Mom contributor Geri Chase shares her thoughts about the Owlet Vitals Monitor.  She was compensated for writing this post and sharing her honest opinion. 
Any mother knows the worry that comes with the birth of a new baby.  We worry about their comfort, their growth, their eating and especially their sleeping.  How many times have you laid in bed wondering if the baby is breathing?  Is she cold?  is he rolling over on his stomach?
One of the benefits of the technology boom has been the creation of better ways to monitor the health and well-being of our babies.  It was only a matter of time until someone came up with an iPhone Baby Monitor, right?  Yep…you read that right.  There is actually an "app" for that.  The Owlet Vitals Monitor is the world's first baby monitor product on the scene to combine a wearable monitor with a smartphone app that lets moms check on baby's vitals right from their smartphones!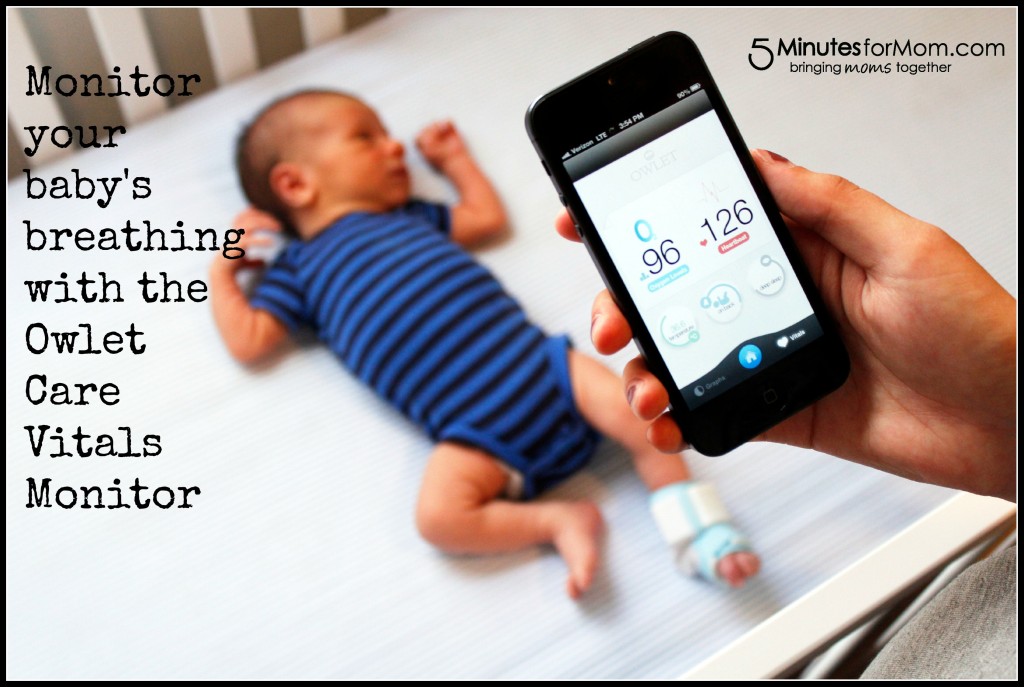 The Owlet Vitals Monitor is a wearable, washable "Smart Sock" that fits on your baby's foot to check oxygen levels, heart rate and skin temperature. It will also send rollover alerts and sleep quality information, all of which get transmitted through Bluetooth to a wireless device.  Now parents have can have real time information about their sleeping baby instantly at their fingertips.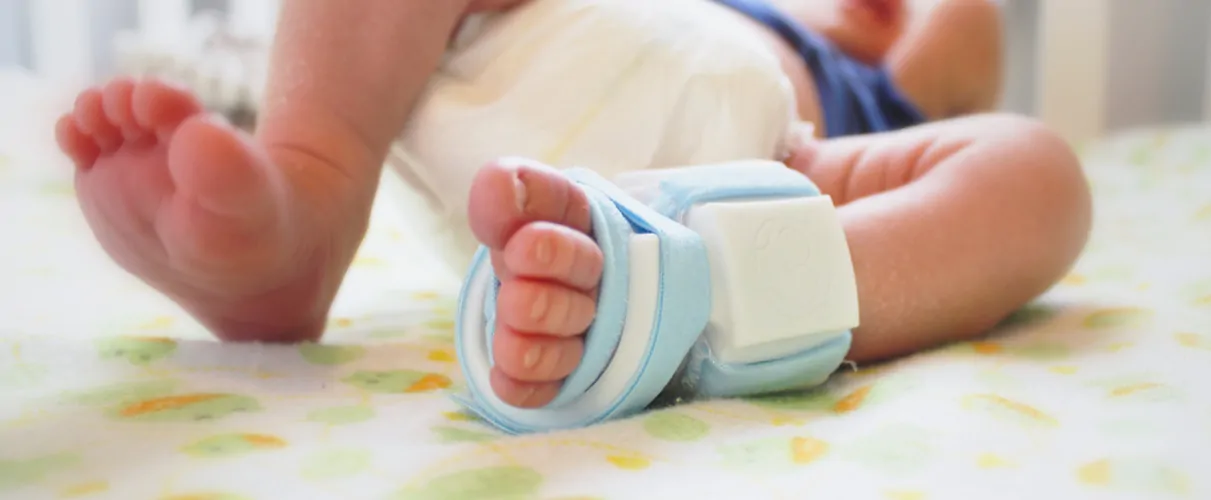 The Owlet was created by a team of Brigham Young University students using proven hospital technology, but bumped up several notches. Kurt Workman, Founder/CEO and father to be, came up with the idea for the monitor after helping to care for his two twin cousins, who were born prematurely.  He also lost an infant cousin to SIDS and his wife almost died from SIDS as well. His personal experience with issues of infant oxygen deprivation concerned him enough to want to find a way to warn parents if changes to a baby's breathing were occurring.
"Having four sensors allows for nine different reading combinations.  Hospital pulse oximeters only allow for one combination of light and sensor, making Owlet's monitor a vast improvement over current technology.  The new design allows the Owlet monitor to automatically adjust data read for foot growth, movement, and various levels of ambient light," says Zack Bombsta, Chief Engineering Officer and father of one.
The creators are quick to note that the Owlet Vitals monitor is not a medical device.  It is not meant to diagnose possible health issues, but rather to alert parents to irregularities in a baby's heart rate or oxygen levels or sleep patterns.  "But, hopefully, the device can give parents time to react and see that something's wrong before it's too late,"says Owlet Founder Jacob Colvin.
The Owlet Vitals Monitor will be shipping their first units in November 2013 after using an innovative crowdsource fundraising method to get the product developed and into the hands of new parents.  When they were rejected by Kickstarter, Owlet turned to the masses and ran their own crowdfunding campaign to raise $100,000 rather than using other platforms.  Their instincts to put the idea out to the public worked well!  To date Owlet Baby Products has 855 supporters who helped raise over $143,000 for the production of the Owlet Vitals Monitor.
Savings Alert!
Being the parent of a new born is a hard job.  Worry and exhaustion make the job even harder. Owlet has found a way to use science and technology to give parents of newborns a little peace of mind and maybe even a little sleep!   The Owlet Vitals Monitor is pretty affordable at a retail price of $199, but for a very limited time 5 Minutes for Mom readers can pick it up for $159 at this site using promo code: OWLET_IS_SO_UNBELIEVEABLE.
Connect with Owlet
Be sure to stop by Owlet Baby Products' social media pages to get more information about the Owlet Vitals Monitor:
Geri Chase is mom to 2 hilarious boys and wife to an insanely funny husband, all of whom like to remind her that the fact that she is a girl does not give her immunity from their testosterone induced humor. While she pretends not to be amused, she secretly laughs herself silly over their antics and frequently blogs about life and family friendly products over at I Am Boymom.