This post may contain affiliate links. Read my disclosure policy here.
5 Minutes for Books managing editor Jennifer Donovan received a copy of this book to facilitate her review, and we were compensated for this campaign, but as always, our writer's opinions are her own.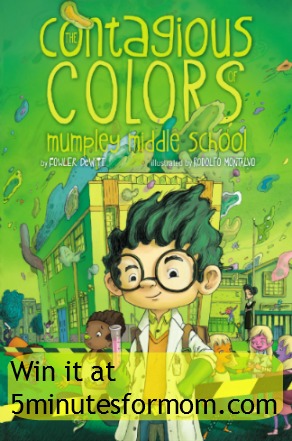 I jumped on the opportunity to review this book when I had the chance, because it seemed like exactly the sort of book that my 4th grade son enjoys — funny, kind of science-y, but with a realistic school setting. He hasn't had a chance to read it yet, but after seeing me reading it, he said that he definitely wants to.
Wilmer Dooley is in 6th grade. The Contagious Colors of Mumpley Middle School kicks off with an entry in his brand new journal, day 2 (as an interesting twist, the journal ends with day 1, once all the secrets have been revealed).
Wilmer has two goals for 6th grade. One is to win the heart of Roxie McGhee (Parental observation: Why must all books, books that 9 – 12 year olds are reading, feature these romances and crushes?? It was a cute plot element that might make the book more interesting to girls, and it wasn't too over-the-top at all.). His second pursuit is to win the Sixth Grade Science Medal.
Wilmer is working on a history paper about plagues of the middle ages, when the kids at the middle school start to experience their own symptoms, and it's spreading rapidly. Soon all the kids in the school, except Wilmer and his nemesis Claudius, are infected. They are congested, coughing and sneezing, and changing colors. That's right, Roxie is pink, and it's spreading from head to toe. Wilmer's little brother Sherman is all sorts of colors, changing all the time. The school becomes rainbow hued as the children all change colors.
Wilmer decides that to win the medal, he is going to keep investigating what causes an epidemic to spread so that he can figure out what exactly is going on at his school, and then find a cure!
The story moves along with a journal entry at the beginning of each chapter and then events at the school and at the Dooley household. His dad is a scientist too, and his mom is always whipping up wacky menu items. The story is funny and full of realistic school details that appeal to kids. It unfolds nicely as Wilmer is figuring things out through trial and error.
I figured the cause out right away. I don't know if the author Fowler DeWitt wanted his grade school readers to figure it out before Wilmer, or if I'm just a lot smarter than the intended audience, but regardless, it didn't spoil the fun of reading.
This fun tongue-in-cheek video trailer made me smile:
Enter to Win
One of you (U.S. only) will win a $50 Visa card for back to school shopping and a copy of The Contagious Colors of Mumpley Middle School