This post may contain affiliate links. Read my disclosure policy here.
Jennifer here to share with you a video and some cool info about SMART food choices. We were compensated to write this post, however all opinions listed are our own.
What do you think makes a city smart?  The people in the city? The food of the city? What about the food choices of the people in the city? To me, that is what makes a city SMART.
Smartfood, with the support of SELF magazine, came together to create a list of the top 10 SMARTest cities in America, based on a number of criteria. San Francisco claimed the top spot as a city that makes SMART food choices.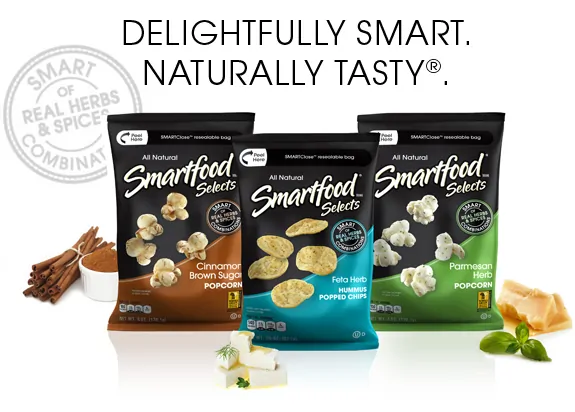 What does SMART stand for?
The top 10 SMARTest Cities in America is part of Smartfood's summer-long effort to celebrate what it means to live SMART. To start, the brand broadened and redefined "SMART" by combining five criteria to align with the brand's goal of living and eating well. Each letter stands for a specific area of focus: Savvy, Motivated, Accomplished, Responsible and Thoughtful.
Based on these criteria, Smartfood's Top 10 SMARTest Cities are:
San Francisco
Seattle
Washington, D.C.
Austin, Texas
Minneapolis
Portland, Ore.
Denver
Boston
Honolulu
San Jose, Calif.
Too bad I don't live in any of these areas, but with the help of Chef Jody Denton, I too can make SMART food choices.

Through July 7, Smartfood also is conducting its SMART Search 2013 contest to reward someone who has "smart in the bag" — someone savvy and living a balanced lifestyle, motivated to get regular physical activity, accomplished by achieving educational, career and life goals, responsible in her or his care for the planet and thoughtful when it comes to philanthropic efforts.
Visit www.facebook.com/smartfood to nominate someone they know or themselves, with the contest winner to be featured in the September issue of SELF magazine and receive $10,000. In addition, every person who submits a nomination will receive a "Buy One, Get One" coupon for Smartfood Selects products, while supplies last.
Enter to win
We are giving away a goodie basket valued at $100 filled with Smartfood snacks, kitchen gadgets, and more. Use the Rafflecopter form to enter this giveaway. New to Rafflecopter? Watch this 45-second video on how to enter!
a Rafflecopter giveaway

What is your smartest snack choice that you make?