This post may contain affiliate links. Read my disclosure policy here.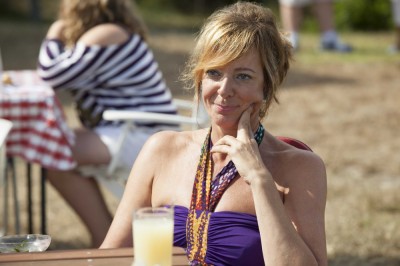 Jennifer Donovan, 5M4M contributor, here to share my interview with Allison Janney on her role in The Way Way Back movie. I was invited to an advance screening of the film, and we were compensated for this campaign.
On-Location
AnnaSophia Robb plays Betty's (Allison Janney's) daughter Susanna. In the clip (seen below), she says that the coastal town where people spend the summer is like "Spring Break for adults." I knew that The Way Way Back movie was filmed on location in Marshfield, Massachusetts, so I asked Allison Janney if that's the way their filming was. It doesn't sound like they were quite as out-of-control as the adults in the movie, but Janney loved it:
"I've got to tell you, it was one of my top five favorite filming experiences, if not the top one, because of the location in Marshfield, Massachusetts, right on the beach. I'd literally walk down the beach to work every day. A lot of the other actors, like Toni (Colette) and Steve (Carell), had houses right next to each other on the beach. And we had a lot of fun, a lot of barbeques and cookouts and hanging out on the beach at night.
So there was a real summer camp vibe to it because we just played. We played hard and we worked hard, and we had a great time."
The Character She Played
Betty is a divorced mom with a larger-than-life personality. She's Trent's (Carell's) next door neighbor, so he can't escape her. Allison Janney describes her:
"Betty is just tragic. She's just working as fast as she can to let everyone know that she's fine and everything's great in her life, and she's happy and together. And she broke my heart because I knew how much pain she was in underneath. I find those characters so fun to play, and she was no exception. You know it's because she's just so desperate to be loved and love and have her kids love her and have her family. It's a great part to get to play."
Real, Relatable Characters
When I saw the movie, these characters all struck me as having tragic flaws. Janney put her finger on Betty pretty well, and because you know she's been hurt, you have compassion on her. Owen (Sam Rockwell), the manager of the water park, is the boy who will never grow up, but he comes across as adorable and lovable, not an irresponsible screw-up. Carell playing against type is pretty much a jerk. I guess he's got issues, but I didn't find a whole lot to love there. I asked Allison her thoughts on this, "Why do you think that, in the midst of some of this deplorable behavior, we're able to stick with the movie and root for all these characters?"
Deep down they're worthy of being rooted for because they're very human and flawed. Everybody has issues. Everybody has character flaws. I think that's why they're very relatable. We see the pain underneath or the struggle. You see them at least trying. You know that they want to be better people. Betty wants to her family to be together. She wants to find someone who really loves her and who she loves. And Owen wants to be a more responsible man. You know they want to be better people, and you like them. You root for them because they're believable and you recognize them.
We Loved It!

I saw this movie with a friend and my 14-year-old daughter, and we all loved it. It earned its PG-13 rating with a fair amount of language and some mature subjects (nothing a high schooler hasn't heard), but it was a great movie for us to enjoy together. I liked all the 80's references. It has a present-day setting, but the Water Wizz water park was founded in 1983 and the founder wanted it to never change, so we were treated to some 80's tunes, cars, and culture.
It's great to see the film being received well, because when you have as much fun as we did making it, you just hope that it's going to translate. — Allison Janney
I don't know if it was the fantastic screenwriting, direction, cast or the chemistry, but it definitely translated to me.
Giveaway Link
Click over to my other post for a chance to win a $75 cash and merchandise giveaway from Fox Searchlight pictures. You have a couple of days left to enter.
Visit the official website, Like The Way, Way Back on Facebook, and follow @TheWayWayBack on Twitter #TheWayWayBack.