This post may contain affiliate links. Read my disclosure policy here.
5M4M contributor Jennifer Donovan is here to share a patriotic initiative from Barbasol shaving cream. We were compensated for this post, but all opinions are the writer's own.


Are you running out of creative ideas to keep your kids busy? Perhaps looking for a way to shake up a July 4th gathering?
When I heard about the National Shaving Cream Fight Week July 1 – 7 that Barbasol shaving cream was promoting, I wanted to help get the word out.
Why?
My grandfather used Barbasol shaving cream when he was in the Navy. He was a proud World War II vet, serving on a P.T. boat at the battle of Normandy. He insisted that his cuts healed faster because of the Barbasol, so it was all he used, even all those years later. The red, white and blue striped can brings back fond memories for me. He and my grandmother were so sure that it helped heal that they even kept some of the cream that came in a tube especially to use to spread on cuts. Now I'm not saying it worked, but it's one of those special memories I have.
When I learned more about the campaign, I found out that it actually was meant to honor vets, which made it mean even more to me: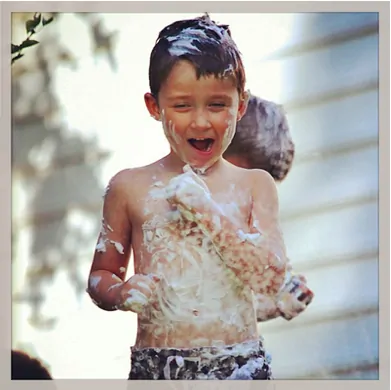 Millions of Americans will celebrate our nation's independence at backyard barbeques and community firework displays on the Fourth of July. Barbasol encourages Americans to honor the men and women who fought for our freedom by participating in a shaving cream fight during what the company has declared as National Shaving Cream Fight Week, the week of July 1-7, 2013.
They are encouraging Americans to make donations to the Veterans of Foreign Wars in the month of July, and they've put together a book, where all proceeds benefit the VFW, called The Field Guide to Manhood which is "a collection of sacred knowledge passed from generation to generation, covering everything from eating and drinking like a man to defending yourself in a bear attack. And, of course, providing the basics of shaving. Think of it as the quintessential collection of know-how from an entire history of men."
So beyond having good clean fun, celebrating true independence by honoring our veterans that week, what else is in it for you?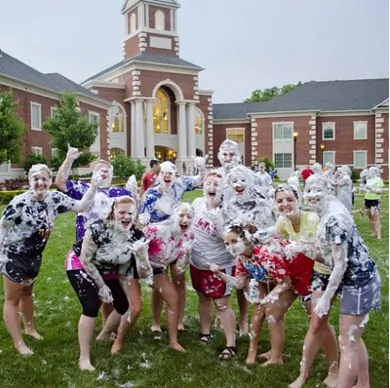 Barbasol is giving out $250 and other prizes in the following categories:
Best Group Shot
Most Creative
Best Sneak Attack
Most Covered from Head to Toe
and Best Battle of the Sexes
Just head to their Shaving Cream Fight Contest page on Facebook to find out more. Follow their social media pages for even more info on their products, the National Shaving Cream Fight Week, and tips on shaving or shaving cream fights: