This post may contain affiliate links. Read my disclosure policy here.
Jennifer here to share with you about an amazing giveaway from Disney! We were not compensated to write this but provided copies to give away to you!
One of my most favorite Disney movies is Lilo & Stitch, so when we were contacted and asked if we wanted to do a giveaway, we said YES! Disney just released 3 new movie collections just in time for the summer.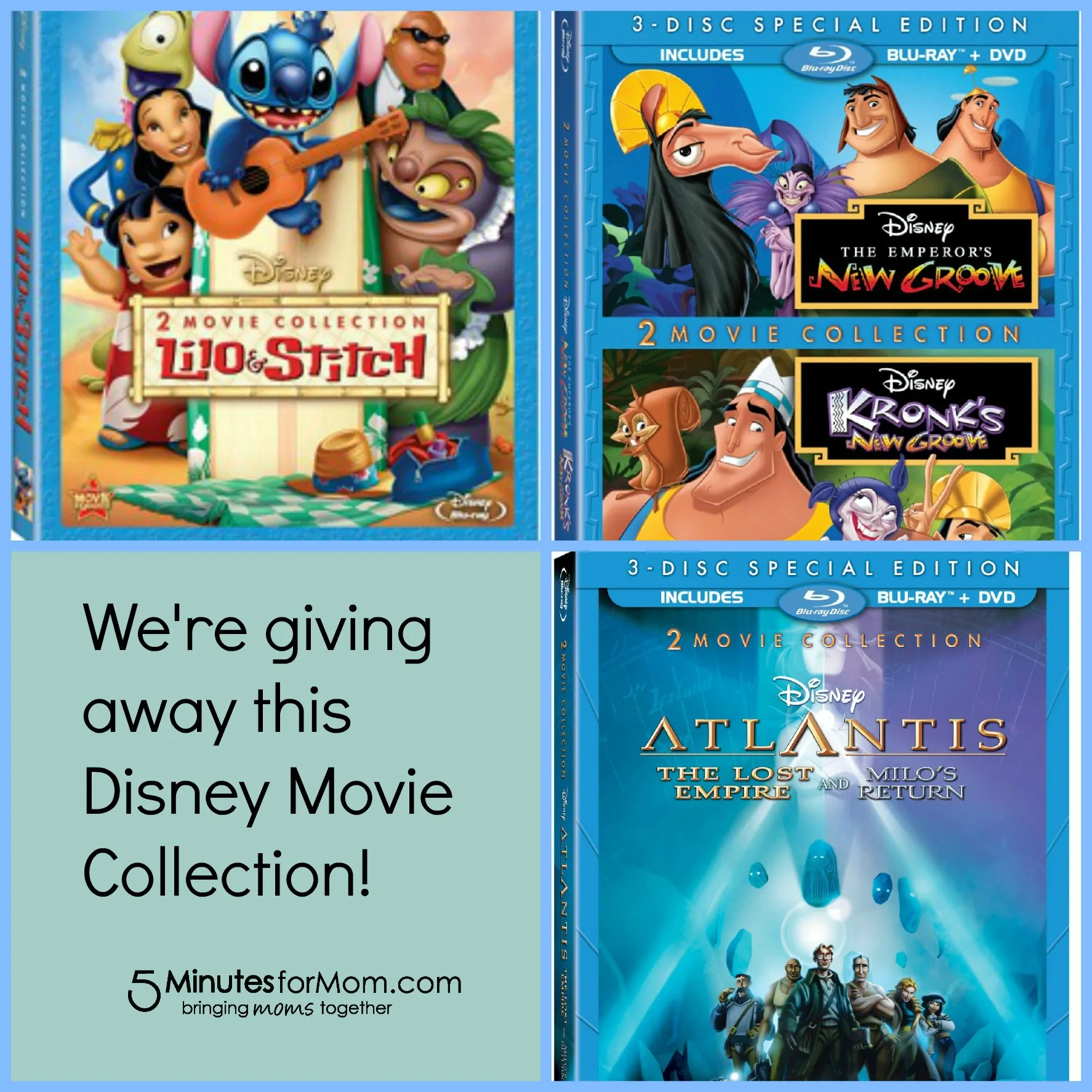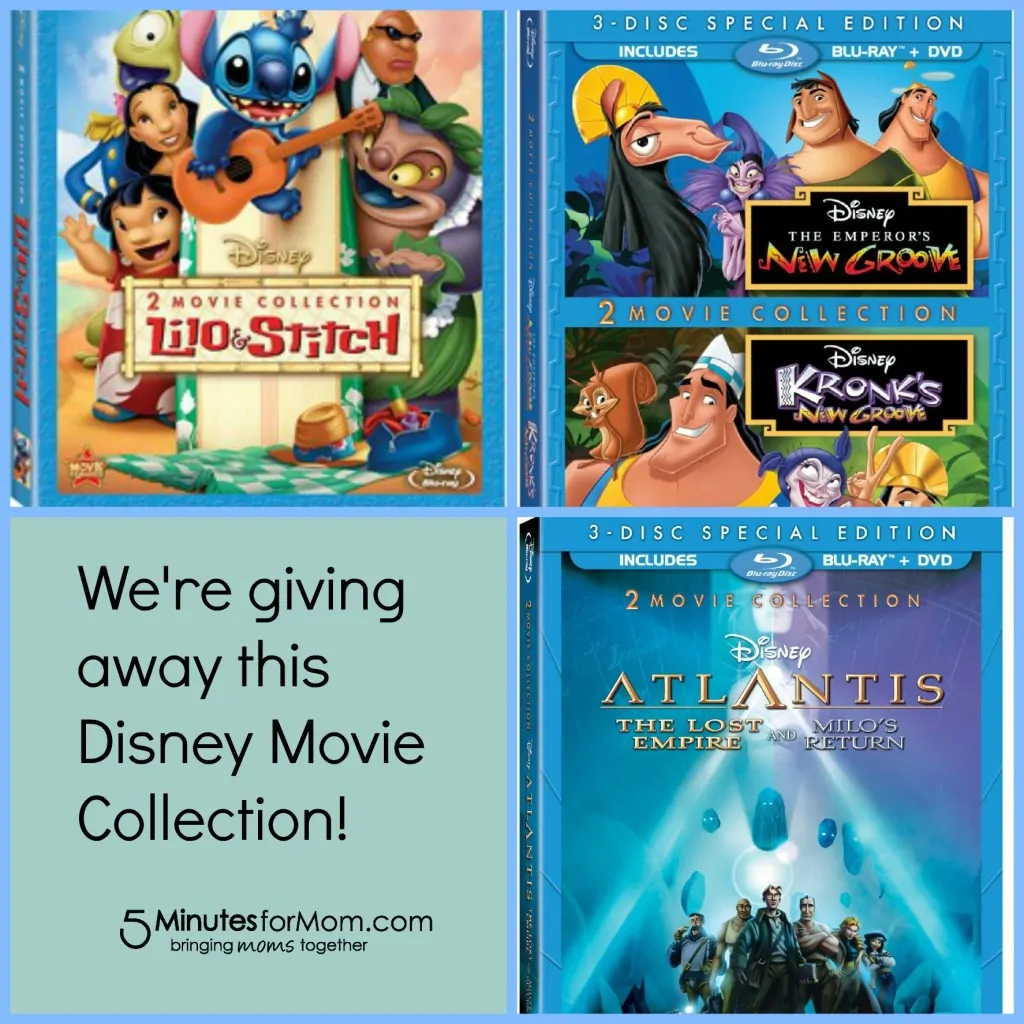 The Emperor's New Groove" and "Kronk's New Groove" available June 11, 2013 for the first time ever on Blu-ray hi-definition, in a 2 movie collection. The 3-disc Blu-ray Combo Pack includes both feature films on a single Blu-ray disc plus each film on individual DVDs.

The fun begins with "The Emperor's New Groove," featuring an all-star cast and Academy Award®-nominated music by Sting (Best Music, Original Song, Sting, 2000). When the young and spoiled Emperor Kuzco (voice of David Spade) is transformed into a llama by his sinister advisor Yzma (voice of Eartha Kitt) and her henchman Kronk (voice of Patrick Warburton), it takes a thoughtful peasant named Pasha (voice of John Goodman) to restore the kingdom and show Kuzco just how much fun it is to be true to yourself.

Then audiences can continue the fun with "Kronk's New Groove." The outrageous sequel stars Yzma's hilarious henchman Kronk in a riotous adventure that's filled with hysterical mayhem and mishaps. Kronk cooks up a get-rich quick scheme to impress his Dad. But when things go wrong, Kronk kicks into comical high gear and discovers that the true riches in life are his friends and being "true to your groove."

These two comedy classics are king-size fun for the entire family and better than ever on Disney Blu-ray!
Atlantis: The Lost Empire" and "Atlantis: Milo's Return" — debut June 11, 2013!  From the creators of Disney's "The Lion King" and "Beauty and the Beast" the exciting Disney animated features take audiences under the sea on action-packed voyages of adventure and discovery.

This must-own 2-Movie Collection is filled with stunning visual effects that come to life like never before in digitally restored high definition picture and sound.  These captivating stories of friendship and teamwork are available as a 3-disco Blu-ray Combo Pack which includes both films on a single Blu-ray disc plus each film on individual DVDs.

Set a course for adventure as Milo Thatch and his fearless crew dive into the mysteries of the sea.  The group's underwater expedition brings them face-to-face with gigantic sea monsters, spectacular spirits and the mythical land of Atlantis while they discover the power of friendship and teamwork.  Loaded with thrills and stunning visual effects, this sensational 2-Movie Collection takes audiences on an unforgettable voyage they'll want to experience over and over again!
Available June 11, 2013 for the first time on Blu-ray with perfect picture and sound, the "Lilo & Stitch" and "Lilo & Stitch 2: Stitch Has A Glitch" movies are hours of fantastic fun in one incredible collection! The 3-disc Blu-ray Combo Pack includes both feature films on one Blu-ray disc plus each film on individual DVDs.

"Lilo and Stitch" is the story of Lilo, a lonely little girl, and Stitch the mischievous little creature from outer space. When Stitch crash-lands in Hawaii, Lilo adopts him as her pet, but he soon turns her world upside down. Stitch takes Hawaii by storm, wreaking havoc and hanging ten while he evades the alien bounty hunters who are after him, and also learning about loyalty and friendship. Featuring six original Elvis Presley songs, "Lilo and Stitch" is fun for the entire family.

The laughter continues in the hysterical sequel "Lilo & Stitch 2: Stitch Has a Glitch." As Stitch  settles into life with his human family it appears his molecular makeup is out of whack and his friendship with Lilo is threatened as a result. Lilo and her friends must find a way to restore his "goodness" level before he ruins everything, including Lilo's big hula competition – the same competition her mother won years before.

Discover that "ohana" means family, and celebrate the unbreakable bonds of friendship like never before with these two unforgettable movies on Disney Blu-ray for the first time!
Enter to Win
One lucky reader is going to get their chance to win all 3 copies of these movies. Use the Rafflecopter form to enter this giveaway. New to Rafflecopter? Watch this 45-second video on how to enter!