This post may contain affiliate links. Read my disclosure policy here.
Lesley, 5 Minutes for Mom contributor, shares her insights on the 2014 Subaru Forester Family Rally. We were compensated, but all opinions remain her own.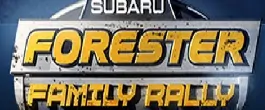 Subaru Canada wants families to experience the adventure and adrenaline of rally racing. That is why they have launched the Forester Family Rally. By entering and competing, families will have the chance to win an all-new 2014 Subaru Forester.
You're probably wondering what exactly the Forester Family Rally is. . .well it's a campaign that challenges Canadian families to sign up for a chance to win an all-expense paid trip in which families will participate in rally events that are hosted by Subaru. Families will then go head-to-head and compete in a rally race.
Doesn't it sounds so incredibly fun? I wish we lived in Canada just for this event! I know my family would really enjoy it! What a wonderful way to enjoy time with your family while having tons of fun.
After entering online, qualifying families will be chosen and notified on June 17,2013 and then the rally races will begin in August 2013. Subaru Canada will fly five (5) qualifying families to Tremblant, Quebec for the action-packed, rally-themed competition. You can enter for a chance to win a 2014 Subaru Forester.
This could be an awesome chance for you to spend more time with your family and win prizes! Go enter now. Best of luck to you all!
Lesley is mama to two kids,Gracie & Matthew. She's married to her first and only love, Robby. Living a simple life in WV she is author of Life with Lesley. Her blog has a little of everything – life, books, reviews, giveaways, and more!