This post may contain affiliate links. Read my disclosure policy here.
Our blogging friend Jennifer Swartvagher is here today to share tips for how to make homemade playdough.
My kids look forward to making a new batch of playdough.  Homemade playdough doesn't have the strong scent of most store bought doughs and I like the texture of it much better.  My husband and I have been tweaking this recipe over the past few years to get it just right.
Homemade playdough is the perfect rainy day activity.  In the right container, brightly colored dough also makes great gifts and party favors.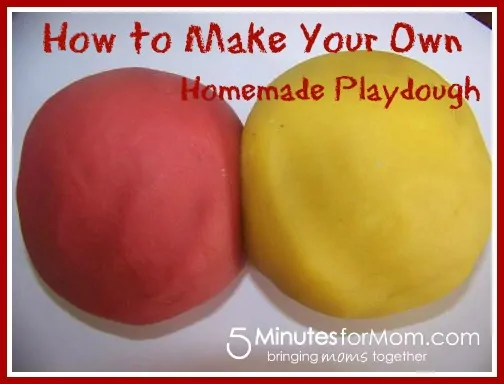 Homemade Play Dough

(Makes about 1 pound of playdough)
1.5 cups of flour
1/3 cup salt
3 teaspoons Cream of Tartar
1.5 cups water
1.5 tablespoon Vegetable Oil
Food Coloring
1 teaspoon Alum (for added shelf life)
Mix the dry ingredients in a pan, then add the water, oil, and food coloring.  Cook over medium heat, stirring constantly until it thickens.  Cook 4 to 6 minutes until the mixture starts to look like a glob of dough.  Dump the dough onto a sheet of wax paper to let it cool for a few minutes.  Knead the dough into a ball.  If the dough is too sticky after forming a ball, you can try adding flour or next time cook it a little longer.  You can store the dough in a ziplock bag or separate it into smaller plastic containers.
This dough tends to last for quite some time.  Alum is our secret ingredient for preserving the dough.  Without it, we found that our dough would start to grow mold after a few months.