This post may contain affiliate links. Read my disclosure policy here.
Dawn, 5M4M contributor, recently attended the EPIC movie premiere in New York City. Expenses for her travel and lodging were covered by 20th Century Fox. All opinions expressed here are wholly her own.
Have you heard about the Leaf Men and the amazing, hidden world of the forest in the upcoming film EPIC? I'm excited to share more thoughts about the new movie that will hit theaters this Friday, especially about the comedic elements. Check out my previous post for the lowdown on the story and some insights from the director on the underlying themes.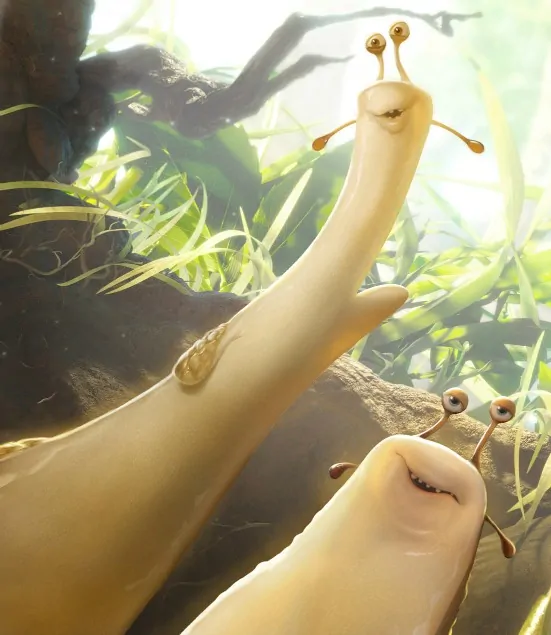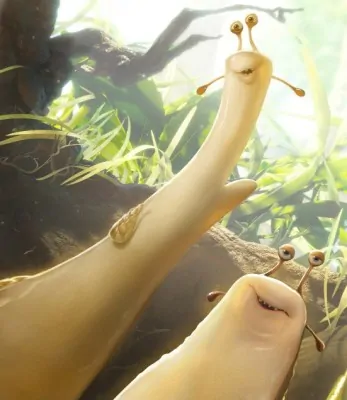 Though EPIC is most definitely an adventure film with a lot of heart, there are plenty of laughs, too, and most of them are provided by the slimiest creatures on the screen. Mub the slug, and Grub the snail, are the protectors of the plant pod that holds the magical soul of the forest. They're the perfect caretakers because the pod needs to stay moist– a huge talent of both snails and slugs! With funnymen Aziz Ansari and Chris O'Dowd as the voices behind Mub and Grub, the laughs come naturally.
If you've seen the trailer, then you know all about Mub and Grub's eyeball antics. What other creatures could even theoretically knock their eyeballs back and forth? Ansari and O'Dowd both bring their signature voices to these characters. Ansari is quick with a punchline, expressive and energetic, and O'Dowd's charming Irish accent fits perfectly with his character who longs to be a Leaf Man despite his being a slug.
I was incredibly fortunate to participate in a group interview with Aziz Ansari and Chris O'Dowd recently, and let me tell you, these guys are as funny off the cuff as they are when they're performing from a script. How often do actors get to talk about their experiences playing a slug and a snail? When one blogger jokingly asked if they had done any research before taking these roles, they immediately launched into a funny back-and-forth:
Aziz Ansari:  "No, I didn't really do any research.  They have a piece of paper that has a script, lines on it.  And then, I just go in there and I say those a couple times, like we got it, and then I go home, done."

Chris O'Dowd:  "I had a slug farm, so like I felt like I was already one step ahead, yes like an ant farm."

Aziz Ansari:  "And me and Chris went to the woods with a magnifying glass and followed a snail and slug around for a couple of months."

Chris O'Dowd:  "It did not end well, obviously.  It was a sunny day. One thing led to another.  Yes, it was really sad.  It was sad, but worth it."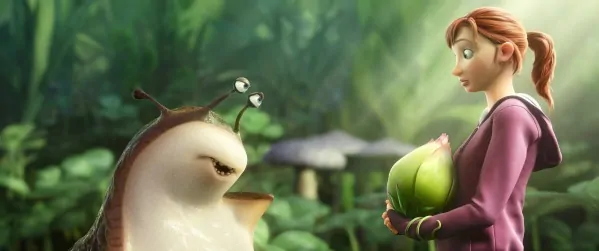 I couldn't stop myself from mentioning the slugs that keep finding their way into my own kitchen every spring and summer, and I expressed my hope that after viewing this movie, perhaps my kids won't be so grossed out by the slow-moving, slime-trail-leaving creatures. Thankfully, Chris O'Dowd was happy to play along:
Chris O'Dowd:  "You are welcome.  Get yourself a nice slug farm."

Me:  "I'd like to know how to fill that habitat."

Chris O'Dowd:  "Just slugs.  What I do is I don't put anything in it other than the slugs.  So, it's just slugs."

Me:  "Just slugs?"

Chris O'Dowd:  "That's right, yes, plastic tub of slugs, which is also the name of my autobiography, out this Christmas. Yes, hopefully, slugs are going to get a good rap from now on because I'm sick and tired of the anti slug brigade."
Their easygoing banter with our group was fitting, seeing as they had provided the lighthearted side of the movie with their funny performances. As a parent, I frequently find myself frustrated with kids' movies, because of the innuendo and more adult-like humor that too often finds its way in. I was delighted that this wasn't the case with EPIC. I didn't find myself cringing at any parts, and the humor provided by Ansari and O'Dowd plays mostly on their snail/slug features. These guys are funny– and humble!– enough to portray two odd little creatures like Mub and Grub, and they absolutely made me laugh both during the movie and the interview!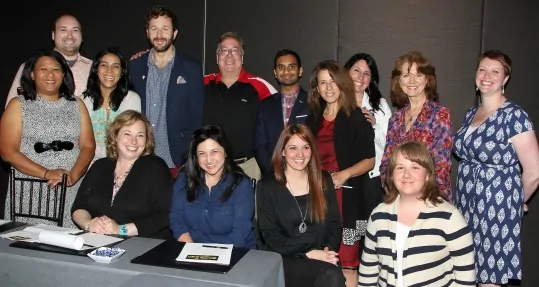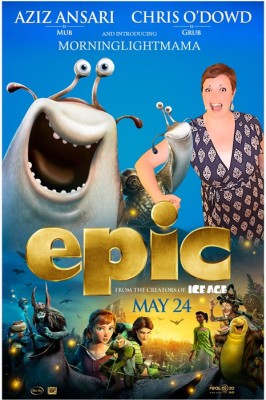 Following our group interviews, I made my way over to hang out with Mub and Grub themselves! Okay, maybe they were just images on the mini-green screen, but I tried to angle my body just right to wrap my arm around Grub's neck. After a click on the screen, my image was "animated," and I couldn't help but laugh at the entire effect. Who wouldn't be excited in this scenario?
EPIC opens in theaters on Friday, May 24th, and I look forward to hearing other parents' and kids' reactions to this fabulous flick!

Be sure to check out  my other thoughts on EPIC:
Discover a Hidden World in EPIC — Read what Director Chris Wedge had to say about the themes of the movie and learn more about the beautiful story told in the film.
Books on Screen: EPIC — Did you know that EPIC was inspired by a picture book? I've got the details on 5 Minutes for Books.
Like Epic on Facebook
Follow @EpicTheMovie on Twitter #EpicTheMovie
Watch Epic videos on YouTube