This post may contain affiliate links. Read my disclosure policy here.
This guest post has been submitted by Jeff Landers
 Congratulations, brides-to be! This is a happy and exciting time in your life, and so I'm quite certain the last person you want to hear from amid the wedding preparations and honeymoon plans is a professional divorce financial planner.
Don't worry. I completely understand. But please, don't click away just yet. I have important, practical advice to share –and it isn't about planning for divorce. Instead, it's about keeping you financially secure in your marriage.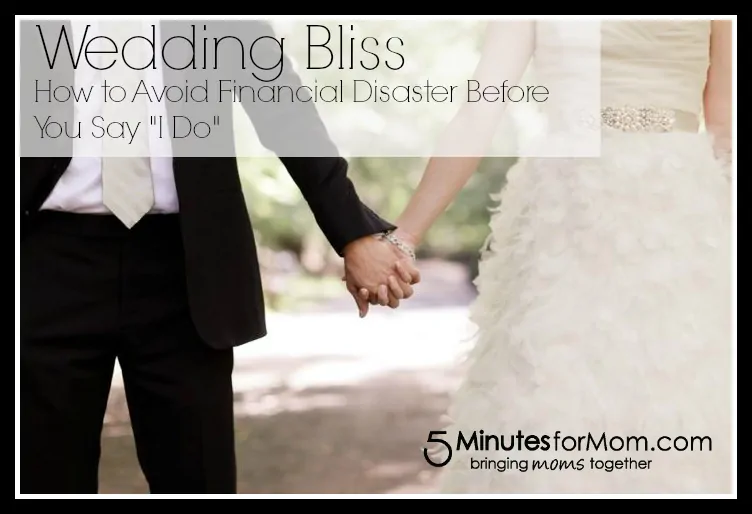 How many times have you heard someone say, "If only I'd known then what I know now?" I can present the hindsight of many divorced women who wish they'd been better informed, particularly about financial matters, when they first got married. Based on their experience and my expertise, here's what I advise you to do.
Talk openly with your fiancé about money
 "We talk about everything," you say of your relationship with your fiancé. Undoubtedly, you've talked late into many a night about your hopes and dreams for the future. You've shared your professional aspirations and plans for a family. You know his favorite movies and music, and where he gets his dress shirts. You know he's coming down with a cold before he knows it himself! So, do you also know how much money he makes? Do you know what he owns, and what he owes?
 Don't be shy about this. Before you marry, know your fiancé's financial situation inside and out. Plus, you should thoroughly and openly discuss how you each handle money. Is he a saver or a spender? How does that mesh with your own style and habits, and what's your comfort level with that?
 Ask and discuss those questions . . . and more. Find out these specifics.
 What's his income? Know how much are his salary, bonuses, and any trust fund and dividend income.
 What are his assets and liabilities? Know his credit card debt and student loan obligations.
 Has he ever filed for bankruptcy, and are there any judgments against him?
 Does he pay alimony and/or child support? Know what these obligations are and how long they will be in force.
 Additionally, if your husband-to-be owns a professional practice or business, you should be familiar with its revenues, expenses and –don't forget this one –debts (particularly those he's personally liable for). You should look at the business tax returns, or have a professional do so on your behalf.
 I know. I know. It may seem unappealing and unromantic to pick apart your loving fiancé's finances. But I see every day how devastating it can be for a woman to be uninformed about her husband's financial situation. Believe me, that's unromantic.
 Think carefully about your financial plan.
 Before you marry, you should think about whether either of you own property that you want kept separate. And again, you need to consider debts, as well. Discuss what will happen when you purchase real estate or make other investments during your marriage — will those be held jointly or separately?
 There may be good reason to formally establish that certain assets and liabilities will not be shared in your marriage. State laws vary about the difference between separate and marital property. A prenuptial agreement – a "pre-nup" – may be warranted to be sure that your wishes in this matter are legally binding.
 Take pride in your financially independent self.
 I urge you not to undervalue your independence. Think about financial issues in terms of self-respect. You are a whole, independent person on the eve of your marriage; there is every reason to continue to be throughout your married life.
 To that end, after your wedding, maintain the following:
 Knowledge of, and access to all marital money. Don't leave the finances to your husband. You need to know where your money is, and how it's being spent or invested. Make sure your name is included on accounts and on any LLCs or private partnerships you may be using to purchase houses or luxury goods.
 Credit in your own name. Especially if you leave the workforce and forego paychecks with your name on them, it can be difficult to establish credit anew. Many women keep utility bills in their name to help keep that avenue open, as well as a separate bank account. You just never know when you'll need immediate access to your own funds. I've seen too many "wealthy" women run into trouble because they don't have the cash on hand to hire an attorney if they need one.
 A healthy marriage adds to the joy and fullness of life; it should not take away from who you are. Likewise, preserving your financial independence is not about being unwilling to share what you own. By contrast, it is about protecting yourself by maintaining the resources to influence your own future.
Don't give that up. As you begin this happy new chapter of your life with your husband-to-be, you'll know you are forging a partnership based on openness, trust, mutual respect and understanding –and those are what form the foundation for lifelong romance.
What questions have you asked or what have you done to guard your financial future before you tied the knot?
Jeff Landers is the President and Founder of Bedrock Divorce Advisors, a divorce financial strategy firm which exclusively advises affluent women throughout the United States before, during and after divorce.