This post may contain affiliate links. Read my disclosure policy here.
This post was submitted by Erica.
A great kids' party doesn't have to cost you a fortune. It's no secret that a great party starts with the right choice of where should you host the party, the décor, and food. But the most important element that influences the success of a kids' party is entertainment.
Adding some sort of games, activities, or gigs helps to get the ball rolling. Kids will not remember the extravagant décor but they will definitely cherish the fun and joy that they experienced at the event. Here are some great party ideas to keep the kids entertained.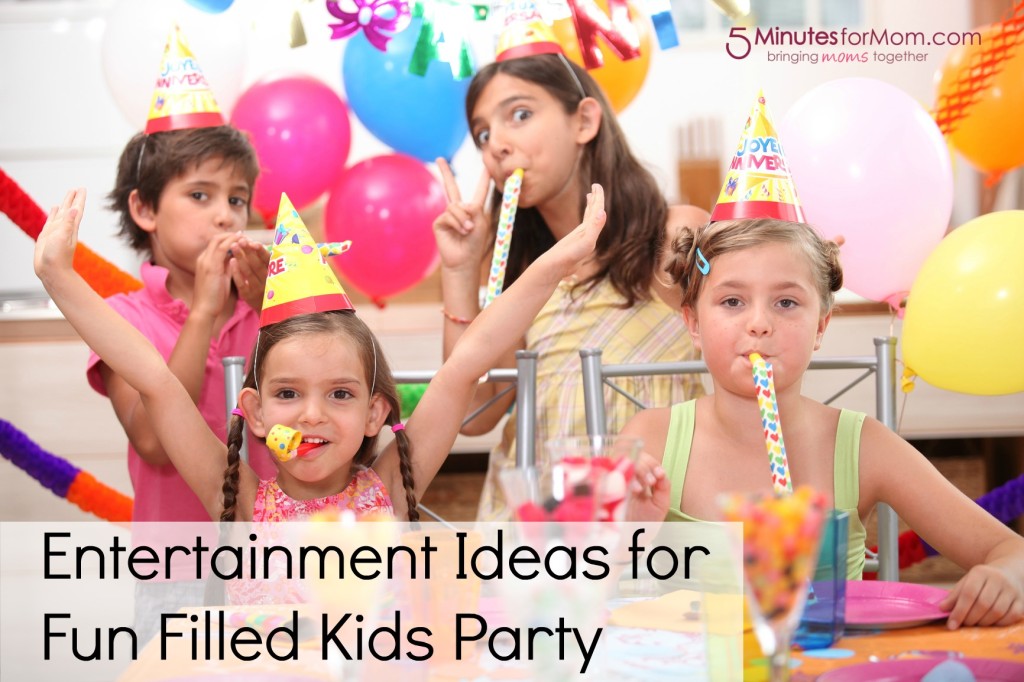 Clowns
Children love being entertained by a clown. Clown entertainment helps to set a cheerful and exciting mood at the party. Many clowns also do tricks that will amaze the little guests. Children will have fun and giggle out loud listening to fun jokes.
Petting Zoo
A petting zoo is a great idea to acquaint children with their favorite animals. A team of expert licensed animal care professionals will bring different types of animals to your party. It will bring a whole new level of entertainment in for the kids. They will be able to feed and pet the animals. If where you are hosting your party does not allow animals, try hiring out the zoo to host your child's birthday party.
Magician
Kids have a short attention span and magic performance is an attention getter. A magician also inspires kids to do magic tricks on their own which keeps the fun up even after the party is over. Magic really appeals to the imagination of little ones and keeps them wonder-struck.
Arts and Craft
Including some arts and crafts activities in the party is a great way to make kids learn something and have fun at the same time. Collect markers, pens, glue, beads, glitter, scissor, and papers in an area and let the fun begin. Put cards cut in different shapes like tiaras and masks. Ask the kids to decorate them with trinkets, sparkle, and feathers.
Costumed Character
If your child has a favorite cartoon or movie character, why not invite him to the party? It's a great way to honor your kid. Little guests will love to click pictures with their favorite characters. Invite Hannah Montana for a groovy performance or Cinderella to eat birthday cake with your girl.
Tattoo Booth
Temporary tattoo booth is a new take on traditional face painting. Hire a tattoo artist covered with tattoos to paint temporary tattoos on kids. Some popular designs include butterflies, fairies, hearts, cupids, flowers, dragons, spiders, scorpions, and lion. Kids will love to flaunt their tattoos to their parents.
Circus
It's a fiesta under the big top! You may not get to hire a big top but you can certainly create the same effect by creating a circus party. Jugglers, sword swallowers, aerial, or animal acts, include any of these and banish the boring from your party.
Games
No kids' party is complete without games. Games spruce up any party and keep the children engaged. For an indoor celebration, you can arrange board games while relay races and tug of war are suitable for outdoor parties. Also, make sure to announce some attractive prizes for winners and little gifts for all the participants. It will encourage them to join in.
These entertainment ideas will help you to create an enjoyable party that's fun for all kids.
 Erica is a professional writer who writes party planning articles for thecitycollection.org. It is a creditable online source to find the best venues in London to suit all budgets.