This post may contain affiliate links. Read my disclosure policy here.
When you're decorating your child's room I think you need to make sure it's fun and includes pieces that the child loves now but also pieces that will grow with them. Sometimes that is pretty hard to do but I've found one product that is gorgeous and timeless – Pigtails Ink  paper art.
Pigtails Ink. art is a whimsical, unique and affordable way to personalize a child's bedroom, playroom or bath. They have a variety of designs to celebrate your child's interest; princess's, space explorers, athletes and superheroes. Their letters are great for initials or spelling out full names and their bath art will remind your little one to Brush, Wash and Scrub.The art is printed from original illustrations and hand personalized by the artist with name and hair color. Prints are sold matted and fit standard size frames. Personalization and shipping is always free! – Pigtails Ink website
I was provided one 8×10 art for review and it was very difficult to choose which one I wanted to place in Matthew's room. Well, his soon to be bedroom (right now it's still a playroom). I wanted to pick something that wouldn't reflect something he was interested in now but could possible outgrow later in life. And let me tell you there were LOTS of choices – the themes I looked at included football, baseball, airplanes, racing and more….there was everything available for a little boy.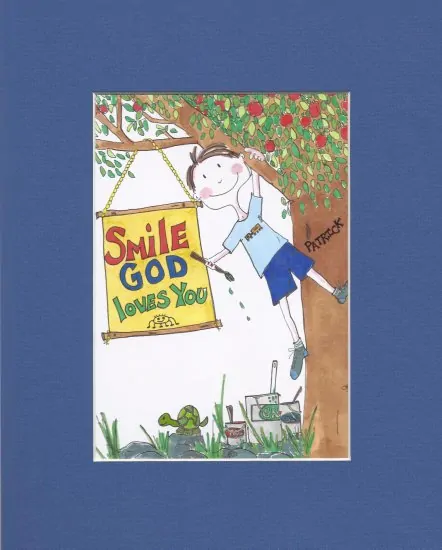 I finally chose the Smile God Loves You artwork matted in blue. When I received it I was amazed at the quality and beauty of it. Matthew loved it and so did I. I really hope that this is something he will treasure as he gets older. It's a beautiful piece that I think is so special. Most kids love personalized items and this is a fun addition to any room. All art is sold matted. If you would like it framed, that option is available, or you can just purchase a standard size frame at your local store.
Pigtails Ink also has a variety of other items for girls that include art work, letter art, and bathroom art. The themes available for girls are princess, reading, cheerleading, skiing, and even Stars Wars Princess Leia inspired art. It is amazing and you will love it!
Right now on the Pigtails Ink website you can receive a 20% discount. Enter coupon code SMILE20 at checkout. Custom artwork and stationery excluded. Expires July 15, 2013
Enter to win
We want you to experience the fun of choosing artwork for your child so, 5 Minutes for Mom and Pigtails Ink is giving away one (1) 8×10 paper art to one (1) lucky reader!! Use the Rafflecopter form to enter this giveaway. New to Rafflecopter? Watch this 45-second video on how to enter!
Which art would you choose?

    Lesley is a mom of two kids – one girl and one boy. She's married to her first and only love, Robby. Author of Life with Lesley. Her blog has a little bit of everything – life, love, parenting, along with product reviews and giveaways.