This post may contain affiliate links. Read my disclosure policy here.
This guest post was submitted by Rebecca from Mom's Mustard Seeds.
It is easy to think a Homeschool Mom doesn't need encouragement. Most of the time you will see one of us (homeschool Moms) walking around with a smile on our face – as if the world is full of peace and we don't have any troubles.
However, we are like other Moms who have children in Private and Public school. The difference is, Moms with children who attend school outside of the home have PTA or other opportunities to share, support, seek and provide encouragement.
Homeschool Moms need that same encouragement.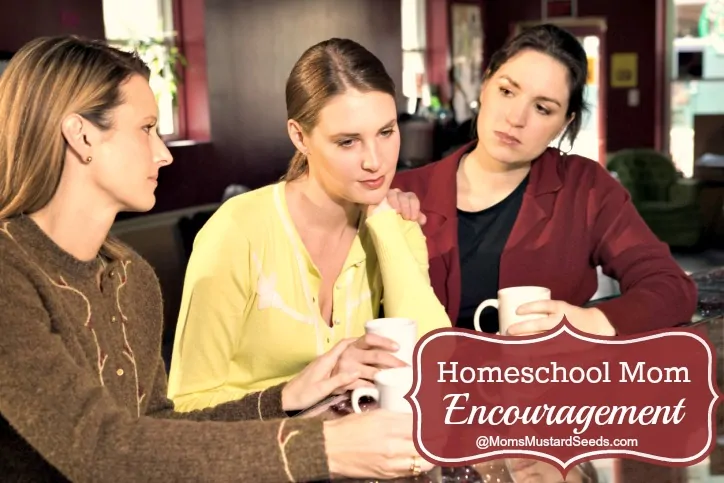 It is important for a Mom who educates her children in the home to seek encouragement and give it to others. Finding the right kind of encouragement is key. It is important not to fall into a pity party after a hard day and seek a friend who is going through the same thing – so that misery can coincide because yes – Misery definitely loves company. And this leads us down a path of life that is not filled with joy.
This Life was created for joy.
Because this life was created for joy, we need to take time to sit back, enjoy the sweet moments and share them with others. So, let's talk about a few ways to find encouragement and share it with others.
Homeschool Groups – or Co-ops : There are groups and Co-Ops in every state. They are not difficult to find. You can google search them and find almost anything you need in your area. You can also search through HSLDA for the same information and find many you may not know exist. If you can't find one that meets the needs of your family – START one (chances are there are other families seeking the same thing you are!)
Family/Friends: – Open your hearts and let guard down. Chat with your family and friends. Even if they don't homeschool, let them know what you need and find ways to help support them, as well. Grow bonds that go beyond homeschool to help build bridges instead of walls.
Church: – if you attend church (or other affiliations) – this is the perfect place to help seek encouragement. For me, truly Joy is from the Lord and I find it refreshing to sit down with other Moms who are traveling this path and others who have traveled it and have wisdom to share – and are willing to do so.
Blogs: – there are thousands of homeschool blogs who are desiring to encourage you. Not just homeschool blogs but others, as well. But, don't forget, real life relationships are so important – read and comment but go live life out loud with your children.
Retreats: – Take time for yourself to refresh and renew. My favorite retreat is the Apologia Real Refreshment Retreat. Yes, I know – it's hard on the budget and for Mom to get away. However, we need our hearts fresh and renewed with joy so we can pour it into our children.
Prayer and time with the Bible: – to me – this is the MOST important part of homeschool encouragement. I must begin my days on my knees in prayer and reading the Bible. As a Mom – I am finding that my heart needs to change. Motherhood has afforded mea beautiful opportunity to see the full truth of that. Being a Homeschool Mom amplifies it.
Ok Mom – it's time to step out and let your hair down. Don't let the troubles of the day destroy the joy of your homeschool joy. Refresh, renew, seek and give encouragement – it is beautiful to live in authentic community with others – so get out there and do it!
Rebecca is a Mom who took off her point shoes and wore combat boots for five years. She then climbed the corporate ladder and finally found the best job ever – homeschooling her three children. You can find daily encouragement for any mom on her mom – Mom's Mustard Seeds
Child of God, wife to my best friend, blessed with three children and friends I love dearly. I love encouraging others and sharing truth. Owner and Author of Mom's Mustard Seeds