This post may contain affiliate links. Read my disclosure policy here.
I have lived in Florida for years and yet, I had no idea April is Fresh Florida Tomatoes Month.  Someone is doing a seriously terrible job about spreading that message!  There should be TV spots and banners festooned in supermarkets and farmer's markets promoting April as Fresh Florida Tomatoes Month.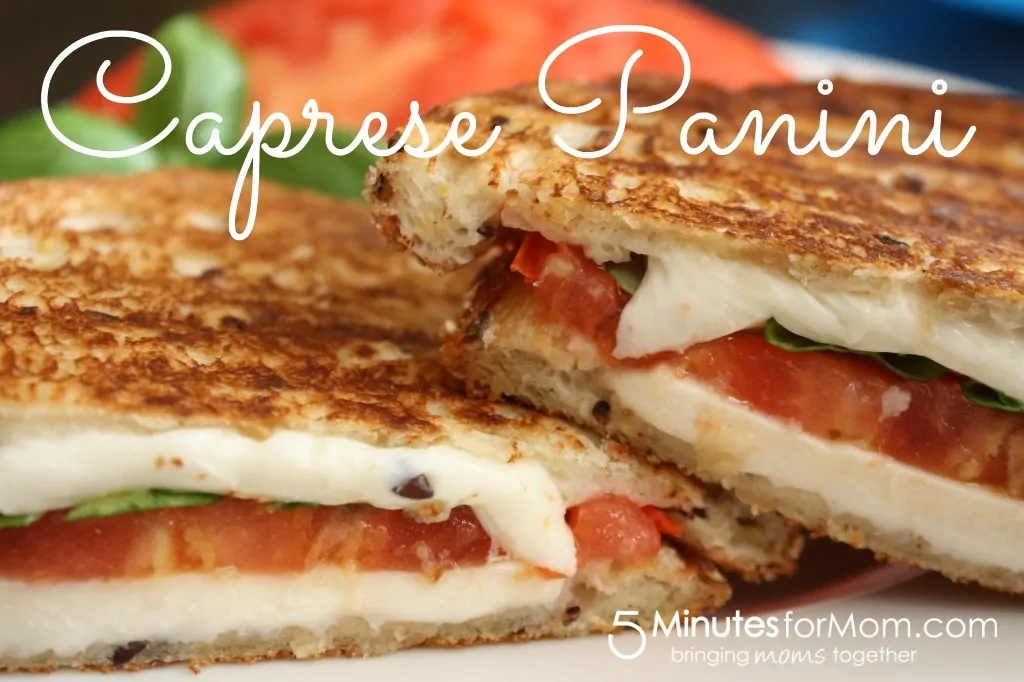 During this month long campaign, stickers should be placed on each tomato stating slogans that "A little lycopene a day keeps heart disease and cancer away".  After all, why should apples be the only fruit known for keeping doctors and disease away?  For as many wonderful health benefits tomatoes offer, it is a fruit that rightfully deserves a month long celebration.
Tomatoes are a great source of antioxidants such as Vitamin C, Vitamin A as well as full of potassium and iron.  In the health industry, tomatoes and its lycopene properties are well known to significantly reduce one's risk of stroke, cancer and heart disease with each serving (10,000 micrograms of lycopene per day according to Harvard Health Publications).
As part of this Fresh Florida Tomatoes Month campaign, along with educating the public of the healing properties of tomatoes, someone should demonstrate the proper way to select a tomato. For example, no matter the variety, tomatoes should be a rich red color, firm with no soft spots and free from damage.  Don't be shy to sniff your pick because the nose knows the best one.  It should smell like a tomato fresh picked from the vine.
However, if only unripe tomatoes can be found, store them in a paper bag for a couple of days. Once they're ripe, store them in a cool place, approximately 55 degrees F.   Cut tomatoes should be stored in a properly sealed container for only a few days.
For this Caprese Panini recipe, I selected a few gorgeous, bright red Ugly Ripe Tomatoes.  Do not let the name fool you.  This variety of tomato has such a bright, rich tomato garden-fresh taste that you can never eat a pretty boring flat tasting tomato again.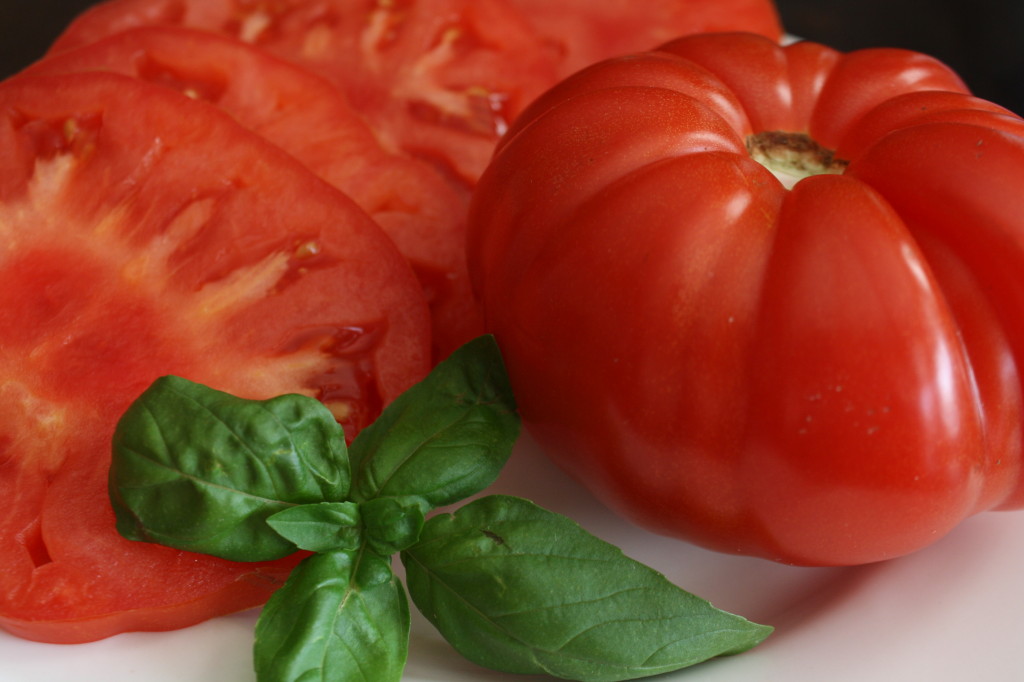 Since I don't own a press to make a restaurant perfect panini, preparing a pressed panini at home took a little creativity and ingenuity.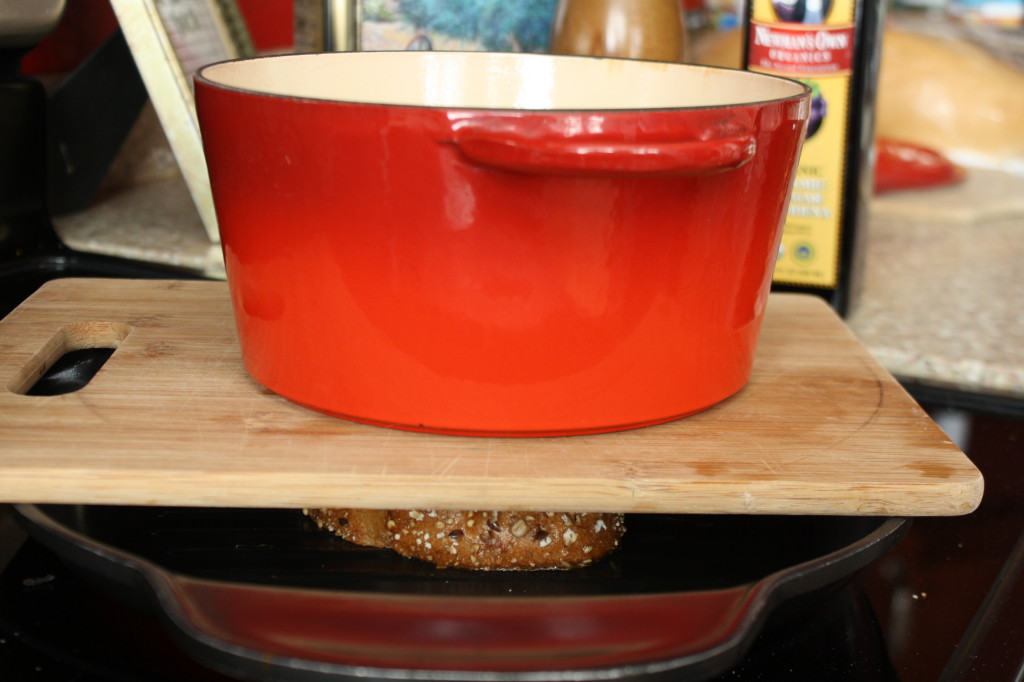 I used a grill pan as the base to make pretty pressed lines.  I placed a cutting board on top of the sandwich as it grilled.  For a little extra weight, I placed a heavy stoneware pot on top to complete the poor's man press.  After a few minutes, I flipped the panini and repeated the stacked piled press process.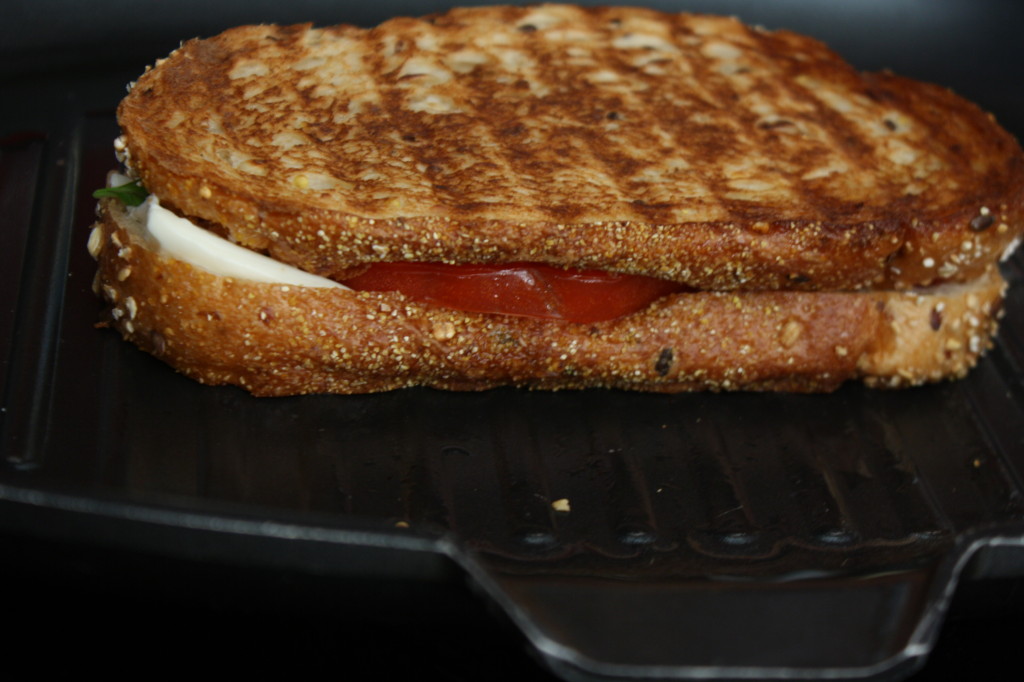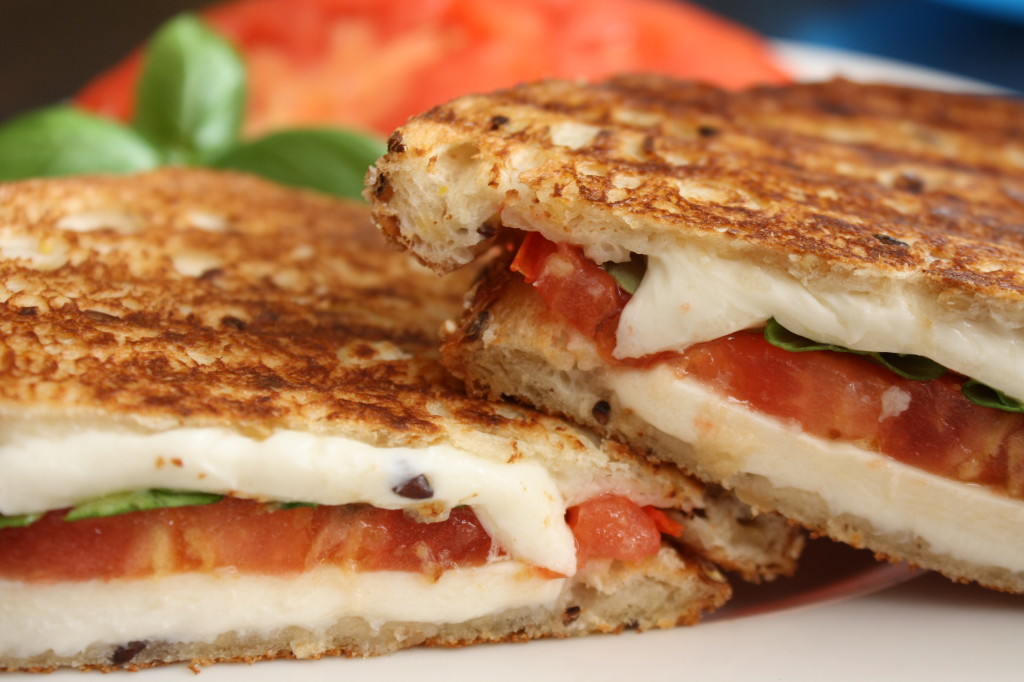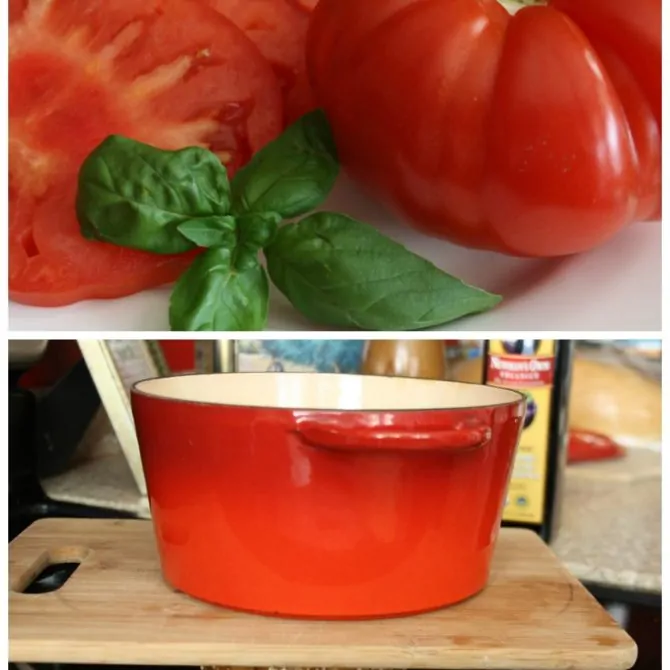 Caprese Panini
Easy healthy panini recipe with a rich fresh tomato-basil taste.
Print
Pin
Rate
Servings: 6
Ingredients
1 Loaf crusty bakery fresh Italian bread cut into 1-inch thick slices (I used 5-grain Italian bread.)
1 large ripe tomato cut into ¼ -inch slices
1 14 oz package sliced fresh mozzarella
10-12 fresh basil leaves
Balsamic vinegar
Extra Virgin Olive Oil
Instructions
Heat pan on a low to medium heat. Prepare pan by lightly brushing with olive oil or spray with non-stick cooking spray.

Add 1 slice of Italian bread to pan. Lay approximately two slices of slices mozzarella on top of bread. Place a couple of basil leaves on top of the mozzerella and drizzle with olive oil and balsamic vinegar. Add another slice of bread on top and press sandwich for about 3-4 minutes or until cheese shows signs of melting.

Flip sandwich; grill and press for a few more minutes. The mozzarella cheese should be warmed through and slightly melted.
More Tasty Lunch Recipes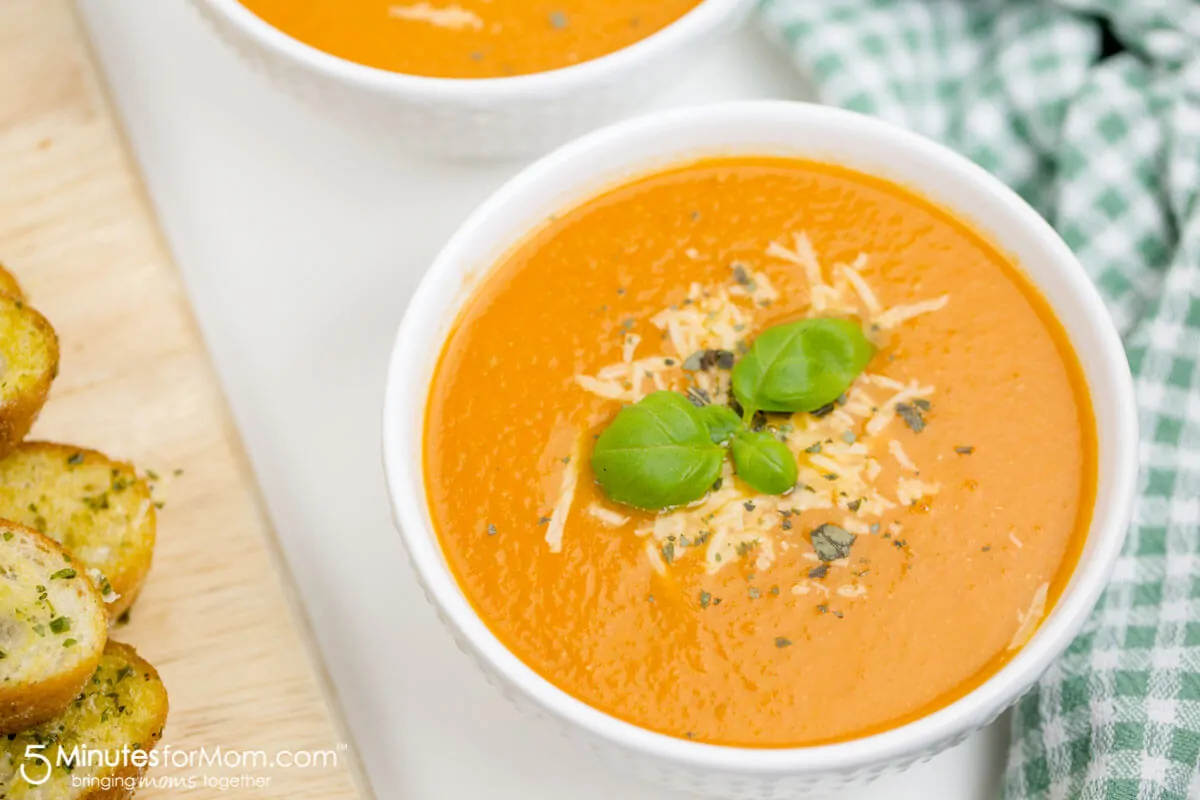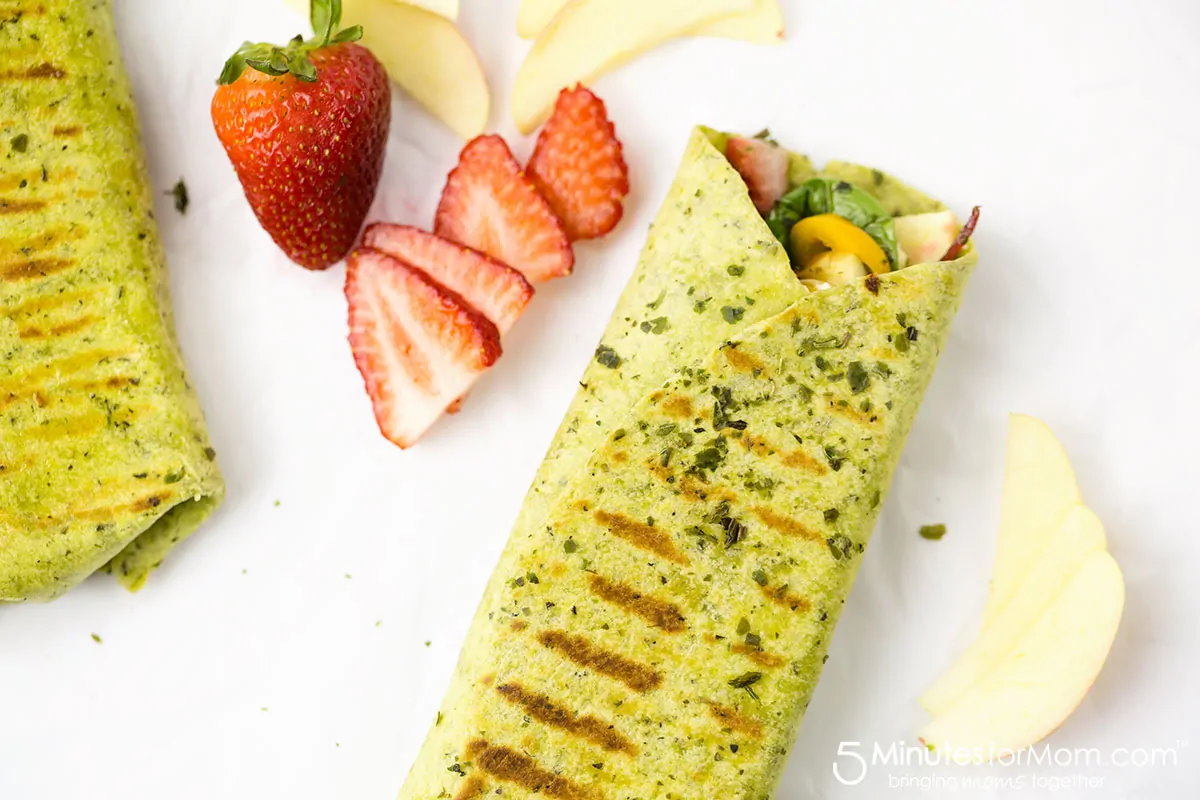 Find more tasty recipes on our Recipes Pinterest Board.
Pin for Later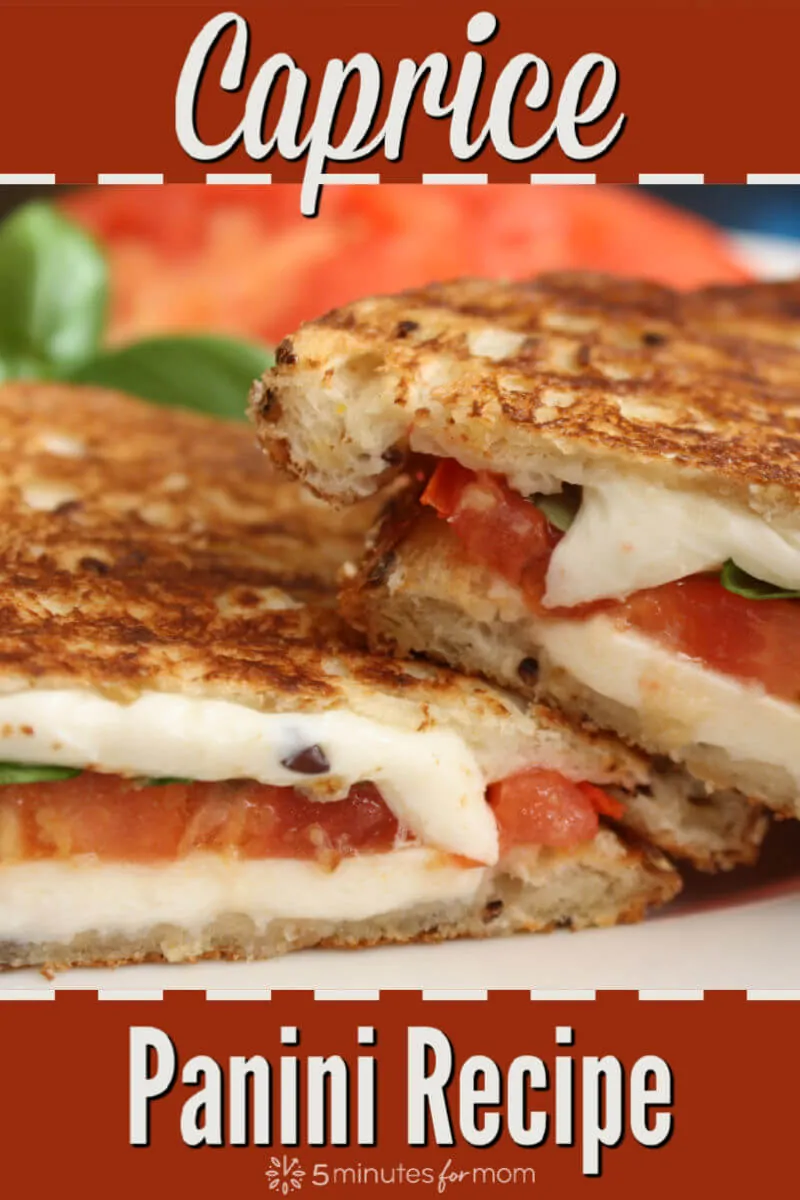 Written by Denise of Run DMT – a domestic diva raising three beautiful and brilliant children. Find Denise @denisermt and Run-DMT on Facebook.