This post may contain affiliate links. Read my disclosure policy here.
Thanks to Rachel for sharing this post with creative ideas for easy snacks for kids parties.
We all love to give our kids a party to remember, but that does not mean we have to work and slave the whole time to feed the group. Instead, here are some cute and easy kids snack ideas that will save you time at your next party.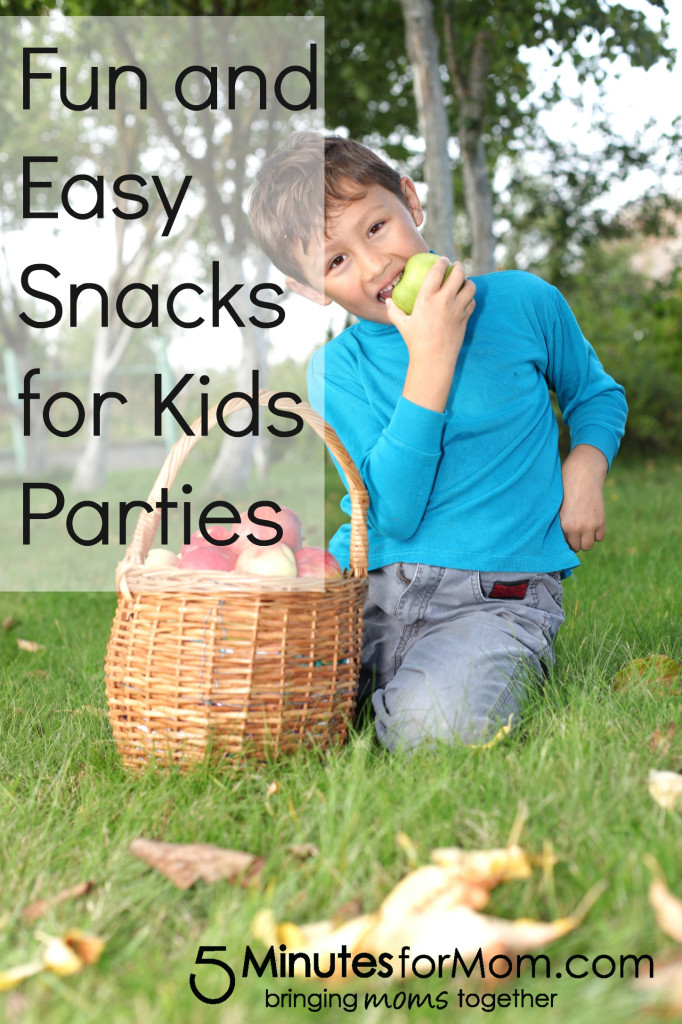 Goldfish Bowl – Love the look of cake pops but do not want to spend all that time making them? Here is a quick and easy alternative. Take a large marshmallow on a stick. Make thin blue icing with powdered sugar, milk and a couple drops of food coloring. Dip the marshmallow and set it down on wax paper to dry. Before it dries completely stick on a Goldfish cracker or two to the sides. Voila, a goldfish bowl pop that kids will love!

Ice Cream Cupcakes – All kids love cupcakes, but moms hate the mess of the wrappers and crumbs falling everywhere. Well, here is an easy and fun tip. Make your cupcakes in an ice cream cone. Buy those simple sugar cones from the store and pour in the cupcake batter, leave room for it to rise. After baking as normal, decorate it like ice cream with swirly frosting and sprinkles on top. Kids will love it and be able to eat the whole thing. No mess, no trash.

Healthy Fun – Want to incorporate more fruit and less candy in your kids' party? Make fruit fun with shapes. Cut out strips of watermelon, cantaloupe or pineapple and then use a small cookie cutter to make flowers, stars and more. Use a toothpick to create flower gardens or other fun treats for kids to pick and eat. Even grapes can be stacked to make snakes or caterpillars.

Make Your Own Popsicle – Do not spend a bundle on sugar filled popsicles at the store! Instead make your own. All it takes are those small paper cups and your favorite flavors. Fill the cup with juice, soda, or smoothies and add fun treats like gummy fish or fruit bits. I love to make one with clear grape juice and gummy fish so the kids have their own aquarium pops. Remember to add a craft stick so they can hold on to their creations! Freeze and then peel off the paper for fun, kid sized treats.

Trix Treats – Almost all kids love Rice Crispy Treats, but did you know that you can use that same recipe to make colorful snacks for a kids' party? Fruity Pebbles or Trixcereal both work well to add a rainbow of colors to this familiar and easy to make treat. Kids love it and you will love how easy it is to make!
These are just a few of the fun and easy to make treats out there. Depending on the theme of your child's party you can mix and match to make this party one they will remember. You can also come up with easy treats of your own by adapting recipes you already know kids will love.  Have fun!
Rachel is an ex-babysitting pro as well as a professional writer and blogger. She is a graduate from Iowa State University and currently is a freelance writer.