This post may contain affiliate links. Read my disclosure policy here.
When I first had my children I knew pretty much nothing about babies or what products I needed to keep them happy and healthy. There were so many different choices out there. Actually, I think I tried them all. One of my favorite brands was Huggies. They always had what I needed whether it be personal care products like lotion and bath wash, or diapers and wipes.
It's been a few years since I've had to purchase anything of the sort. We've been potty trained for well over 2 years now, but oh how I remember those messy diapers and trying to keep their skin clean, and doing it without using anything harsh to hurt their delicate body.
I was very pleased to see that  Huggies has come out with some wipes that have new triple clean layers. They are gentle enough on baby's skin, but thick enough to clean the mess. And as we all know —  baby messes can be very difficult to clean up at times!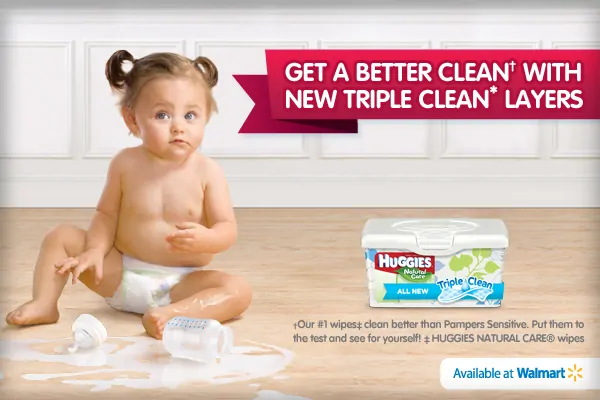 Not sure if you believe it or not? Why not be a Huggies tester!
 You can be a Huggies Tester every day by putting their products to the ultimate test – real life! Test them for yourself and you could be featured on the Walmart.com page. All throughout this month Huggies will be looking for Testers to be featured on Walmart.com. Submit yourself at
see.walmart.com/huggies
and you could be chosen to be featured on the page.
How would you like a coupon too?  Call **BABY to learn more about new TRIPLE CLEAN LAYERS and get a coupon via text. The coupon expires in April so hurry and get yours!
You can also find HUGGIES on Facebook and Twitter @HUGGIES. Be sure to LIKE and follow them for more special promotions.
This post was sponsored by Lunchbox. All opinions are my own.
Lesley is a mom of two kids – one girl and one boy. She's married to her first and only love, Robby. Author of Life with Lesley. Her blog has a little bit of everything – life, love, parenting, along with product reviews and giveaways.