This post may contain affiliate links. Read my disclosure policy here.
This post was submitted by Gina.
In March, the CDC announced that according to its latest estimates, as many as 1 in 50 children may have autism spectrum disorder in the United States.  This rising incidence of autism may impact you some day, so I'm going to bust some myths and information about autism to help you, should a child with autism be diagnosed in your community of family or friends.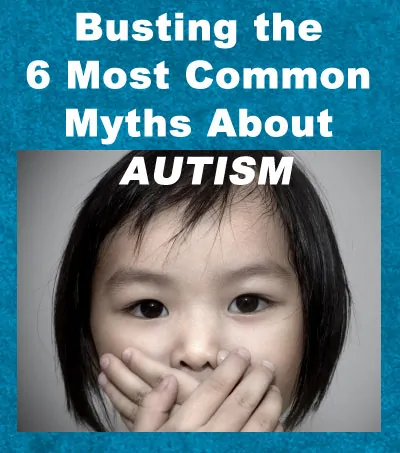 Myth #1: It's always ok to say "autistic person."
This is not true. In fact, I always refer to my daughter as a person with autism.  Personally, I don't define her by her autism any more than I define my daughter with Down syndrome in that way.  Some people, however, feel differently and use this term.  It's up to the individuals involved.
Myth #2:  Children with autism are violent or grow up into violent adults.
The truth is that many children or people with autism are not violent at all.  Others may be suffering physical pain that they are unable to express or relieve, since there is a high correlation with autism and medical disorders, especially gastrointestinal problems. 
Myth #3: People and children with autism can't love.
Autism can make it difficult for kids to speak, communicate, read facial expressions, write, and frequently struggle with sensory disorders.  Some children can't stand to be held or kissed; for them, it's literally painful.  That does not mean they do not appreciate or love their families.  It just means they can't express that the way most of us do.
Myth #4: People with autism can't be spiritual.
The truth is, while autism tends to make people very literal, they still can have faith or a spiritual side.  I've had great success in sharing my faith with my daughter.  She loves to take her children's Bible to bed, and sleeps better after I've prayed and told her God is watching over her. If you really want to see faith in action, watch this video of a 10 year old blind, autistic child who sings Open the Eyes of My Heart Lord.
Myth #5: Autism is genetic and not in any way caused by environmental factors.
This myth is starting to get pushed aside with real research.  Environmental factors can and do complicate the imbalanced biochemistry of kids with autism, and when they are treated with detox, proper nutrition, clean living, supplements and more, you can see changes in your child for the better – I can attest to that!
Myth #6:  The only thing you can do to control negative autistic behaviors is prescribe pharmaceuticals.
Putting aside the fact that no research has been done on the long-term effects of psychotropic drugs on a child's brain, if you are willing to put your child on a heavy, brain-impacting medication for the duration (you can't just "stop" these drugs), then why wouldn't you be willing to look into treating your child with the autism diet or supplements? Before you make a decision, be sure to check all facts from every angle first. Don't just trust the first thing you are told to do. Try every avenue given to you and see what works best for your child.
I hope this has shown you that autism is not a thing to fear.  Kids who have this condition suffer when myths like this circulate and affect the people around them. Autistic children are special and can bring so much joy to those around them.
This post was written by Gina B.