This post may contain affiliate links. Read my disclosure policy here.
With my move getting happening in less than two weeks, I have been purging like crazy. My motto right now is "Out with the old and in with the new."
With April right around the corner, I decided to do some research to find out exactly what is on sale this coming month.  Since I am purging and getting rid of stuff, I want to find cute, new things to replace them with.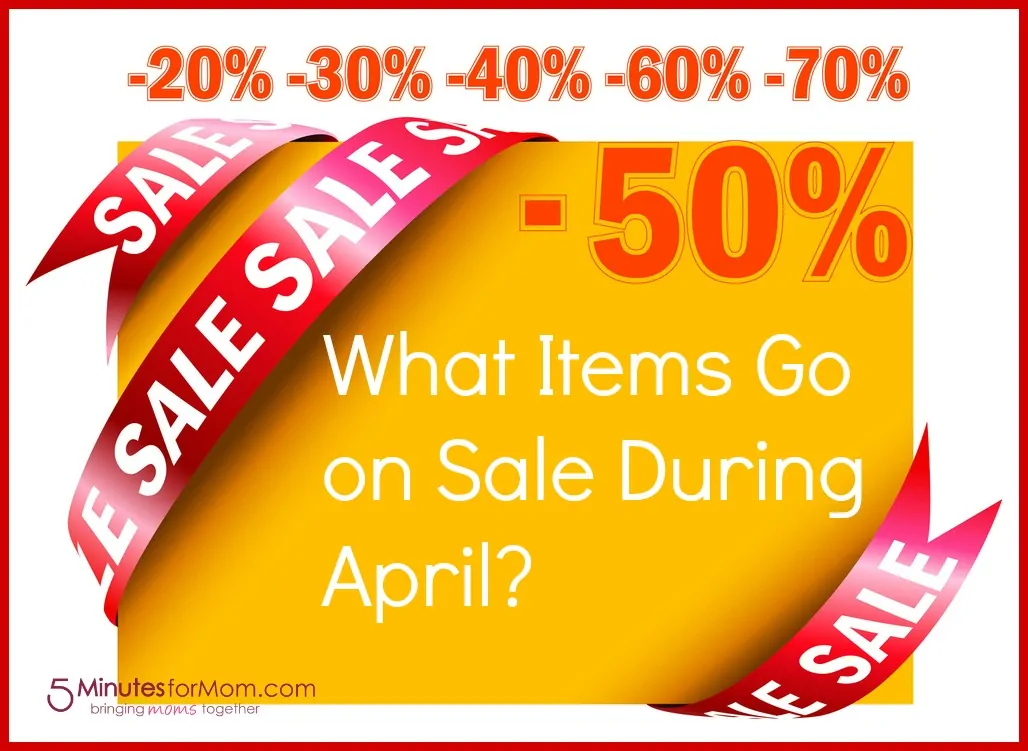 What's On Sale in April?
Spring Clothing: Whether they are last season's clothing or this year's spring line, many retailers will mark the clothes down quite a bit at the beginning of the season. If you purchase last year's look, then you can usually find these on the clearance rack. I scored two gorgeous shirts the other day for only $2.50 each. Very beautiful looks for only a fraction of the price.
Indoor Fitness Equipment: As soon as the weather gets nice and everyone starts heading outside to exercise, the indoor fitness equipment goes on sale. This is a great time to buy that treadmill or elliptical you have been wanting to purchase. Buy it now and use it this winter when you are stuck inside and can't get out to walk or run.
Bedding: I have been browsing every site imaginable looking for a new bedding set. When we move into the new house, we are changing our room color from blue to a seafoam green, so it's time for a new bed set. April is the best month to buy them because they go on sale. You will find lots of fall sets (that will still work for Spring) that will be marked down to 50-75% off. Usually during the Spring and Summer, heavy comforters are traded out for thin quilts and cotton sheets. All winter comforters and heavier bedding will be on sale during April.
Major appliances: Many retailers put their appliances on sale during the spring because everyone starts grilling out. Find the best prices by shopping for appliances online. Many places are running 10-40% off certain appliances like refrigerators, ovens, dishwashers, and freezers.
Money Saving Tip: Maximize your savings by getting free shipping when you buy online. Before you check out, search for store coupon and free shipping codes online.
Do you ever buy any of these sale items in April? Which one have you ever scored the best deal on?
Enter to Win
To help you snag some of those great bargains this season, we are giving away a $75 Amazon gift card to one lucky reader. To enter, leave a comment below letting us know what you would spend your winnings on. This giveaway ends April 5th.
This post is sponsored by Appliances Online. All opinions listed are our own.