This post may contain affiliate links. Read my disclosure policy here.
While on my recent press trip for the Oz the Great and Powerful premiere, the group of mom bloggers was surprised with a trip to the Disney Animation Studios to learn all about how the movie Wreck-It-Ralph was made. I love Disney movies, so I was super excited to learn all about animation and go behind the scenes.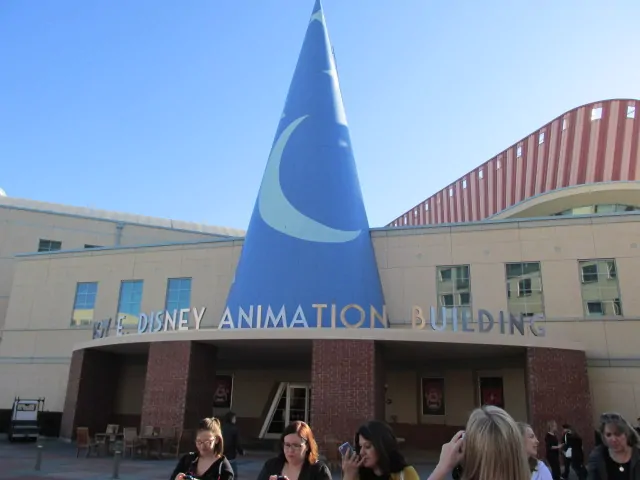 As soon as we entered the building, we were all met with tons of Wreck-It-Ralph decorations. Every hallway, room, office, and more — all were decorated with scenes and merchandise from the movie. We learned that all the decorations change every time a new Disney movie is being made.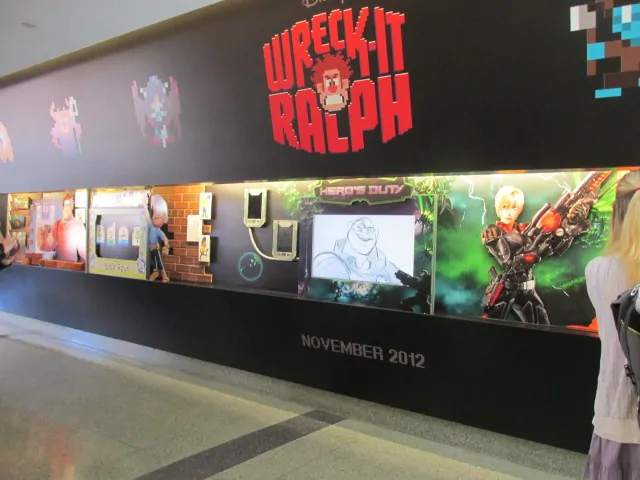 We all gathered together to grab our official 8-Bit badges to make us "official" Wreck-It-Ralph press while we enjoyed a breakfast of danishes, fruit, and coffee.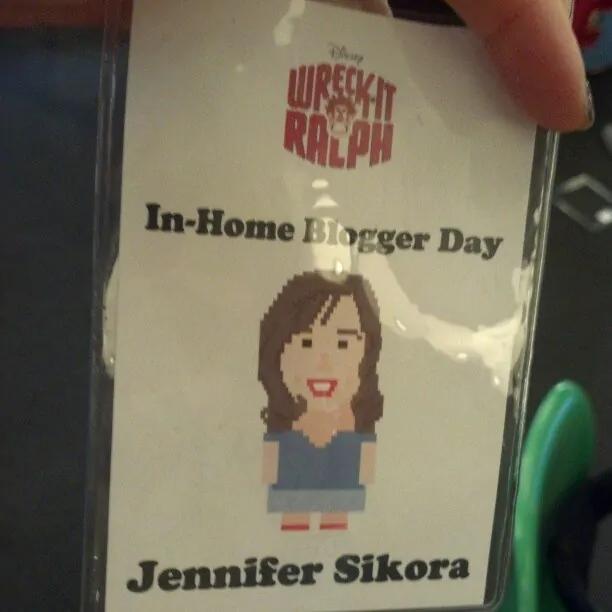 In fact, all 24 mom bloggers were transformed into 8-Bit characters in honor of the movie. It was fun picking out each other. I was amazed at how life like each of us looked — including me with my short legs. For about 15-20 minutes we stood around a table laughing at each of our characters. See if you can recognize any of the mom bloggers in this 8-Bit picture.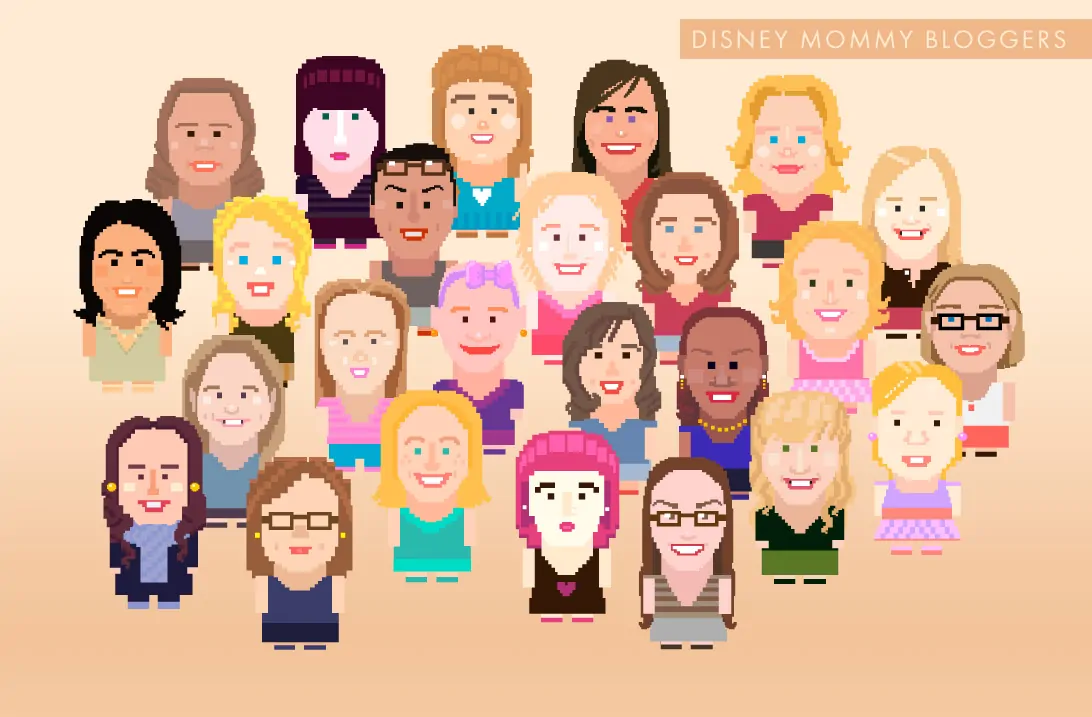 Our first stop in learning all about how Wreck-It-Ralph was made was the Story Room where we got to chat with Raymond Persi and how he and the other story board staff get the ball rolling.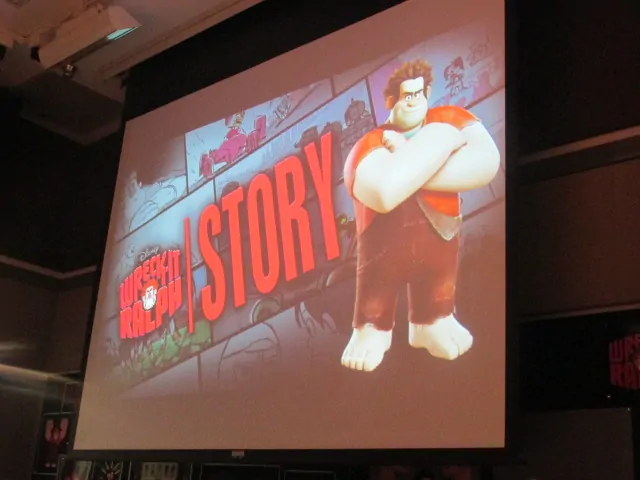 Ralph basically comes to life through the ideas of the writers and story board staff. Scenes are created and posted on boards all throughout the room to give a sense of the story line and the outcome. The directors and writers along with the story team take a look at everything on the boards — to see what fits and what doesn't.
Raymond talked to us about how sometimes ideas would be put on board and reach different levels in the process only to be scrapped and have to start all over again. Then he shared with us how doing the story this way allowed them the ability to remove scenes that didn't really make sense or needed to be cut to make the action of the scene fit. We were even allowed to view never before seen footage of scenes that had originally been written in, but then later removed because it made the flow of the movie better. They were definitely funny!
Our next stop on the trip after visiting the story room, was to chat with the visual development team made up of Mike Gabriel and Bill Schwab.
 I really enjoyed learning about all the earlier aspects of what Ralph looked like. In fact, before Ralph was completed, there were at least 12 (maybe even more than that) different versions of him to choose from! Some of them reminded me of Donkey Kong and other Atari characters from my 80's days.
Which earlier version of Ralph do you like best?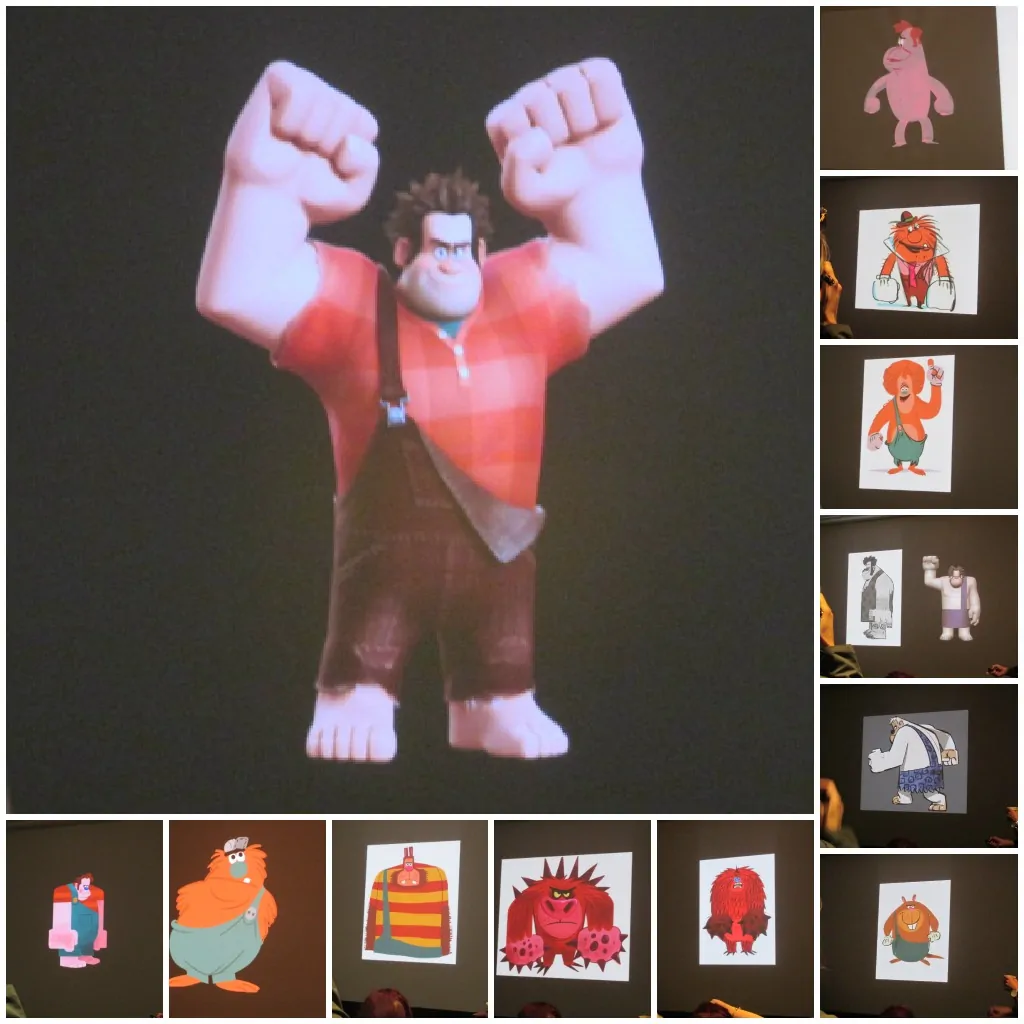 The Visual Department definitely has a very hard job of creating Ralph. It takes many tries — some are successful and some are not so successful, however all of it is necessary to create such a believable and life like character.
After visiting the visual department, we headed over to rigging. I think out of all the departments, this one was my favorite. This is where Ralph and all the other characters start really coming to life. We were able to spend some time chatting with rigging expert John Kahwaty as he explained the importance of their job.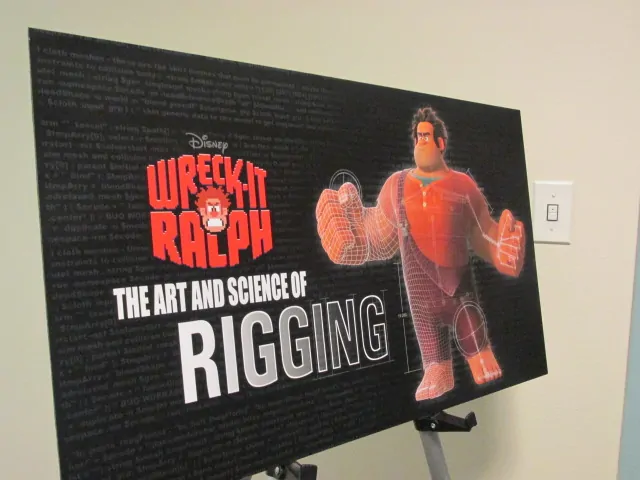 Rigging is a concept that I really had a hard time grasping when you think about the entirety of a movie. There are 24 moves that must be staged in a second. Yes– you read that right — 24! On the computer, the character being rigged has dots, almost like a marionette doll and you — the rigger must make your character move.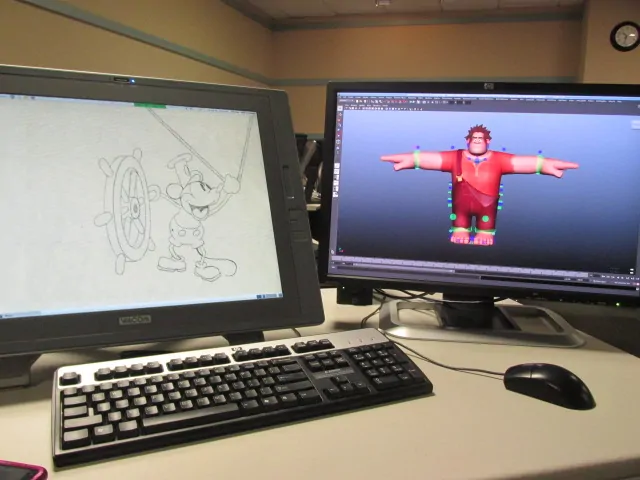 After visiting the rigging, our next department was the Capture Stage where we chatted with Evan Goldberg and team. This was really fun too as we learned how the Hero's Duty scene was filmed using a new concept of Camera Capture (just click that link to read all about how Ralph was captured on film in this scene.)
Our last and final stop during the learning process was speaking with Amy Smeed in the Animation department.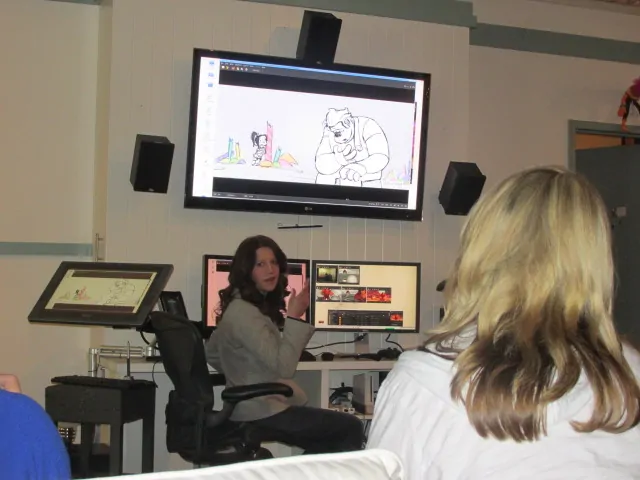 Amy gets to the put the scenes into motion fully and make sure that all things flow together smoothly.  Her area is equipped with a viewing area complete with sofas and a flat screen! She told us how the whole entire staff will come together just to view the completion of a scene so that all eyes check every little second. She admitted that she was grateful for so many sets of eyes, because after looking at a scene over a hundred times, you are bound to miss something.
We asked her if she had watched the Wreck-It-Ralph movie yet, and she admitted that she would have to really wait about 5 years to see it to truly get the enjoyment from it since she has been working on it for two years.
After finishing up the tour of how the movie is made, we were then introduced to the Digital Copy team of  Anthony Mutalipassi and Nicole Elmes.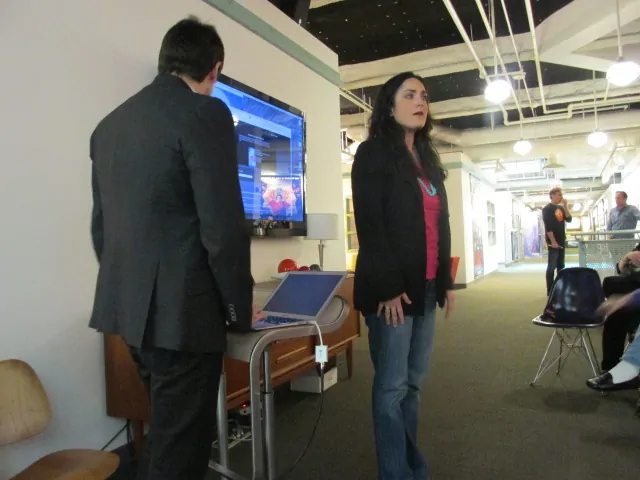 If you wonder what their job involves, they help market and create the digital productions that you have been getting in the combo packs when you purchase a dvd. However, now –you can purchase the digital editions long before the movies ever hit the streets. In fact, right now if you visit the Itunes store, you can purchase the digital copy of Wreck-It-Ralph — which doesn't hit the streets until March 5th.
They are working hard behind the scenes to bring even more excitement to the digital age. Now, when you purchase the digital copy and download it, you can easily view it from anywhere thanks to the ICloud. You can view it from your Apple TV, Iphone, Ipod, and Ipad –anywhere that your cloud will connect you.
After touring the facilities, I can honestly say that I have more of an appreciation for all the men and women that work behind the scenes on Disney movies. In fact, with Wreck-It-Ralph there were 400 people who worked behind the scenes. It takes a ton of people to make a great film, and that they did! Wreck-It-Ralph is now my all time favorite (following Toy Story of course!)
Grab Wreck-it-Ralph on March 5th
Wreck-it-Ralph will be released on dvd on March 5th. You can pre-order it now to make sure get your copy or you can grab the early release of the film in it's digital version from Itunes and watch it now!
I was provided an all expenses paid trip by Disney in order to learn all about Wreck-it-Ralph and the animation behind the movie. All opinions listed are my own.