This post may contain affiliate links. Read my disclosure policy here.
You know those awesome and amazing shots that are captured in the movies that look like you are actually running with the character? Did you ever wonder how those scenes came to be or how they made that shot look as real as they do? Well, I actually got to find out first hand this past week while I was in California for the Oz the Great and Powerful press event. Disney took us on to their amazing Animation studios lot for a first hand look at how they made the movie, Wreck-It-Ralph.
It was really cool to see how Disney creates those amazing scenes. For instance, when Ralph is running across the bridge while he is in the game Hero's Duty, it is fast paced and you virtually feel like you are right there running with him. The wiggling and bouncing that is going around is all being done with these amazing pieces of equipment and all from this very room.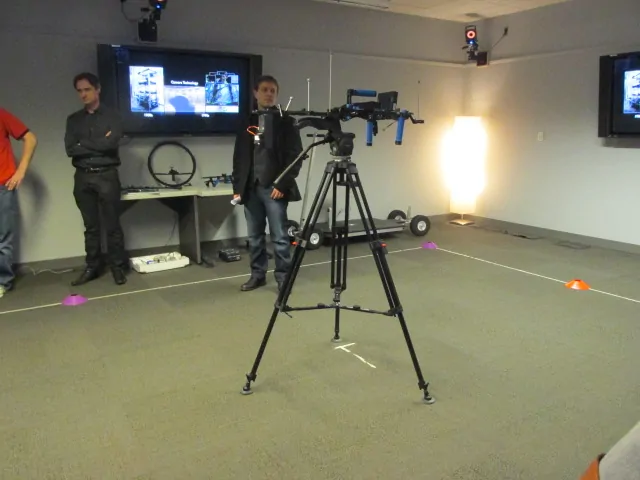 These tools in this stage of the movie, which were introduced for the Wreck it Ralph movie is a quick and easy way to visualize and stage environments, layouts, camera movements and the placement and interaction of visual elements within a scene.
The purpose of the Camera Capture is to imitate the exact feel of a live-action camera, but with more lifelike camera motion. Just like in a real live human movie, where the camera is moving with the scene — you get that exact same feel in the animated movies.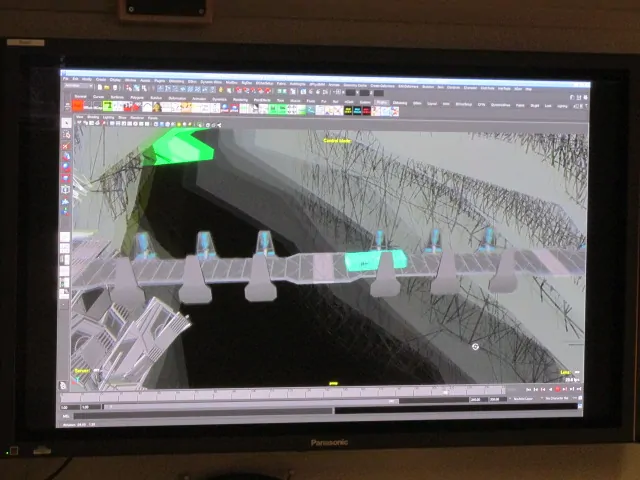 Disney uses graphed typed layouts so that the artists can see what it would be like to move through each action scene and create exciting camera shots to make you feel like you are part of the story.
The software that is used to propel the camera capture feature is Maya. Movement is tracked using sensors that are located on the floor and in the corners of the rooms within the performance area and fed into Maya.  The camera movement is captured and portrayed on the screen.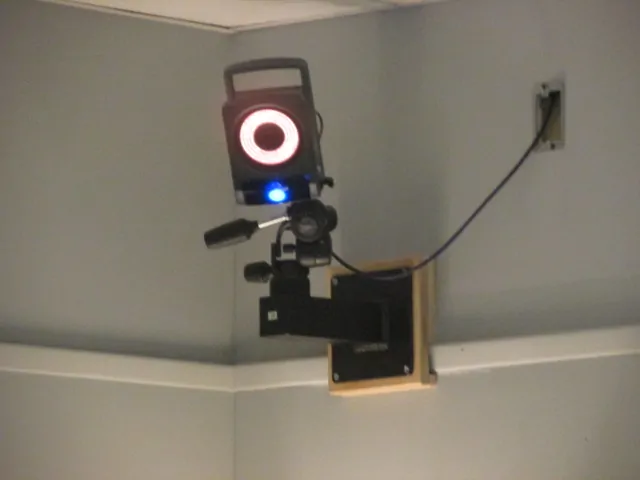 The next thing that happens is that a rough layout and first pass take place to see exactly what will happen in the shot with the camera capture being used. Once everyone involved agrees upon the scene it is ready for the third and final phase — the polishing phase. During the polishing phase, whoever is in charge at that moment can get a complete look at every surrounding — a basic 360 degree look to make sure that they have captured the exact moment that they were looking for.
The best thing about the Camera Capture is that now the director and layout artists  can work together in one on one in a real time moment so that they can agree on decisions about the film together, where before after the director shared his views and what he would like to see happen, he had to wait weeks to see the results. Now — he does not have to wait. They can all work together.
The way that Disney is making movies these days just keeps getting better with amazing technology and new innovative ideas to help us enjoy the movie even more.
What do you think about this new piece of movie making technology?
Grab Wreck-it-Ralph on March 5th
Wreck-it-Ralph will be released on dvd on March 5th. You can pre-order it now to make sure get your copy or you can grab the early release of the film in it's digital version from Itunes and watch it now!
I was provided an all expenses paid trip by Disney in order to learn all about Wreck-it-Ralph and the animation behind the movie. All opinions listed are my own.