This post may contain affiliate links. Read my disclosure policy here.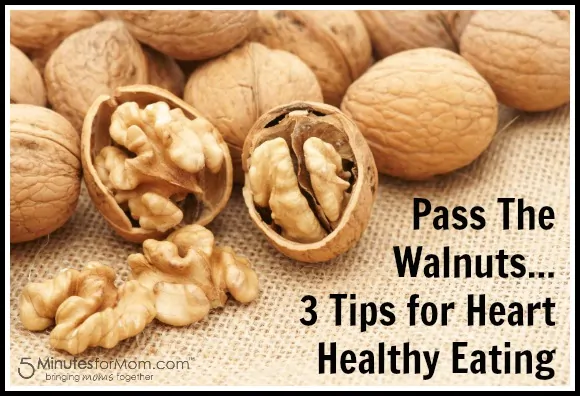 As a mom, I'm desperate to live long enough to see my girls grow up and have children of their own. And I'm a worrier, so I constantly worry that something will happen to me while they are still young.
But instead of worrying, I am trying to make healthier choices and take care of myself. 
Here are 3 changes I'm trying to make to ensure I have a heart healthy diet.
Reduce salt.
One of my guilty pleasures is salty popcorn. As we all know, salt is not good for our hearts. So I need to cut back on extra salt wherever I can.

I'm happy to see brands like Campbell's are reducing sodium in many of their products such as their soups.

Eat more fish. 

I'm thrilled that my 7 year old actually loves fish. It is rather shocking… in fact one night I asked her which she would like: hotdogs, hamburgers, pizza or fish. She chose fish… and I don't mean deep fried fish. We ate fresh sole cooked in just a little butter on the stove.

(When I'm cooking it for myself only I use coconut oil, but she doesn't like coconut oil very much.)

Eat more salads with nuts and olive oil dressing. 

I love salads… the trouble is they can take so much time to prepare and my girls won't eat them. So I'm going to try to eat more salads for lunch while my girls are at school.

I'll also add walnuts and other raw nuts and mix up a homemade olive oil dressing.
Win a $50,000 Kitchen Makeover from Campbell's
Campbell's is encouraging us all to share how we are caring for our hearts.
To enter, use the contest widget below to share a photo, along with a corresponding story or tip showing how you are caring for your heart in the kitchen.
Here's an example contest submission…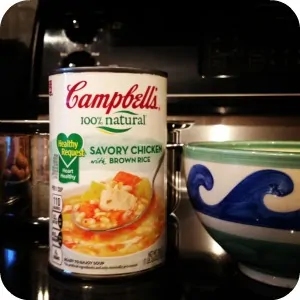 I'm caring for my heart by choosing low sodium foods. I will look at product packaging to select options with less salt. (And I'm going to try to eat less salty popcorn.)
Now It's Your Turn
Follow the steps below and share how you care for your heart to participate in Campbell's contest and you could win a $50,000 kitchen makeover.  Contest Rules  & Prize Page.
Step 1: Submit a photo below that shows how you care for your heart
Step 2: Fill out the information required including your name, email address and zip code.
Step 3: Write a short contest entry (up to 200 words) that corresponds with the photo and share how you care for your heart. Please be honest and sincere with all your thoughts and remember to tell us in 200 words or less.
Step 4: Confirm you've read the Official Rules.
Step 5: Log in through your Facebook account.
Step 6: Submit your contest entry.
You can share your contest entry on Facebook, Twitter, Pinterest and visit AddressYourHeart.com for recipes, tips, and downloadable coupons for heart-healthy products from Campbell.
This is a sponsored conversation written by me on behalf of the Campbell Soup Company's Address Your Heart initiative.  The opinions, text, and images are all mine.