This post may contain affiliate links. Read my disclosure policy here.
The decision to have a third child turned out to be the easy part. The not-so-easy part was managing everything after the third child was born. Mornings. School bus pickups. Diaper changes. Nap time. Homework time. Dinner prep. Shuttling back and forth to activities. On any given day, I was one ball of stress and anxiety wondering how I would get everything done.
With one child, my husband and I took turns. He changed the baby while I worked. I put the baby down for a nap while he ran errands. We had a routine. When the second child arrived, we had a divide and conquer approach. Either we were both with the children, or he had the big one while I had the little one. When our third child made his appearance, I was reminded of the phrase "don't upset the applecart" on an almost daily basis.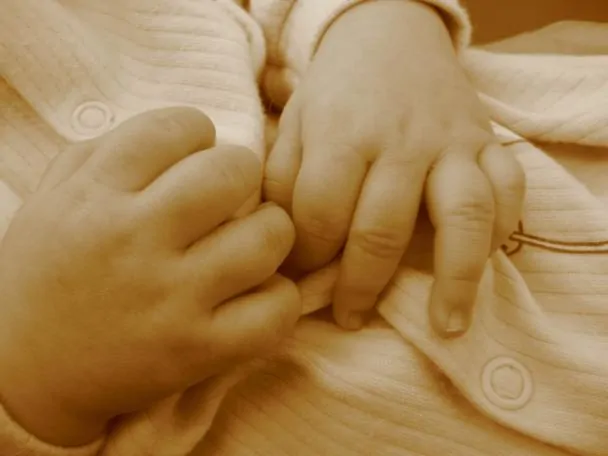 My third child was the easiest baby. He was a true bundle of joy. He ate. He drank. He played. He pooped. He slept. You name it and he was the best baby at doing it. Far easier overall, than our other two children. But for as easy as he was, our family life was far from easy. With two little kids and a baby, we were constantly on-the-go. My son and I had a brief respite during the day while the little kids were in school, but as soon as the yellow school bus rounded the bend we were on fire with activity. There were days when I didn't know how I would get Child #1 to Activity A, while Child #2 needed to be at Activity B at exactly the same time. And there was poor Child #3. My poor baby wanted nothing more than to take a long nap in his crib when instead he had to grab a quick cat nap in his car seat.
What was I to do about my wee baby? He didn't want to be in the minivan from sun up to sundown as I drove from Activity A to Activity B with a pitstop at Activity C before heading home. Enter my mom friends. These ladies were da bomb…literally. I do not know what I would have done without them. I'm not even sure how we made it through the early days with an infant and two big kids. I do know one thing. We couldn't have survived without my mom friends. Thee fact that these ladies were relatively new friends is extraordinary given the help they gave. I had met them when my big older kids were 3 and 5. My baby was born when my little kids were 5 and 7, so I had not known my friends for long when I came to rely on them so heavily.
From the moment my son was born, one friend after another stepped in to help. I'm not the type who asks for help. But my friends sensed almost telepathically that I needed help and offered it to my family. A true blessing.
My neighbor brought over dinner one evening and her timing couldn't have been more en pointe. I was at my wits' end that night with homework supervision, diaper changes, and adjudicating sibling quarrels, when the doorbell rang. There on my doorstep was my very sweet neighbor with a home-cooked meal and dessert. I was so excited…all I could do was offer my profuse thanks. She mentioned that a friend had brought her dinner when she had had her first child.
On other occasions, a friend was so good about picking up my oldest to take her to Brownies. Taking the baby out on a cold winter evening was not a happy prospect. That this friend swooped in and picked up my daughter was such a blessing. My daughter was so excited to get to see her friends all because of the kindness of my friend!
I found school events to be particularly challenging, especially with two little kids and a baby. Have you ever tried to wrangle little kids while pushing a stroller through a crowded school hallway? Shudders. Time and again, one friend or another would hold on to the stroller or talk to my baby as I chased after the little kids.
As the years have passed, I have paid my friends' kindness forward by bringing dinner to another friend who had lost her mom to a long illness or offered babysitting so a friend could volunteer at school. I love being a part of the circle of moms!
Meet Big Mama — She's a woman with a heart for mothering just like us!
Melanie (aka Big Mama) from the Big Mama Blog has written her own memoir of the highs and lows of parenting.
About the book: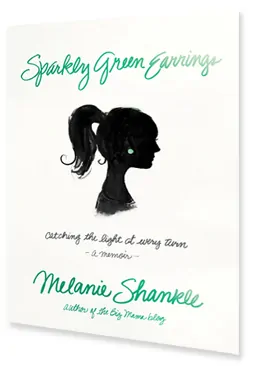 "There is really no better indicator you're a mother than acquiring the ability to catch throw-up in a plastic bag, disinfect your hands, and immediately ask your friend to pass the beef jerky as you put on another Taylor Swift song and act as if nothing has happened."
This is the type of insight Melanie Shankle offers in this quirky memoir of motherhood.
Written in the familiar, stream-of-consciousness style of her blog, Big Mama, Sparkly Green Earrings is a heartwarming and hilarious look at motherhood from someone who is still trying to figure it all out. Filled with personal stories—from the decision to become a mother to the heartbreak of miscarriage and ultimately, to the joy of raising a baby and living to tell about it—Sparkly Green Earrings will make you feel like you're sitting across the table from your best friend. A must-read for anyone who's ever had a child or even thought about it.
Order a copy of Melanie's book today.
Watch this video to learn more:
SparklyGreenEarings4 from Big Mama on Vimeo.
Jill Berry @MusingsfromMe is a writer who stays at home or a SAHM who writesit depends on the day and her mood. While playing a writer on the internet, Jill has the gray hair AND blogposts from raising a kid, a preteen, and a teen. When not blogging at Musings from Me, Jill seizes family time whenever she candinner as a family, movie night, marathon family game sessions, travelingyou name it she wants to do it.