This post may contain affiliate links. Read my disclosure policy here.
Calling all husbands and boyfriends: Valentine's Day is almost here!  If you're stumped for gift ideas for her on this Valentine's Day, why not shake up classic gifts with a unique twist?
Here are 5 Unique Twists on Traditional Valentine's Day Gifts for Her: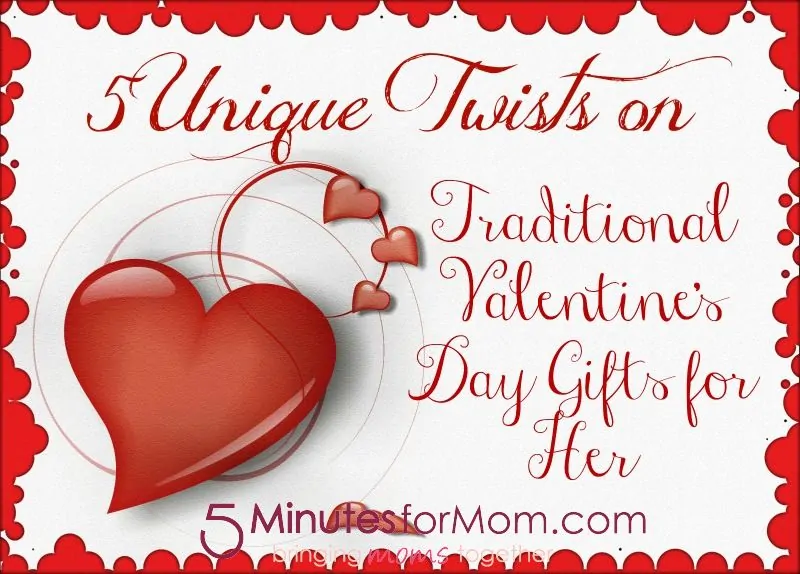 1.  Essential Oils
Rather than buying boring, overpriced perfumes, an essential oil and aromatherapy package can cater to romance – and good health!  Plus, it can be customized just for her.  This is a great gift for women living an organic lifestyle or with allergies.  Check out your local health store to get good information on what you can buy that suits her.
2.  Wine
The latest twist on this standard is personalization.  Several companies will customize a label with words or photos.  Select her favorite kind of wine and hunt for that special photo of you and her.  Go over the top by adding a quote from her favorite poem or the words of your proposal!
3.  Collectibles
Far from boring and stuffy, nowadays you can find a gift item that really speaks to her interests.  Does she love fantasy? Get her a collectible that touches on her interests.  What about a personalized music box? You could fill it with special treats.
4.  Chocolate
Almost every woman enjoys chocolate, but none of us like the extra weight a heart-shaped box of candy can put on us!  Instead of buying candy from traditional vendors, find chocolates that are organic, vegan, and/or dairy-free.  Or, get really personal and cook her up a batch of organic brownies – gluten-free ones taste even richer than regular ones!
5.  Jewelry
Charm bracelets are great a great gift for wives because you can continually add personalized gift charms to them on Valentine's Days, birthdays, and anniversaries.  A pendant with both your names and birthstones is a new twist on a classic idea for couples.  Trendy fine rings nowadays are styled with with charms, shaped like flowers, or set with multiple stones for a truly artistic effect.
Classic gifts need not be boring or common. If you want even more ideas, check out these unique gift ideas for women. Surprise your Valentine this year by shaking up a tradition with a unique, personalized trend.  When she opens it, she'll know how much you love her.