This post may contain affiliate links. Read my disclosure policy here.
Superbowl Sunday is this weekend and most families I know will be attending or hosting their own party. The guys and gals will get together with lots of great food and competitive spirit as they root for their team. But what about all the kids that are there?
Depending on the age of your child, he or she might not be into football. So what happens then? How about creating a party just for them! Not just any party mind you, but a movie themed party — one that will keep them entertained and inspired the entire time. Our suggestion — a Hotel Transylvania movie viewing party complete with activities and delicious foods that will keep them entertained for hours.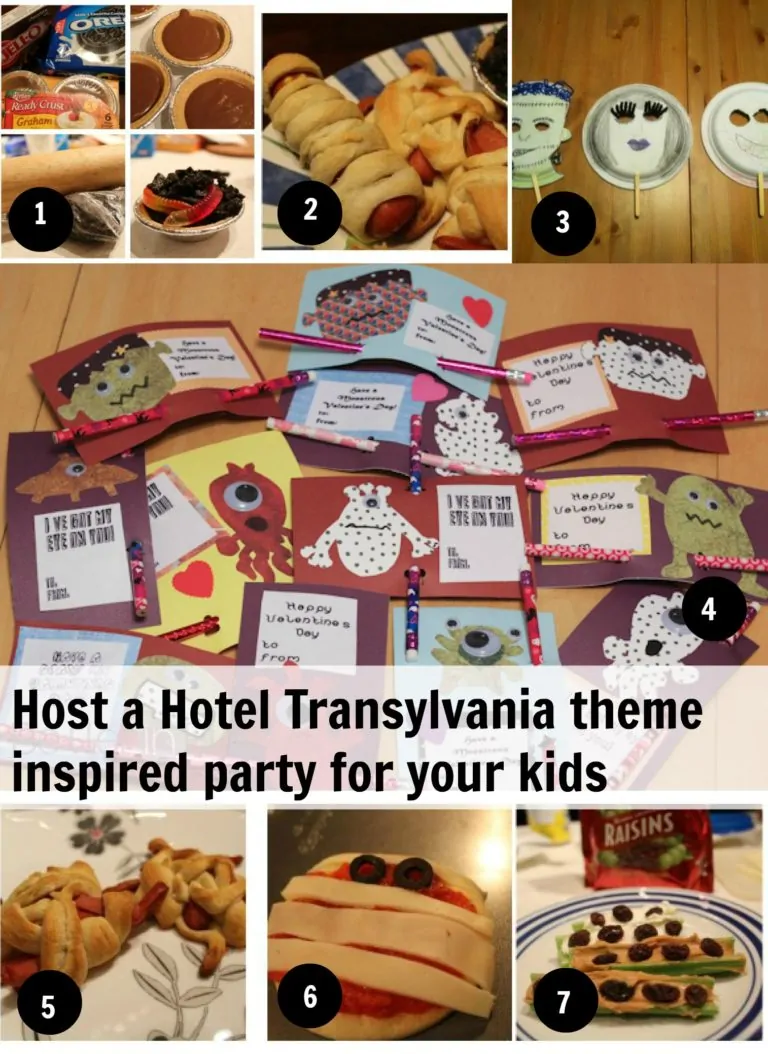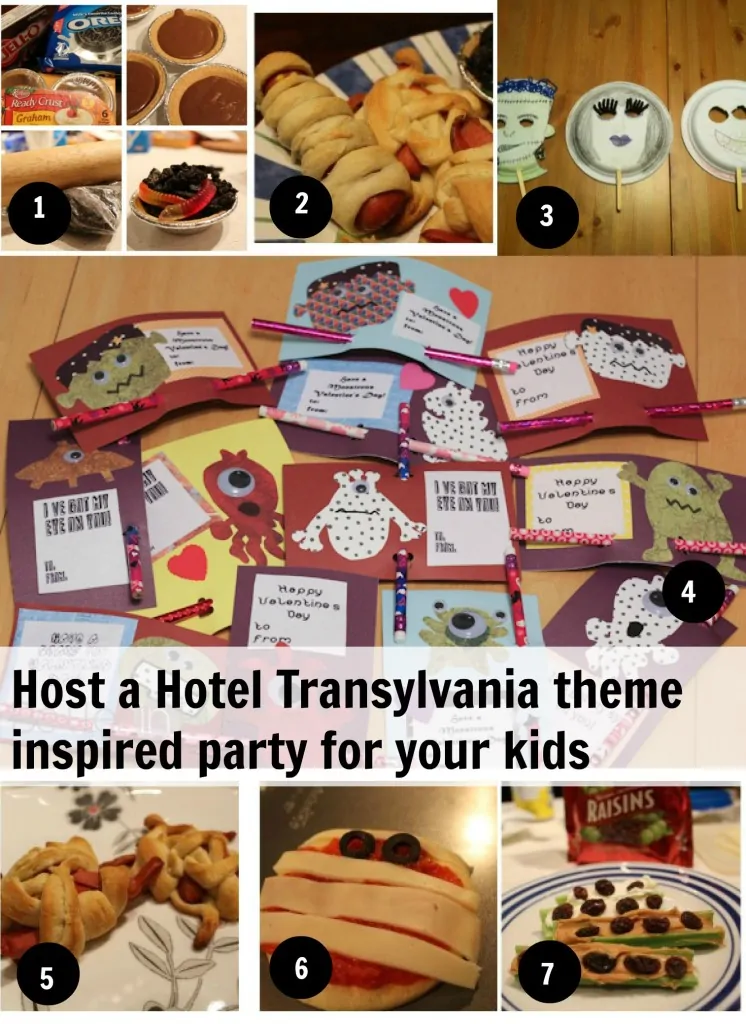 1. Worm and Dirt Cake:
Cheryl shares her son's favorite dessert ever —
Worm and Dirt Cake
. This is so kid friendly that adults don't even have to make it. Print the recipe up and leave the ingredients handy for the older children to help the younger children and you can have a delicious and dirty dessert.
2. Mummy Wrapped HotDogs: In her post Cheryl also shares her creative recipe for mummy dogs!
3. Monster Masks: Rachel shares how her two-year-old is going to be entertained this Sunday by creating his favorite monster masks from the movie.
4. Monster Valentine Cards: Lolli at Better in Bulk is getting two projects accomplished — keeping her kids entertained and making their Valentine Cards for school. Her adorable Monster Cards turned out great.
5. Crescent Roll Worm Piles: Check out the recipe that Cheryl created for worm piles using hot dogs and crescent rolls.
6. Mummy Pizzas: With the leftover crescent roll dough, the kids can make their own fun mummy pizzas.
7. Ants on a Log with Scream Cheese: If you have seen the movie, then you will love creating a dish using Scream Cheese! Cheryl's version sounds SO yummy.
Have your kids seen Hotel Transylvania yet? If not, this weekend would be a great time to grab the DVD and host your very own Hotel Transylvania themed party for your kids! Invite their friends over or tell your superbowl watching friends that this weekend to bring the kids along!
Connect with Hotel Transylvania:
Hotel Transylvania Apps:
MONSTER PARTY APP: The Hotel Transylvania Monster Party app for your iPad, iPad Mini and iPhone lets you create your own monster, play a memory match game, and explore the hotel.
GOLDRUN MOBILE APP: With this virtual photobooth app, you can take a photo with your favorite characters from Hotel Transylvania. Share your photo on Facebook, Twitter and more. Available for both iOS and Android devices.
MONSTERIZE YOURSELF ON FACEBOOK: The Facebook app Monsterize Me allows you to alter your picture with monster-inspired teeth, eyes and more. Upload a photo or choose one from Facebook. Add Hotel Transylvania characters alongside yourself, as well as "monsterizing" your picture with hats, eyes teeth and more. Save it to your computer, print it, or share it on Facebook.
So what fun ideas do you have that we can add to the mix?
This post is part of a promotional campaign with Sony for the street release of Hotel Transylvania. All opinions and those of the ones we have linked to remain our own.