This post may contain affiliate links. Read my disclosure policy here.
Do you decorate or do things up big for Valentine's Day? The day usually sneaks up our family (I know, it's not like the stores and commercials aren't full of reminders the minute Christmas is over), so the only thing we usually have time for is addressing valentines for the boys' classes.
I make sure I make each of my family members a special treat that they get at breakfast that morning, but other than that, we don't do much, especially in the way of valentine decorations. But since I resolved to make our house more beautiful this year, it's nice to find something like this Free Valentine Printable Paper Chain from Pear Tree Greetings.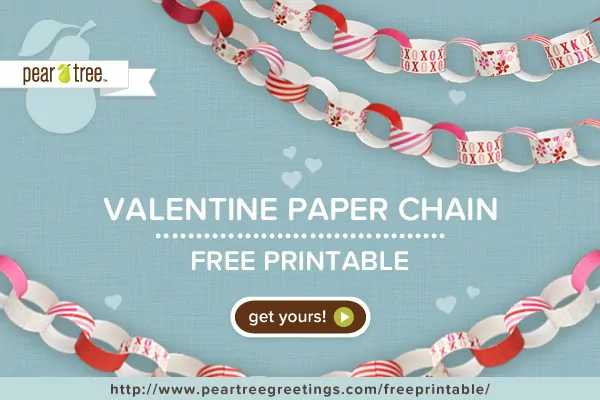 This FREE printable from Pear Tree Greetings is a great way to help your kids get ready for Valentine's Day.  It's easy to download and print. Just
click this link
to download the PDF image to your computer and then you can print out as many copies as you like. Chains are always easy to put together so this will be a quick family project for us that will help keep our boys busy indoors since the weather is icy, cold and rainy this week!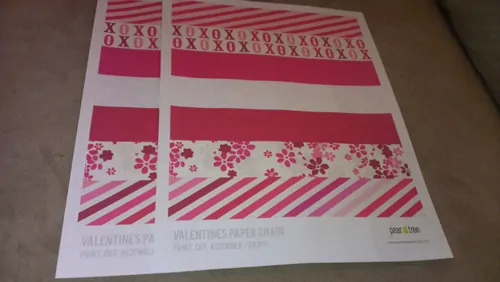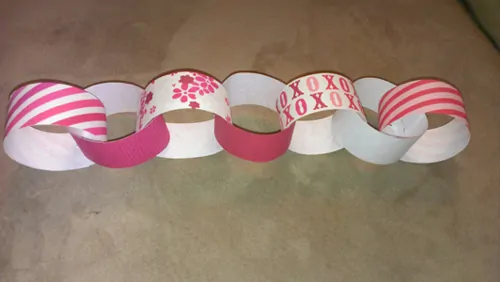 Pear Tree Greetings has many different options for Valentine's Day other than typical photo cards. I was really impressed with the variety of items and designs they have available! They have classroom valentines, valentine stickers and gift tags, valentine photo cards and even valentine address labels. The classroom valentines are definitely not your typical grocery store variety.  Pear Tree valentines have really fun and unique designs that kids will love!  My boys like the Ninja design the best.  I "heart" this personalized valentine that will be great for grandparents this year: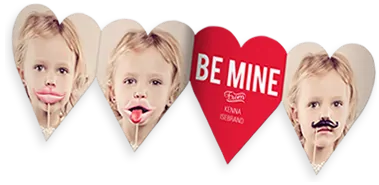 The Pear Tree website is chock full of tips and ideas to make Valentine's Day special. I appreciate the photo tips, as my personalized photo cards usually end up being just okay because our photos are just okay. Now I have some ideas and hints to make my pics card worthy!
Pear Tree Greetings also has lots of custom greetings for other occasions, like lovely personalized stationery as well as personalized storybooks that would make wonderful gifts for new babies or birthdays. They offer free shipping on orders over $75.  Right now they have a Refer A Friend program: Share the Pear with a friend and earn $20 for you, $20 for your friend, and $20 for CaringBridge!
With all this customer love goin' on over at Pear Tree Greetings, now would be a great time to stop by the website and check out their products. You can download your Free Printable Valentine's Day Paper Chain, order your Valentine's Day cards, refer a friend and earn money all on the same day! What a sweet deal!
Disclosure:  I was compensated for this promotional post by Pear Tree Greetings. The opinions I express in the post are honest and are always my own.