This post may contain affiliate links. Read my disclosure policy here.
I have friends that call on occasion to ask me if I want to go shopping. I have to say… I don't love running around town doing the shopping thing. I LOVE hanging out with my friends and I love getting input from them about purchases, but the driving from store to store and fighting the crowds part? Not so much.
But I do love to shop online because I save time and money by comparison shopping without ever having to walk out my front door. With growing boys in the house, I'm always looking for great deals and sales, so I appreciate websites that make it easy for me to get the best price on things we need. zuuzs.commakes it easy for me to find those deals and gives me cash back for my purchases!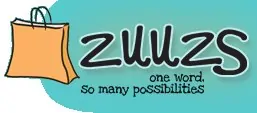 User Friendly
zuuzs.com is easy to use too. The site allows you to organize your shopping interests, browse the shopping interests of your friends, and get recommendations around your shopping interests based on the stores you add to your interest list.  zuuzs.com will notify you when those stores have deals and sales.  No more having to search through 12 different websites looking for the best price – what a time saver!
After you find the best deals, zuuzs gives you the ability to tell your friends about the deals you just found, so they can save money too. Once your purchases have been confirmed, your cash back funds will be added to your account (usually within a few days).  You can choose how much cash back accumulates in your account before the "fundz" get released to you in the form of a check or debit card you'll get in the mail.  I set mine to cash out at $10.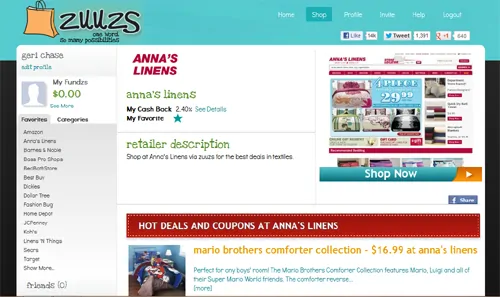 Sign-up Process
I found the zuuzs sign-up process to be quick and easy. Once I signed up, I was given a link to send to friends and family so they could sign up and start saving money too.  The whole process took about 15 minutes by the time I chose the stores I wanted on my list from the over 800 retailers zuuzs.com currently works with.
I was immediately able to start browsing my favorite stores for deals and purchased a new pair of slippers for my cold feet!  I'll be doing some more shopping through zuuzs in the next few weeks. It will be fun to see how much cash back I can add to my "fundz" account for purchases I would have made anyway without getting cash back had I not been introduced to zuuzs.
Fundraising opportunities
Among the things I like about shopping through zuuzs (cash back, ability to share deals and purchases with friends) is that the company offers fundraising opportunities for organizations needing to raise money for worthy causes. Charities can earn money two ways: the first is through purchases.
Each time one of their supporters makes a purchase, the organization will receive a cash bonus from that purchase.  When a supporter invites friends to join uuzs, the organization will get a cash bonus from purchases made by their friends too!
Secondly, supporters can then choose to donate their own cash back fundz to the charity as well.  So you can see what a valuable fundraising tool zuuzs.com can become with a large base of supporters!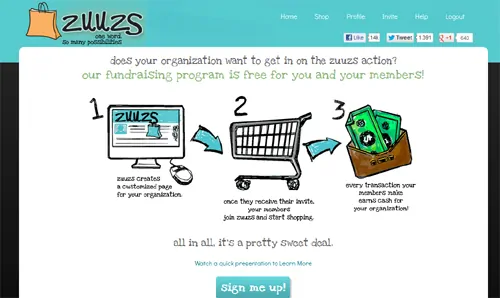 I'm excited that I have found a site that helps me meet my family's shopping needs without going broke.  zuuzs.com will definitely be my go-to online shopping site and I'm looking forward to sharing the deals I find with friends and family.  I'm also looking forward to the cash back rewards in my mailbox!
It's easy to stay on a budget if you follow the zuuzs.com mantra:  Shop. Save. Earn.
Disclosure:  I was compensated to write this promotional post for zuuzs.com. The views expressed in this post are my own.