This post may contain affiliate links. Read my disclosure policy here.
I was once again granted an opportunity to review a new SUV. I was on vacation with family in the Midwest and was looking forward to seeing how this new car could hold up to the potentially inclement weather that December in the Midwest has to offer. I was excited to see the 2013 Mitsubishi Outlander Sport I was loaned came equipped with a four-wheel drove (4WD) option.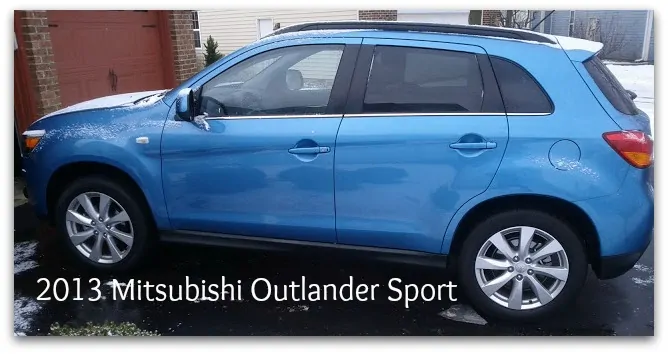 Now, I'll give you the same disclaimer as my prior car review: I am not a "gear-head" by any stretch of the imagination. My first and only experience with changing my own oil resulted in missing curfew (I was in high school) and a complete flushing of my transmission fluid line.
It's a long story, I assure you 🙂 
Anyway, I don't understand the mechanics of a car, I just know what I like and I know what I trust for my family. I'm going to break it down to three categories that were imporant to me, in no particular order: Space, Safety, Fun Features.
Space:
Now, I'll probably refer to this vehicle as a "little car" more often than I should but I also tend to write a little more "conversationally" than some, so it's a give and take. Anyway, the Outlander Sport to me, is a smaller SUV/Crossover. It has seating for five and a hatchback with a fair amount of space for hauling your stuff. I say "fair" because it would easily fit a normal sized stroller and some groceries, but it may take some clever "tetris-like" shifting to get everything a family may need for a long weekend.
We have just three in our little family so there was no issue with having room for B's carseat in the back. We were even able to fit four adults and B's carseat in the vehicle relatively comfortably. I always place B's carseat int he middle seat. I would be a bit concerned that multiple children/carseats would create a space issue in the backseat. Also, my husband and I are both relatively tall, with me being 5'10" and my husband being about 6'1″ we don't have a lot of room to play with when it comes to rear-facing car seats behind driver/passenger seats.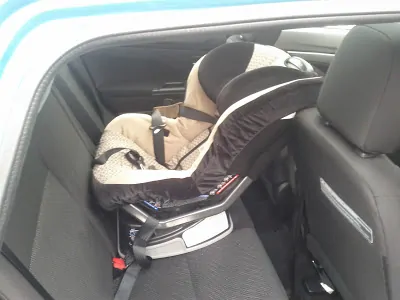 I think for a young couple, a small family (three or so), or for empty nesters, the Outlander Sport has enough room. If you are a family that is looking to expand, or does a lot of traveling with children, you may want to consider a vehicle with a little more room for extra seating or space for carrying your children's "accessories".
There was also a pass-through like hole in the back seat so you could reach directly into the trunk. Not a feature I tested for obvious reasons, but I think that could be handy with older kids. Also, the entire backseat folds flat if you wanted additional room to haul stuff.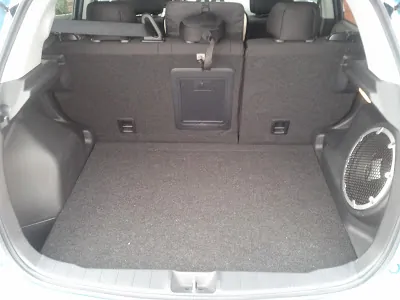 Safety:
For this section, I'm taking tips from the experts as to the safety features of this vehicle. I *thankfully* didn't test many of these, but I will place my notes on the ones that I did. This list is coming direct from Edmunds:
4-wheel ABS
Front and rear head airbags
Dual front side-mounted airbags
Child seat anchors
Remote anti-theft alarm system
Ventilated front disc / solid rear disc brakes
Rear door child safety locks
Engine immobilizer
Auto delay off headlamps – this was a great feature, one less thing to remember when grabbing armfulls of "stuff" and baby getting out of the car.
2 front headrests
3 rear headrests
Passenger airbag occupant sensing deactivation
Rear center 3-point belt
Front seatbelt pretensioners
Stability control
Traction control – definitely a nice feature with slipper conditions. My model also had 4WD so with the push of a button the car went from front-wheel drive (much better gas mileage) to a more sturdy 4 wheel drive.
Electronic brakeforce distribution
Front height adjustable headrests
Rear height adjustable headrests
Passenger head restraint whiplash protection system
Driver head restraint whiplash protection system
Tire pressure monitoring  – this is a great feature for going from warm to cold and vice versa. I know I never realized how much my tire pressure changed until I had this feature in a car. Driving on under or over inflated tires not only hurts your gas mileage but it can be very dangerous as well.
The model I tested also had a rear camera with parking assist. When you put the car in reverse, the camera shows up in the dashboard with a view of what's behind you. This was nice when it snowed and we minimally scraped the snow off the windows. This made backing up much safer. It doesn't take the place of physically turning your head and looking behind you, but its a nice helpful feature.
The Outlander Sport also had Bluetooth technology so my phone could sync with the car and make for hands-free talking. I think this is super important when driving in bad weather.

Fun Bells and Whistles:
I already mentioned the rear camera and Bluetooth, but some of my other favorites were the satellite radio (I was able to find a couple holiday specific channels which was a nice change of pace!), navigation system, USB, iPod connectors in the center console so you can listen to your own music and not have to worry about wearing out your battery. Both the driver and the passenger seats had the option to be heated. This was PHENOMENAL when it was 10 degrees outside. Those puppies heated up so quickly!
This model also had a panoramic moon roof. It didn't open up to the outside, but it did make the roof another window essentially. It stretched from above the driver/passenger seats all the way back to the hatchback. It also had little LED lights lining it that could be brightened or dimmed depending on your mood. Not really sure the reason for it, maybe it was a novelty thing, but either way, it was great for entertainment for my 15 month old!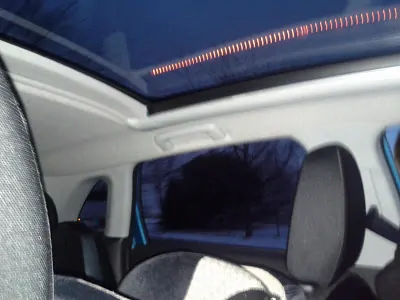 It's a little hard to see but I wanted to show the lights at night
The model I drove was a four cylinder engine which is great for gas mileage but I did notice it didn't have a ton of "pick-up". On the panel where the navigation/satellite radio is, there was an option to track your gas mileage and find out how many miles until you needed to refill. I wish I had taken a picture because I honestly can't remember how many miles to a tank I got. I know it was well over 300.
The steering wheel had these little "paddles" that behind it. I had no clue what they were for, but my husband said if you want to manually shift the car, you can place the shifter knob in the position to do so and then use the paddles to shift. Clearly not something I was interested in using, but maybe for car buffs out there this is a cool feature? I guess it makes it more like a race car. To me, they were just something else to look at :).
Overall, I think this is a nice car for a small family or couple. I think the pricing is fair and you get a good amount of features for your money. With the different models to choose from I think there is a model and price-range to suit most budgets!