This post may contain affiliate links. Read my disclosure policy here.
My kids begged me for a Mr. Potato Head when they were little. I think it had something to do with the first Toy Story that came out. Mr. Potato Head was so sassy and funny, and my kids adored him. Then the 2nd Toy Story came out and they just had to get Mr. Potato Head a wife. It is amazing to me how many hours were spent playing with those two spud toys. Even though my kids are pretty much grown now, when they are babysitting other children, if there is a Mr. Potato Head around, they are going to play with it.
Let's just face it — the spud is a wanted toy!
Speaking of Mr. Potato Head — have you seen the new app that you can download that is totally free?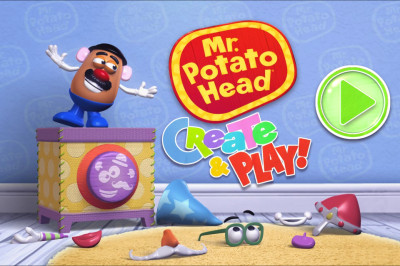 Callaway Digital Arts and Hasbro have collaborated together and have brought the spud to life in this interactive app for the Ipad, Iphone, and Ipod Touch. Featuring a fully 3D character, customization options, and user-controlled animations, Mr. Potato Head Create & Play lets players embark on silly adventures that are full of surprises and capture and save delightful moments as photos.  Your child can enjoy dressing up Mr. Potato Head with dozens of parts and outfits.
There are tons of ways to interact with Mr. Potato Head:
Create and customize your Potato Head in any way you want with over 200 mix-and-match parts (and more to come)! Create a funny face, put an arm where an ear should be, and any other crazy combination.
Take your Mr. Potato Head on spud-tacular interactive adventures to fantastic places with fullscreen touch sensitivity.
Capture and share pictures of special and crazy moments!
Mr. Potato Head Create & Play promotes learning and discovery for children through imagination-driven play and develops fine motor skills for pre-schoolers.
Hop on over to the app store and download this for your child. My 14 year old daughter has even downloaded the app. See — Mr. Potato Head is fun for all ages!
This post is part of a promotional campaign for Hasbro and Callaway Digital Arts. All opinions listed are our own.
If you found this post helpful, we would love it if you gave it a Stumble, Tweet, Pin, or Facebook Like. Thanks so much! We really appreciate your support of 5 Minutes for Mom.
Written by Jennifer Sikora, author of Jen's Journey.
We want to get to know you better — Tweet with us: @5minutesformom, find us on Facebook: Facebook.com/5minutesformom, or join our newsletter list.