This post may contain affiliate links. Read my disclosure policy here.
The holidays are over, breaks are ending, and it's time to send the kids back to school. Over the break, I spoke with a lot of moms who were unhappy with a lot of changes that have been made to school lunches recently. They were asking me what they could do to send their child a good lunch to school without having to break the bank.
We homeschool so we do not have that problem, but I still fix lunch every day for my kids. During the holidays, my daughter and I created some fun and festive lunch creations using Hillshire Farm Lit'l Smokies.

Kayla loves corndogs, so when we were browsing the cute party animal ideas on the Lil Smokies list, she found the Corn Doggie and wanted to fix them. I will never buy store bought corn dogs again. This is so simple and easy to do and they are cute and festive and would make a great addition to any lunch box.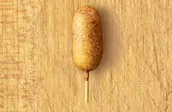 Ingredients:
1 pkg. Hillshire Farm Lit'l Smokies®
1 pkg. (8.5 ounces) corn muffin mix
2/3 cup flour
1 egg, beaten
1 cup milk
Vegetable oil for frying
Directions:
Preheat oil to 375°F. Open package of Lit'l Smokies® and drain off any liquid. Insert wooden toothpick into tip of each sausage.
Combine corn muffin mix, flour, egg and milk in a large bowl mixing until combined well. Working quickly, dip 4-5 Lit'l Smokies® in batter.
Fry 'em in oil 2-3 minutes, or until golden brown and batter is cooked in the center.
Drain on paper towels. Repeat with remaining Lit'l Smokies®.
This will make 40 little dogs. What we did was make the whole batch and then we froze them on a cookie sheet. Now, when she wants to have a corn dog, she can pop a couple of these out of the freezer and warm them in the microwave or heat them in the oven.
For lunchboxes, just put a couple wrapped in paper towels and plastic wrap in the lunchbox. By the time they get ready to eat, they will be thawed and will only need a few seconds nuked in the microwave.
Be sure to check out the other Party Animal recipes on the Hillshire Farms website.
Enter to win
We are giving away three coupons so that you can create your own party dogs and lunchbox ideas yourself! Three winners will each get a coupon for a Hillshire Farm Lit'l Smokies® free product. Use the Rafflecopter form to enter this giveaway. New to Rafflecopter? Watch this 45-second video on how to enter!
I was sent coupons so that I could try and create the party animals recipes from the Hillshire Farms website.