This post may contain affiliate links. Read my disclosure policy here.
With the kids home from school for a week (or longer), here are some extra creative projects for the kids and you to decorate your house with. Great for them to do with a nanny or babysitter too!
These 33 holiday crafts will keep your kids occupied and allow you to go about your day. And hey, maybe you can even join in on the fun!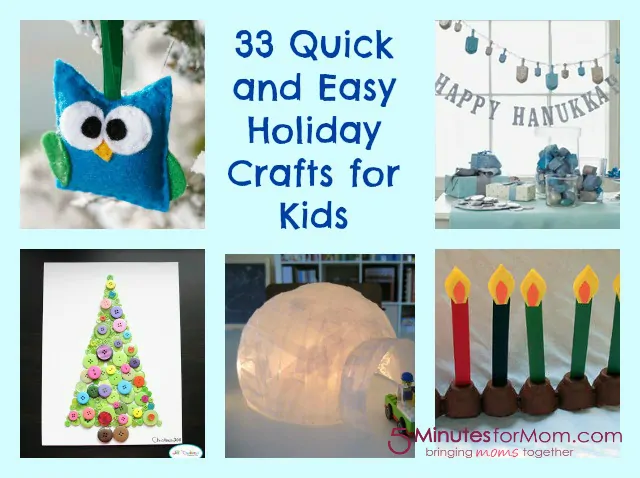 1. 
Homemade Snow Globes
   This DIY version puts those old baby food jars to use (just add vegetable oil and glitter!)
2.  Chewy & Louie   When a gingerbread house feels like too much hassle and mess, raid the candy store to make this adorable penguin duo.
3.  Melted Snowman Cookie   What happens when Frosty parties a little too hard? You get to eat him. These cookies Have the kids help decorate these cookies just as they would a real snowman and show them off at a holiday party with friends!
4.  Reindeer Candy Canes  Houseguests will love these cute, easy to make tasty treats.
5.  Lunch Bag Scrapbook  Ever wonder where you can store the beautiful holiday cards your family receives? With a standard paper lunch bag, scissors, a hole punch, pencil, ribbon, and other fun decorations of your choosing, the kids can make this basic scrapbook that will look great propped on a side table for years to come.
6.  Snowman Crochet Pattern   If you want to teach the kids to crochet, these cute snowmen are a great way to start (although you can still adorn the mantel in a similar style from a few old sweaters wrapped up in each other.)
7.  Jolly Java Jackets   If you worry about little fingers holding hot cocoa cups, fret no more. Using the leg of a sock, festive embellishments, and fabric glue, these homemade cup holders will keep hands safe from burns on chilly nights.
8.  Glowing Snowmen   Instead of recycling your empty milk jugs and leaving your snowmen outside, make pretty glowing inside snowmen. Some may even call it a winter wonderland.
9.  Paper Mache Igloo  This isn't any old paper mache project. It's art. When lit from inside, it looks like an igloo you might spend $500 a night to stay inside. But then, that might be crazy, because it's an igloo. But be sure to check it out, because maybe someone else would pay $500 to sleep there. And all you used was a balloon, paper, paste and water to make it.
10.  Hand Print Christmas Tree  Kids love to finger paint, so this craft, made just with a canvas and acrylic paint, is sure to be a popular one in the house. Be sure to lay down newspaper while the kids create this sweet and sentimental masterpiece to display on the wall or to frame and send to Grandma.
11.  Paper Cup Bell  Make your own holiday bells with paper cups, pipe cleaners, beads, bells and accoutrements. Hang on your front door knob so that each visitor gets a holiday treat when entering your home.
12.  Popcorn Wreath  We've seen popcorn garland on Christmas trees, but making a popcorn wreath out of the salty snack is a fun twist on a traditional idea. All you need is three feet of dental floss, a paper plate, and a needle. Bonus? This doubles as a craft and a snack.
13.  Matchbox Gifts  A matchbox, 3.75-by 2-inch band of construction paper, and a little glue is all it takes to make these petite presents for classmates and friends. Want to write a tiny note? Just cut a 2-by-2.5-inch piece of paper and slip it right in to spread some holiday cheer.
14.  Tree Cookies  Who knew that the combination of cookie dough and M&M's could look as good as it tastes? These sweet treats are perfect for a holiday party or just a low-key movie night.
15.  10-Minute Santa Ornament   If you're looking for quick and easy gift ideas, these should fit the bill. A wooden ball, red and white felt scraps, black acrylic paint, a white pipe cleaner, twine, and a glue gun are all the kids need to make cute Santa pals.
16.  Button Christmas Tree  A tree that will last forever. This work of art, made with colored buttons and a piece of paper will look dazzling framed and set on a table or hung on the wall.
17.  Paper Bag Reindeer  Decorate reindeer out of brown paper bags — and host a parade!
18.  Candy Sleigh   Ditch that plain old serving bowl and use household items like a tissue box and colored tape to display your favorite holiday sweets around the house.
19.  Yarn Christmas Ornament  Unlike your typical fragile ornaments meant for adult-hands only, these vibrant ornaments, made with yarn, a paper-towel roll, and scissors is an excellent way for the kids to help decorate the tree.
20.  Santa Binoculars  Kids will love getting crafty with paper towel tubes and wrapping paper to create some high-tech scopes in hopes of spying Santa this Christmas.
21.  Jingle Bell Runner  Have the kids decorate an ordinary holiday table runner by gluing on jingle bells in festive words and patterns.
22. Baby Owl Felt Ornament  Whoo doesn't love owls? With teal and green felt, some tracing, and just a bit sewing, this cute little guy will find a warm home for the winter tucked into your Christmas tree.
23.  Chocomint Blossoms  What would the holidays be without the glorious combination of chocolate and peppermint? They might be too cute to eat.
24.  Play Felt Tree & Ornaments  A great craft to keep little kids occupied, different colored felt and a hot glue gun will have them decorating their "tree" all day long. Just attach to the bottom of a wall and let their creativity soar. (Can also buy for $35 for those with frozen fingers)!
25.  Construction Paper Wreath  Construction paper, paper, a ruler, and scissors are the only materials needed to make this funky wreath. We love the idea of making them in different colors and hanging them on the kid's bedroom doors!
26.  Decked-Out Dreidels  Using just a bit of glue and glitter, you can jazz up a plain wooden dreidel. And because these twinkly toys are more fun to look at than to play with, put a bunch into a clear jar and set on a mantle or as a centerpiece.
27.  Gelt Bag  Felt gelt (but it can hold real chocolate)! The 6-by-4-inch pouch will look festive when hung on knobs around the house and then they'll come in handy to collect gelt when Hanukkah begins.
28.  Advent Calendar-Style Hanukkah Décor   This homemade countdown craft is constructed with a wrapping paper tube, streamers, small craft paper envelopes and different types of fun Hanukkah cutouts. Hang this up next to the menorah and let the kids open a new gift from the calendar each night.
29.  Hanukkah Felt Bunting  It's incredible what can be made with felt and a hot glue gun, and this bunting banner is the perfect way to decorate a doorway or mantle for the holidays.
30.  Hanukkah Card Craft with 3D Dreidel Set some bright-colored card stock, a dreidel stencil, and a glue stick out on a crafting table for the kids and they will spend the day making these cheerful Hanukkah cards that will dress up any bare surface around the house.
31.  Kwanzaa Rice Krispie Treats  Who doesn't love this gooey treat? And with butter, marshmallows, and any rice cereal from your grocery store, you can make them yourself and cut them into Kwanzaa-inspired shapes to share with family and friends.
32.  Egg Carton Kinara  Celebrate the seven principles of Kwanzaa by making a kinara from easy-to-find items like an egg carton, craft sticks, construction paper, and acrylic paint. Set this next to your actual kinara so the kids can learn about this sentimental tradition.
33.  Unity Cup  Used on the sixth day of Kwanzaa, a unity cup can be made from craft store items like a wooden doll pin, a doll pin stand, craft glue, acrylic paint, and any paper cup. Using a cup made by the kids will help them feel included and involved in the historic ritual.
Find More Crafts
For more ideas, see our Crafts for Kids Pinterest Board.
Written by Brooke Chateauneuf, Care.com Contributor