This post may contain affiliate links. Read my disclosure policy here.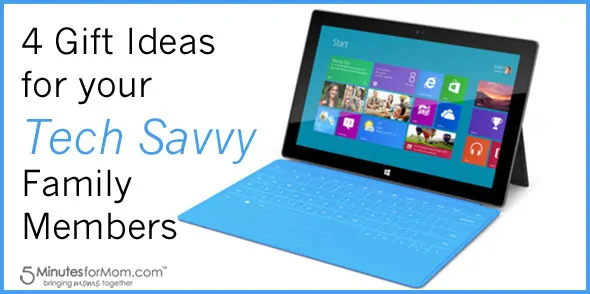 Christmas is almost here… Do you have a few gifts still to find? What about presents for your tech savvy family members?
Here are four Windows 8 inspired holiday gift ideas. 
But before we begin, remember that Windows 8 for electronic download is only $39.99 via windows.com.
Surface with Windows RT
With a widescreen HD display, Surface provides a larger view of your TV shows and movies. When you want to put it down, Surface's integrated kickstand is there when you need it and disappears and doesn't get in the way when you don't.
There are two options – Touch Cover or Type Cover.  Touch Cover is a unique and innovative pressure-sensitive keyboard that's 3mm thin and doubles as a cover that protects your screen. It's available in a variety of colors so people can express their personal style. Type Cover adds moving keys for a more traditional typing feel that's only 2mm more.
Surface also comes with a full-size USB, enabling connectivity with literally hundreds of millions of devices, as well as a microSD card slot for adding almost limitless storage. Prices start at $499.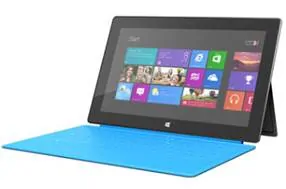 ASUS VivoTab RT
Lightweight and sleek with a hidden hinge design and brand-new chassis finish, the ASUS Vivo Tab RT looks and feels just like a laptop when docked, while giving you all the benefits of a tablet when you take it on the go. Prices start at $599.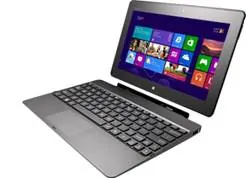 Lenovo IdeaPad Yoga 11
This is world's slimmest multimode PC! There are four unique ways to use it: laptop, tablet, tent, and stand. You can either prop it up or lay it flat. The 11.6-inch HD+ display has 10 multitouch points so you can enjoy gaming and social media wherever you go.  The IdeaPad Yoga 11 has 10+ hours of battery life so it can power your activities throughout the day.  Prices start at $799.00-$899.99.
Wedge Touch Mouse
Small enough to fit in your pocket, the Wedge Touch Mouse is designed to for smooth use with Windows 8, providing four-way Touch scrolling and navigation at your fingertips. Plus, it features BlueTrack Technology, so you can use it on virtually any surface, whether you're in a conference room, a coffee shop or at home on your couch. Its sleek design also  comes free of cables or USB transceivers – you simply turn it on and connect it to your Bluetooth-enabled laptop or tablet for a clutter-free experience. Price: $69.95.
Written by Susan Carraretto, co-founder of 5 Minutes for Mom
Disclosure: Susan is a Windows Champion Blogger.