This post may contain affiliate links. Read my disclosure policy here.
By now we've heard about the enormous amount of benefits in making your own baby food. It's economical and you know what's going in your child's tummy. From prepping the ingredients to food storage, playing chef to your kids can seem intimidating. But, more and more awesome products are being offered to help make it all a little easier.
The latest must-have is called Squooshi, and eating on-the-go has never been simpler for kids.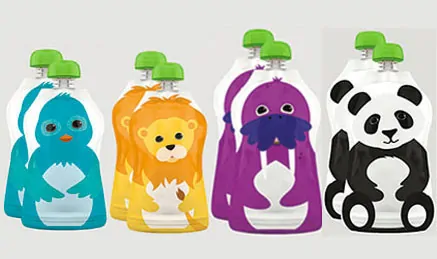 Shannon Waldis and Noel Wren are a father-daughter team on a mission to make eating healthier, more cost effective, convenient and environmentally friendly. Squooshi is a reusable food pouch that you fill up with baby food, smoothies, pureed food, yogurt, oatmeal and more!
The pouches are also re-sealable, not to mention easy-to-use and easy-to-clean for kids of all ages. You can just pop it in the dishwasher or wash it by hand. Check out these easy cleaning instructions .
I made baby food for my daughter who is now two years old and I plan to do so with my new baby arriving in January 2013. This product would definitely be a huge help for me while I'm out and about and will also help the baby self feed when the time comes. Less of a mess, hooray!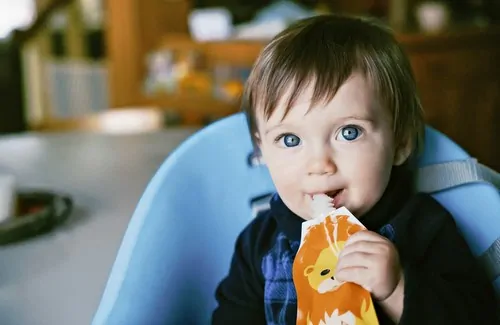 Why you'll love Squooshi pouches:
Fun and adorable designs that are appealing to picky eaters
BPA free, Phthalate free, PVC free and Lead free
Attaches to Boon Spoon
They'll save you money!
Pre-filled pouches cost between $1.50 – $2.25 each! By filling up your own Squooshi pouch, it'll keep you from having to buy pre-filled ones week after week.
Besides saving money, Squooshi pouches also help save the earth.
More than two billion plastic food pouches end up in landfills each year, and by using Squooshi pouches you'll be doing your part to preserve the planet. The company says empty pouches require a lot less fuel for shipping and most pre-packaged food travels over 1,200 miles before it reaches your table!
If you're into seeing your child eat good food in a fun, Eco-friendly way, than Squooshi is for you!
If you have any questions, this family-run company has you covered!
Click here for frequently asked questions
Enter to win
3 readers are going to win a 4 pack of reusable Squooshi pouches. Use the Rafflecopter below to enter this giveaway. New to Rafflecopter? Watch this 45-second video on how to enter!
a Rafflecopter giveaway
  I was compensated for writing this post, however all opinions are my own.