This post may contain affiliate links. Read my disclosure policy here.
Little Pim is a welcoming little panda that entertains and delights children while they learn Spanish. Little Pim Spanish for Kids "Playtime" (DVD 3) is 35 minutes long and designed for ages zero through five.
The first time, I played the DVD with the English subtitles on which seemed to create a learning classroom environment for my four children ages seven, two and four-year-old twins. I read along with my seven year old which kept him him entertained as well, despite being two years over the intended age audience. My two and four year olds loved the fun games that Little Pim played, placed in between Spanish lessons.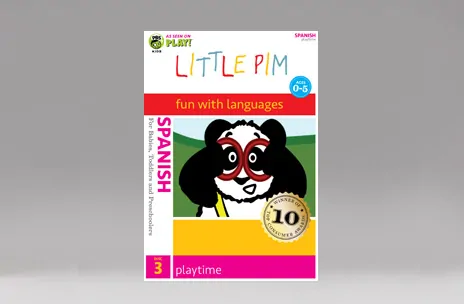 The DVD teaches "60 words and phrases with Little Pim."  No one was bored or left wondering when the DVD was going to be over and we all enjoyed learning Spanish words for everyday things during playtime.
A few days later, we played the DVD again for my younger children but with the subtitles off. It was fun for them to try and recall what the words meant without my assistance of reading them. My two year old seemed to enjoy it more this time than the others while my twins (age four) liked saying the words and learning if they were right or wrong but were starting to lose their attention.
The full 35 minutes held my two-year-old's attention and she even asked about Little Pim the next day, wondering when I was putting it on.  Demonstration retention, she picked up the blue crayon and said "azul." I popped in the DVD again.
Similar to the Baby Einstein pattern of story, teaching, likable characters and relatable themes, Little Pim Spanish is a useful educational tool that can be a great asset to any parenting tool belt.  Learning languages doesn't have to be something that waits until a child enters school, but can begin at zero.
I would like to use more of the Little Pim line and I bet you my children would too!
Enter to win
TWO readers are going to get their chance to win a Little Pim DVD. Use the Rafflecopter below to enter this giveaway. New to Rafflecopter? Watch this 45-second video on how to enter!
Angel Rodrigues relocated to Pittsburgh, Pennsylvania and loves exploring all things in the 'Burgh. Whether it's the local eateries, bakeries or shopping outlets, Pittsburgh is an exciting place to explore.