This post may contain affiliate links. Read my disclosure policy here.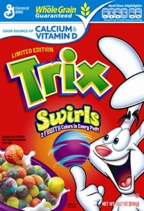 I've been patiently waiting for today! Today is the day that we are officially accepting the video entries for the Trix Swirls Creative Kid Contest!!!
A few weeks ago 100 of you signed up to receive a free box of the new Trix Swirls cereal, as well as a chance to win $1000 from Trix!!!
Hopefully you have received your complimentary box of Trix Swirls and have had a chance to enjoy it with your kids! If you have not received your sample yet, don't worry, it is on it's way and you still have time to enter the contest!
Here comes the fun part! Time to turn on those video cameras and ask your kids:
"How did those fruity colors get swirled together?"
We're looking for creative answers so let your child's imagination run wild!
Here are few quick guidelines as you begin filming those creative answers:
1) Make sure you show your box of Trix Swirls in your video. Simply have your kid(s) holding the box or have the box sitting on the table.
2) Keep your video under 1:30. We have lots of videos to watch and, although we love watching your cute kids, we do need to sleep!
3) When uploading your video to YouTube make sure you include the tag "Trix Swirls Creative Kid Contest".
4) After your video has been uploaded to YouTube, come back to this post and leave us a comment with a link to your video.
Now, step away from the computer, dust off that video camera, and get creative! We will be accepting video entries until August 10th. Remember, leave a comment on this post with a link to your video entry. We will be announcing our 10 lucky finalists on Thursday, August 13.
Remember, you are entering to win one of these amazing prizes, so get creative!
Grand Prize: One winner (the finalist with the largest number of votes) will receive $1000 to use towards classes and/or education material for the child(ren). YES, I did just say $1000!!!

Secondary Prize: One winner will receive $300 to use towards classes and/or educational material for the child(ren)
The videos will be judged by our 5 Minutes for Mom team and the finalists will be chosen based on Creativity (50%) and Entertainment (50%).
I'm so excited! I can't wait to hear what your kids come up with!!!
Once again, we are so thankful to Trix Swirls for sponsoring this contest and providing the amazing prizes!!!
This contest is open to US and Canadian residents. Please take a moment to review the Terms and Conditions for 5 Minutes for Mom. Also, by submitting your video to YouTube and entering the Trix Swirls Creative Kid Video Contest, you are granting 5 Minutes for Mom, Trix®, and General Mills permission to link and/or embed your video in other locations. Finalists and Winners must be prepared to provide their video file (.mov, .avi or .wmv) to the brand if they are selected.