This post may contain affiliate links. Read my disclosure policy here.
I've read many of Tricia Goyer's books. I've enjoyed a few of her novels, but I've mostly explored her non-fiction — discovering her views and experiences on parenting, marriage, being a teen parent (and a parent to a teen). . . and she's never let me down. Goyer writes with complete openness that's come as a result of her self-reflection (and responsiveness to God's hand in her life). But unlike many of us who feel as if we've learned a lesson that we want to share, she manages to share her own experiences confidently, yet without the holier-than-thou attitude that often accompanies it.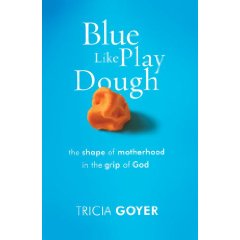 That said, I was pretty sure that I would enjoy her newest book, Blue Like Play Dough: The Shape of Motherhood in the Grip of God. However, I didn't anticipate just how much it would reach me right where I needed it. Within the first few pages, Goyer's words brought a lump to my throat — she was getting to me!
Her overarching theme was just the reminder I needed at this moment: I could find and be found by God in the middle of this parenting stage in my life. If I let it, God will use parenting to shape me in the midst of also guiding me towards other purposes that He has for me.
Perhaps this hit so hard because lately I've been trying to fit God in instead of letting Him completely in. Perhaps because as my youngest child enters Kindergarten this fall and my oldest continues in Intermediate, I am reminded more than ever how short this parenting season actually is (even though it stretches on day by day).
Told in short chapters where Goyer shares a scriptural lesson followed by a real-life situation from her life as a parent, Blue Like Play Dough is an easy read. Unlike other non-fiction books that I usually put down at some point no matter how engaging they are, I read this book straight-through within a couple of days.
Another great factor about this book is that Goyer uses vignettes from pregnancy all the way through the later teen years, making this a book that will encourage all moms. She also tackles issues such as caring for aging parents/grandparents, pursuing your God-given dreams in the midst of motherhood, homeschooling and more.
We have two copies to give away (U.S. residents only, please). Leave a comment if you are interested in winning a copy for yourself. We'll announce the winner in next week's column.
Also, join Tricia tonight (Monday) from 5:00 – 7:00 PACIFIC time at her Facebook launch party for Q&A, prizes and more.
The winner of last week's book, 1000 Times No, is #46 Mommy Magee.
Written by 5 Minutes for Mom Contributing editor Jennifer, who also blogs at Snapshot and manages 5 Minutes for Books.